Tedeschi Trucks Band are out on the road on their Wheels of Soul tour in support of their 2019 album, Signs. Blackberry Smoke, and Shovels & Rope are in support.
The jam-packed July 21stshow at Aurora, Illinois' Riveredge Park had the band picking up where it left off after January's multi-night run at Chicago Theatre: super tight full ensemble band bringing musical heat to warm the souls of the faithful.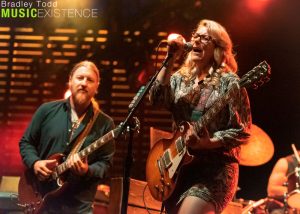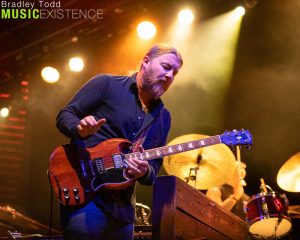 The TTB faithful sang and swayed to the band's multi-faceted style and setlist (see below, along with full gallery) that covered the band's four albums, encompassing blues, R&B, gospel, soul, rock, etc… Dual drummers, a full horn section, multiple back-up singers, and keys complemented the linchpins of the group's musical presentation – Derek Trucks' impeccable guitar work, and Susan Tedeschi's strong, yet soulful voice. When she wasn't serenading the crowd, she was chatting them up, even sharing that the show fell on the 20thanniversary of her introduction to Derek Trucks, now her husband as well as musical partner.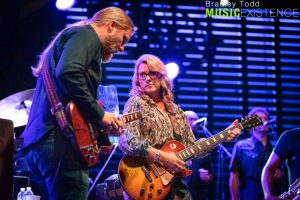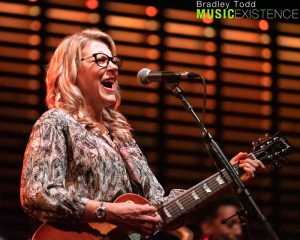 The 2+ hour concert TTB set also featured appearances by the members of the opening groups, Blackberry Smoke, and Shovels & Rope. In their own set, Blackberry Smoke were well received and did a nice job warming up the crowd with their version of rock with a southern vibe.
GALLERIES BELOW SETLISTS
Tedeschi Trucks Setlist:
Made Up Mind
Do I Look Worried
Hard Case
It's So Heavy
Walk On Guilded
Don't Know What
Shame
Key To The Highway
Bound For Glory
How Blue
I Want More
Signs (Encore)
Sly Medley
Blackberry Smoke Setlist:
Lord Strike Me Dead
Believe You Me
Run Away From It All
Ain't Gonna Wait
Running Through Time
One Horse Town
TEDESCHI TRUCKS BAND GALLERY
BLACKBERRY SMOKE GALLERY