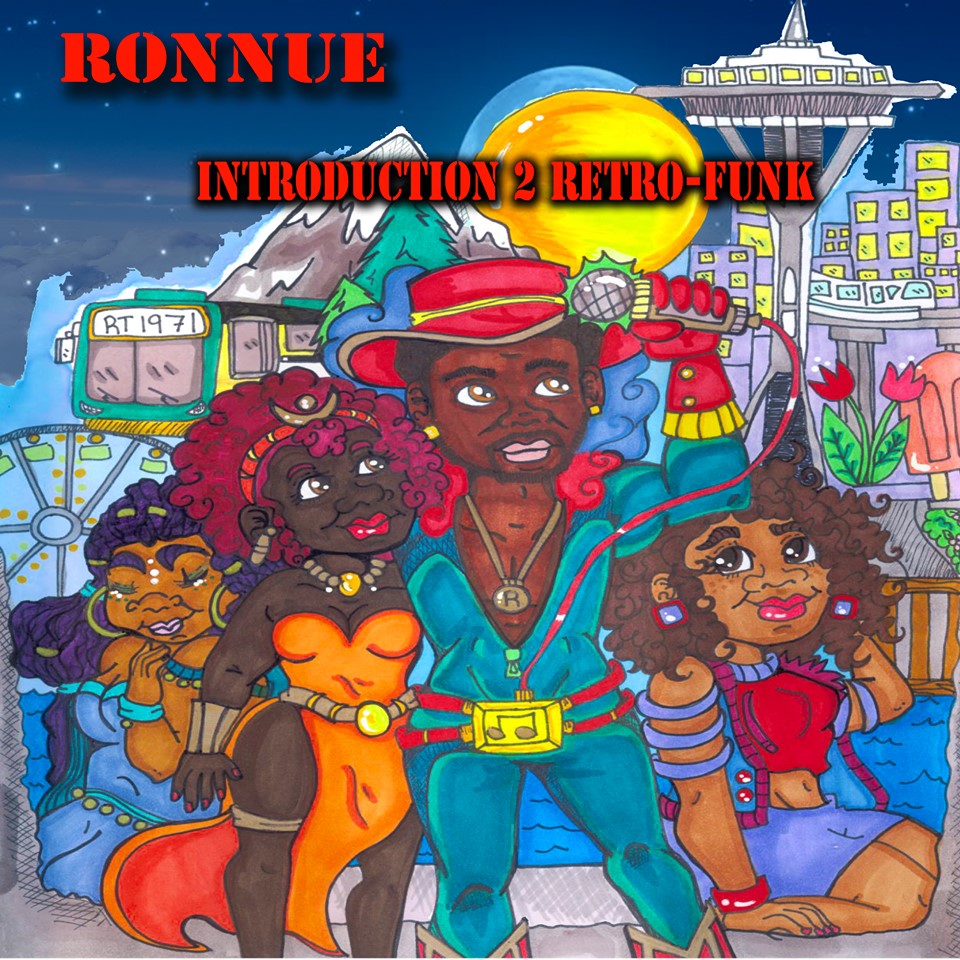 The bass is bumpin' with an intensity that can't be matched in "Give in 2 Me," the closing track in Ronnue's new record Introduction 2 Retro-Funk, but considering the sonic depth of this inspired album of funky ballads and bruising, verse-driven jams, the textures that we find in this song are only a taste of what the complete tracklist has in store for anyone who gives it a listen this summer. Sporting such hit singles as "Something About U (The Retro-Funk Mix)" and "Be Your Freak," Introduction 2 Retro-Funk is an excellent introductory piece for anyone unfamiliar with Ronnue, and for those who have been following his work consistently (myself included), it's the full-color, high definition look that we've been waiting to see from this Seattle stalwart since the beginning.
In "Something About U (The Retro-Funk Mix)," "I'm a Lesbian," "In Love" and "Do It (The Remix)," Ronnue utilizes a cerebral tonality in the synthesized harmonies to create as funky a sound as he can without straight-up making his own version of a Parliament song. There's definitely an understated clubby energy to the remix of "Do It," which invites Roc Phizzle and Soultry into the recording studio with the star of this show for a collaboration that brings out the best in all three artists. Regardless of the setting, this trio of tracks make for an unparalleled medley that shows off what their composer can do when there's nothing to filter the eccentricities out of his experimental songcraft.
NAPSTER: https://us.napster.com/artist/ronnue/album/introduction-2-retro-funk
"17 Days (The Hood Mix)," much like "Be Your Freak" and "Give in 2 Me," has a really surreal stylization that adds to the hypnotic nature of its melodies without question. This is probably my favorite song from the LP, but not because of its chic structure and genuinely entrancing master mix; Ronnue sounds so relaxed in this track, so completely and wholeheartedly in his element, and there's a case to be made that he's never translated with as commanding a presence as he does at the 3:21 mark of the song. He's really coming into his own on this album, but truth be told, I think that most music journalists following the Seattle beat could have predicted his current ascent as far back as 2016.
There's a lot to unpack in Introduction 2 Retro-Funk, but at any rate, these twelve tracks add up to being Ronnue's best studio effort so far – and, as I see it, the first legitimately relevant Seattle hip-hop release to find its way into the international pop lexicon since the time of Common Market. This nascent singer, songwriter and producer is distinguishing himself from the pack in this record, and if it's representative of what he's planning on bringing into the next era of R&B history, I think it's safe to say that he's going to be in for quite a career as the 2020s come into focus. This is one heck of a way to bid farewell to 2019, and as far as I'm concerned, the insular underground scene that he's so obviously outgrown.
Loren Sperry