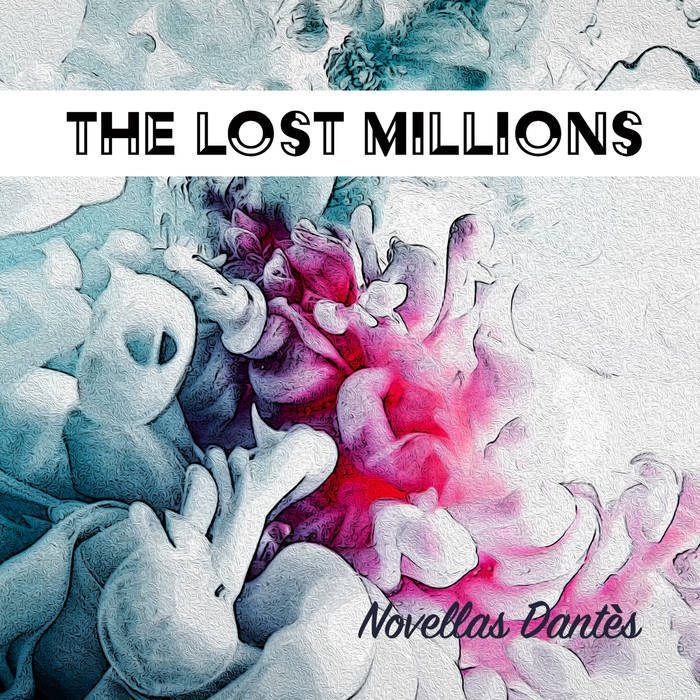 A guttural guitar's howl greets us in the instrumental introduction to "Wisdom of the Mad Priest," one of the five songs comprising The Lost Millions' new record Novellas Dantes, and although it's not quite as stadium-shaking as some of the other opening salvos on this EP , it's still one of the best examples of the band's creative adrenaline on overdrive. The Lost Millions are pulling out all the stops to deliver an alternative rock statement piece in this brand new outing.
The production quality of this EP is slick, but, it doesn't even come close to being poppy in nature. Everything here is unvarnished, unkempt even, but meticulously arranged from behind the glass as to make every subtle detail within the instrumentation resonate with audiences. There's a lot to behold in Novellas Dantes' more surreal tracks, like "Complicated" and "Wisdom of the Mad Priest," but casual rock fans shouldn't feel deterred by the complicated construction that The Lost Millions employed for this release. 
BANDCAMP: https://thelostmillions.bandcamp.com/album/novellas-dantes
"See the Light" and "Mad at the Sun" are sonically suffocating, yet their melodic cores are incomparably catchy, which can't help but remind one of The Velvet Underground in their heyday. There's no debating whether or not The Lost Millions are composing a much more engaging songcraft in this record than they had in their debut album, the slightly submissive 101.
I really want to hear more experimental stuff from this band in the future. If "My Street" and "Complicated" are any indication of what they can accomplish, then there's cause for us to call on the group to produce, perhaps, a full-length album around the conceptual formulas they use in Novellas Dantes. They've clearly got the chops to meld a lot of eclectic influences together which isn't something that is too terribly common in modern rock.
This band is going places, and if there were any critics doubtful of their ascent through the underground, then this EP should more than suffice as evidence to the contrary. While it's speculative whether or not these songs would sound a lot heavier in a live setting, there's not a doubt in my mind that you'd be hard-pressed to find anything as organic in tone among rock records due out this season.
Loren Sperry