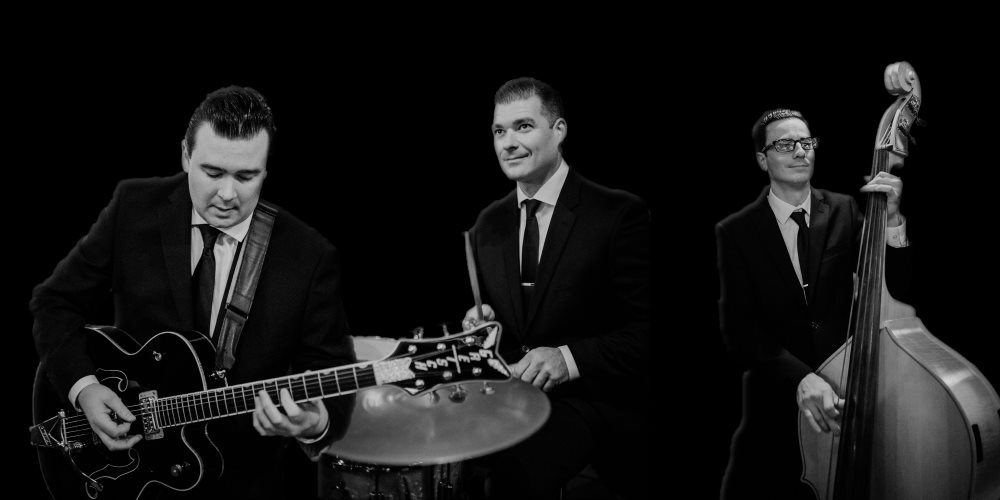 The Teledynes' new self-titled EP, opens thunderously with the midcentury rockabilly bruiser "Crazy Train," but its fusion of physicality and raw melodic moxie is only getting warmed up in this first track. It isn't until the throttling beat of "Callin' on the Devil" comes into focus that the band starts clicking with an incomparable chemistry that will become somewhat of a staple in the eight songs soon to follow. The Teledynes was tailor-made for serious audiophiles who possess a penchant for surf-influenced rock swing, but its content isn't so refined that casual listeners should feel intimidated by its mammoth grooves and detailed song structures.
"Midnight Ramblin' Blues" lives up to its name and imparts a little bit of menace in its unstoppable sway before turning the spotlight over to the sprawling, and constantly churning, "Cohaagen." "Cohaagen" is one of my favorite tracks here; it's an instrumental piece, but it packs such a fantastically textured punch that it doesn't really need any lyrics to make a strong first impression . All of the music on this EP is sublimely well-rounded, but this is definitely among the more exceptional demonstrations of The Teledynes' collective skillset as a group.
SOUNDCLOUD: https://soundcloud.com/theteledynes
Countrified twang makes an appearance in the blustery "Way Out West," which breaks up the remaining tension left hanging in the air from "Cohaagen." It's followed by a rather experimental song in "Ain't Going Back," which I would deem the most eccentrically designed composition to behold on the whole of The Teledynes. The track is a hearty primer for the effervescent "'47 Cadillac,"  a really sizzling (and wholeheartedly original) song. This is a fairly multidimensional extended play, and considering its tracklist (ten songs in all, running a total of 29 minutes), it's also one of the more stately that I've  been lucky enough to review.
The intoxicated "Shot of Whiskey" brings a little more of those celebrated instrumental fireworks from "Cohaagen" back into the mix.The appropriately-titled "Rockabilly Bug" brings The Teledynes to a conclusion, but not before emitting the hardest-hitting hook of any that you're going to hear in these ten tenaciously original tracks.
2019 has been producing some solid hits in pop, hip-hop, electronica and even ambient music, but I think it's safe to say that The Teledynes are throwing rockabilly into that mix via this mesmerizing record.  Personally, I haven't been able to stop buzzing about its sharp mix & spirited performances from the players who comprise this starring band. They're on a good creative trajectory with this sound, and I'm curious to see how well it will translate on stage – if and when I have the fortunate opportunity to see them live and in-person for myself.
Loren Sperry