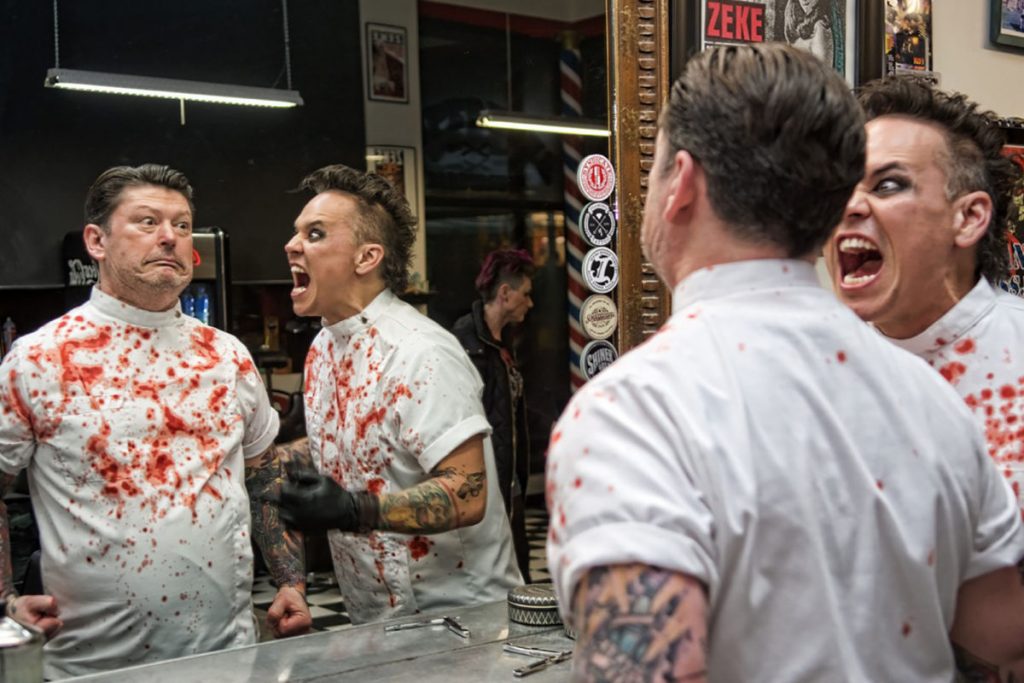 Strobe lights, seductive women, a classic punk rock graininess; the music video for The Cutthroat Brothers' "Psykik Chemist" takes a familiar formula and injects it with an inventive take on heavy grooves, sludgy riffs and uncompromisingly bluesy beats. Visually, this is definitely among the more stimulating videos I've had the chance to review this season, but it's not saturated in the neo-psychedelic nuances that have become all too common in American indie rock lately. The Cutthroat Brothers are making their own way with this larger than life single, and though it's far from the only hot track on their self-titled debut album, it's easy to see why the band decided to go with this song for their brand new music video.
WATCH THE VIDEO: https://www.youtube.com/watch?v=rj5htxfqcI4
The video comes awfully close to overindulgent territory, but the composition by itself is very black and white, straightforward and devoid of the bells and whistles that a mainstream alternative rock sound has become synonymous with. The Cutthroat Brothers' execution is spot-on from beginning to end, and there's never an instance where they sound cluttered or super-rehearsed in their delivery. This feels like a genuine jam session with a few vicious lashings of lyrical might from behind the microphone, which is something that I had once feared impossible to find in the late 2010s. "Psykik Chemist" doesn't try to change the world with its simplistic approach to righteous rock rhythm, but in an era that seems increasingly dominated by artists who are so intent on experimenting that they're willing to sacrifice the basic tonality of their instruments, it's nice to hear an act that isn't afraid to make something conventional and unembellished.
This bassline could swallow up an entire club at the right volume. If you were to ask me what the bottom-end on this track reminds me of the most, I would have to say vintage, late-80's Melvins. There's a lot of pick-up in the tempo of the percussion, but the bass is literally oozing all over every other component in the master mix. Some might be put-off by its gargantuan size, but for what I look for in this kind of music, it doesn't get much better than what The Cutthroat Brothers' "Psykik Chemist" brings to the table this July. Both the single and the video are heavy enough to attract as many metal fiends as they will punkers, and that is hardly something that I can say about most of the rock that I took a peek at this last month.
"Psykik Chemist" is an excellent introduction to the music of The Cutthroat Brothers if you've never had the chance to hear their work prior to now, and I find it to be a very good sample offering of what you can expect to hear on the whole of their debut album, as well. This is a very curious time for rock music, but perhaps more importantly, American scenes like Seattle, where this band makes their home. The Cutthroat Brothers are emerging at a divisive juncture in the history of their genre, but with a sound like theirs, I think they're going to ride out the ensuing aesthetical storm just fine.
I-HEART RADIO: https://www.iheart.com/artist/the-cutthroat-brothers-32099990/songs/psykik-chemist-55801953/?autoplay=true
Christopher Finn