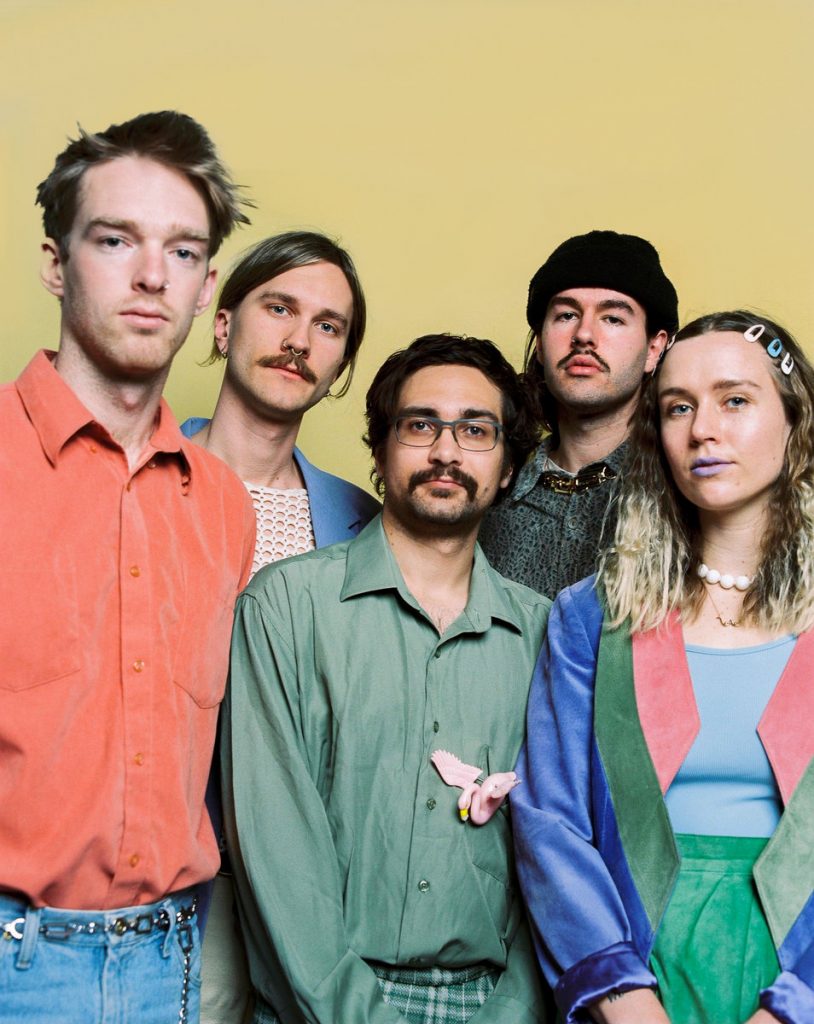 Canadian five piece Bridal Party first formed in 2015 as a four piece and expanded their lineup to its current membership with the 2017 enlistment of keyboardist Jordan Clairmont. Their debut EP release, 2015's Hot Daze experienced some success on college radio, but their music found firmer footing with the public upon the release of their second EP, 2017's Negative Space, propelled by the popularity of its leadoff single "Fruitless". Their latest release Too Much will likely buttress their claim to being one of the more intriguing indie pop acts working today thanks to the quality of its first single "Jukebox Cutie". It rates as the finest effort yet from songwriters Suzannah Raudaschi and second guitarist/vocalist Joseph Leroux.
The flurry of elegant electric guitar opening the track segues into a relaxed backbeat and soothing musical arrangement. "Jukebox Cutie" latches onto an airy melodicism from the outset and there's playfulness in the way the band manipulates the tempo in an understated way. Bridal Party's two guitar configuration adopts a clean, fill-oriented approach to their contributions and the bottom end talents of bassist Lee Gauthier and drummer Adrian Heim provide unobtrusive ballast for the cut.
Leroux's lead vocal has a languid yet confident touch. His smooth phrasing carries listeners through the verses and Raudaschi's backing vocals join in at key points while maintaining a light touch. There's lyrical sophistication in the band's approach, but never so much it limits the song's accessibility – instead, it reflects the intelligent approach they take towards composition and never regard the words as an afterthought. They ground "Jukebox Cutie" in the real world rather than sinking into self indulgence and Leroux's delivery brims over with inviting emotion.
BANDCAMP: https://bridalparty.bandcamp.com/
The chorus is effective and the song, running a little over three minutes long, builds momentum as it nears its conclusion. Heim's drumming is crucial to this spike in energy. His spot-on adornments are always functional, never ornamental, and the swirl of graceful guitar lines duets with Clairmont's keyboards giving the track a light ethereal slant. Bridal Party play like a cohesive unit sympathetic to one another's instincts and intent on serving the song; there are no needless virtuoso trips built into this performance.
Instead, "Jukebox Cutie" accomplishes what this review mentioned in its first paragraph – it is a single solidifying their position as one of the most promising indie pop acts to emerge in recent history. Bridal Party's sound is pleasing and should exert across the board appeal with both casual fans and musical devotees alike. They are a steady and productive unit more than capable of entertaining their growing audience and harboring enough intelligence to signal they have their sights set on writing and recording durable musical art rather than disposable trifles. Based on this track alone, we can only assume their new release Too Much will stand as Bridal Party's best recording yet and it is a pleasure to note how their talents expand and grow with each new offering. This is a pop single worth seeking out that holds up under repeated listens.
Loren Sperry