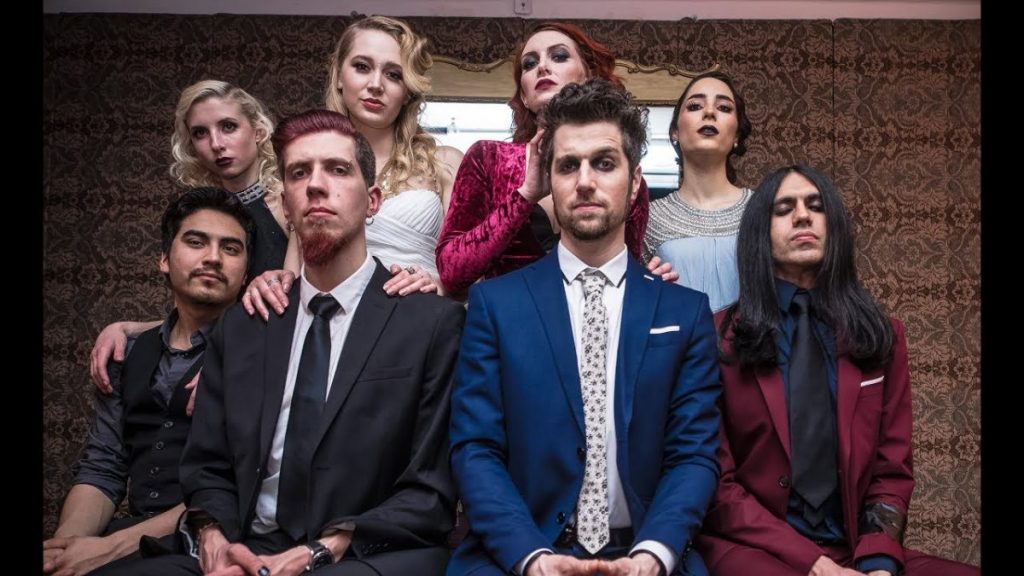 As four oversized, stage-style letter B's come into focus in the first few frames of "Beaming Right Up," the new video from Makes My Blood Dance, a swaggering guitar riff comes slithering in alongside them with a ferociousness that knows no boundaries. With a menacing slide across the fretboard, we jump right into the jittery swing of the song, with the band channeling the stadium-riling antics of 80's heavy metal against a decidedly more cosmopolitan backdrop. This is Makes My Blood Dance's virgin music video and debut single, but the larger than life pop-metal crew couldn't sound more relaxed and rehearsed for their big moment in the spotlight.
The lyrics in "Beaming Right Up" are big an brawny, not unlike the jarring riffage that courts their every utterance, and the way that they're delivered unto us yields a contrast with the streamlined fashion in which the music video was shot. The images on our screen are seamlessly constructed and flow with a whitewater consistency, but the beats are rigid, extremely textured and go against the grain with a panache that can't help but inspire chills on the spot. It would be sensory overload were it not as hooky as it is, but in the form that we find "Beaming Right Up" in here, it couldn't be much smoother and easy for us to access. Makes My Blood Dance have got a lot of rough edges in their sound, but I don't think I would change a thing about their method of execution at this stage of the game; it is, after all, what makes them as unique as they ultimately are.
YOU TUBE: https://www.youtube.com/watch?v=sccMS9OysYU
This music video celebrates grandiosity, but not in the same way that so many other 80's-influenced, retro rock bands have been in recent years. For as much as this group likes their classic rock grooves, they go out of their way to stylize their music with a pop varnish that makes it a lot more appealing to Millennial listeners than it would have been otherwise. There's no denying that "Beaming Right Up" is cut from the same cloth that certain iconic glam metal tracks were, but it's given an original spin and a modern tonality that tethers it much more to the future of rock music than it does anything from its storied past.
Some critics might say that they've still got a lot left to prove, but to me, Makes My Blood Dance sound as though they're aiming to please a generation of rockers that have been more than a bit hungry for some gluttony in their guitar riffs lately in this all-new single. "Beaming Right Up" has little – if any – cosmetic flaws, and its bones are solid enough for me to believe that its players could transform it into an extended jam in a live setting that would most definitely get an entire arena filled with fans on their feet. I'll have to see them in person to find out for myself, and I think that those who indulge in the melodic wallop of this track are likely to feel the same.
Randy Thomas