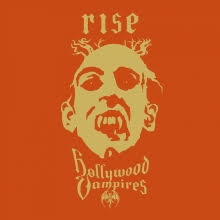 Like a vampire rising from their coffins, another Hollywood Vampires album has descended from the heavens…or at least from the supergroup featuring the likes of Alice Cooper, Joe Perry, and Johnny Depp. As it has been 4 years since their debut record, there's a lot to be expected from Rise, their new record; is it worth checking it out?
Unlike their last self-titled record, there is a lot more original material with only three covers on this record, "People Who Died", "You Can't Put Your Arms Around A Memory", and "Heroes", the latter done in a very beautiful way; the instrumentation and what the band do with the music truly make it their own, and there's a tortured linger within Depp's voice as he sings the tribute to David Bowie that adds an extra layer of beauty for this cover. The former two also are done well, adding simple yet effective accompaniment to the already fantastic lyrics, and Joe Perry does a good job with the vocals. All in all, a good job when it comes to covering other people's work.
So how does the supergroup do with their own material? Well, when it comes to their own full songs, they are fantastic! From "I Want My Now" to  "Congratulations", there is a lot of good work featured within this album, especially with songs like "Who's Laughing Now", "Welcome To Bushwackers", "Git From Round Me", and "We Gotta Rise". Whether it's Cooper, Depp, or Perry singing, they all do a great job of delivering each different emotion needed for the lyrics. The instrumentation brings that strong 70's/80's rock vibe that the supergroup is inspired by and truly brings each original to life.
The only issue with the album is the number of interludes in the album! At least four of them are included in Rise, and whilst it does show a good example of the skill on display within the musicians performing and their talent on their own instruments and as a band, it's too short. They aren't needed and really only serve to extend the album. The songs are good on their own and really don't need this extension.
Overall, aside from the musical interludes, it's a strong offering from the supergroup and shows that the band is talented in their own right and with their own material. Since this album shows that the band can stand on their own two feet when it comes to their original music, only good things are to be expected in the future for Hollywood Vampires.
Rise is out 21st June 2019 via earMUSIC!