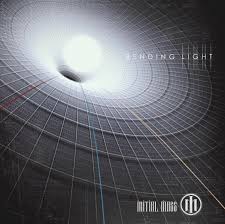 Catastrophic bursts of percussive thunder are met with gargantuan basslines, strutting string melodies and a smoky lead vocal that will entrap anything that comes within its reach in Initial Mass 's Bending Light, an album that I find best described as a sonic journey  with as many raging riffs as it is endowed with a lush, brooding lyricism. Bending Light is Initial Mass's official follow-up to the 2018 juggernaut Tidal Force, and it lives up to the high standard set by the group's sophomore effort thanks to its multilayered stylization and uncompromisingly strong master mix. There's a lot of muscle to behold in the nine anthemic songs that comprise the tracklist of this LP, and better yet, there's just as much substance behind the showmanship as there is unbridled rock n' roll force.
SOUNDCLOUD: https://soundcloud.com/mark-baldwin-346211705/sets/initial-mass-bending-light/s-68iw5
The progressive fluidity between the songs here makes Bending Light really hard to put down. Despite the backbreaking tizzy of fretwork that brings "Killing Heroes" to a close, the transition into the sparkling intro of the title track doesn't feel  rigid at all. "Piece by Piece," "Resolution" and "Silence No More" sees Initial Mass utilizing completely different styles of attack when it comes to assembling the riffs around a central hook, but listening to any of the three without the other two changes the emotive context of the lyrics so much that, there's an argument to be made that you could get an entirely different narrative out of the material depending on the order in which you listen to it. None of the pompous camp that we normally associate with prog rock is present in this disc; in its place, we find nothing but concise framework and an adherence to alternative ethics that is refreshing.
This latest LP from the group is simply too strong a record to be ignored, even by the most discriminating of standards. Bending Light is cinematic, enthralling, marvelously metallic in all the right places, and more than anything else, delivered to us with an organic tonality that instantly verifies the credibility of the contributing players. This is as engaging a loose-concept piece as you're going to come across this summer, and it's a must-listen for serious progressive rock fans everywhere.
Loren Sperry