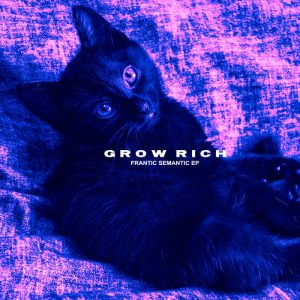 Back in 2018, Jakarta-based indie rock outfit Grow Rich's debut EP, Senen Lempuyangan, reached astounding heights, both in its rising international recognition, and in eventually becoming one of Bandcamp's best-selling Indonesian releases for that year. The DIY-fueled project's main proprietor is Abdur Rahim Latada (also known as Oyi), who contributes his assiduous ethic to not only spreading the word of Grow Rich, but refining the essence of his sonic identity.
On June 5th, Oyi released his latest EP, Frantic Semantic, which continues to gather steady momentum. The EP starts off on a strong sun-drenched feel, catalyzed by the opening chord sequence of its carrier single, "Bounce Back." Even if summer isn't yet in full swing, Oyi's distinctive tonality (both in singing and playing) already reminds me of an idyllic milieu where pleasant and blissful times abound. From a more resonant angle, however, this is about Oyi wiping the slate clean while newly revitalized. As it stands, a constant in this project involves him employing some of Jakarta's finest musical talent. Returning to the fold is Dead Vertical drummer Arya Gilang Laksana, whose hardcore stylings exhibit an especially seasoned sense of discipline. Just as well, Austin Powaa from hardcore unit Prime offsets Oyi's piercing leads with a surprisingly complementary vocal melody.
Up next is the similarly-energized "Kawan Lama," a punk-pop highlight marking Oyi's first implementation of Indonesian lyrics. The song, which translates to "Old Friend" in English, centers around the memories of a companion remaining poignant despite life's constant span of change. Oyi's native Indonesian tongue holds as much merit in its delivery as his English, and is a comfortable fit with the direction of the instrumentation. As the song reaches past the first minute and onwards, Pandu Fuzztoni (Zzuf, Mortem, The Adams) charges through with a type of soloing that alludes to and accentuates his name. On the penultimate track, "Tenderfoot," Oyi and the gang seem to have nailed the concept of a song/interlude hybrid. Featuring Prime's Austin Powaa now on lead vocals, it's a decent means of refreshing the EP's pace, as if telling one to push forward in life with everything that has accumulated. Closing out the EP is another highlight in the tongue-in-cheek "Cat Flag," which features Cika Fransisca of JClass. Transitioning from her backing vocal role on "Bounce Back," this song has her at the forefront, initially reminiscing about simpler times. While Oyi's insight about a dwindling unified structure comprises the verses, Fransisca's misty, angelic singing adds a sense of brightness to the chorus – a kind of upbeat, saccharine contrast that matches the struggle amidst the coming of adulthood. The background behind the song's title also adds to its humor, with an ode to Black Flag guitarist Greg Ginn's love of cats. In a similar fashion, Oyi encompasses this aspect with a saturated purple cat-themed cover photo, utilized by Gaga DC.
Overall, the Frantic Semantic EP expresses a down-to-earth telling of life's polarizing, yet wholly rewarding challenges that come with growing up. For its relatively short length, the EP is succinct, and continues to showcase impressive strength and maturity not only from Oyi, but his team of collaborators in tandem. Considering the consistent success of this project. I'm looking forward to seeing how Grow Rich further emphasizes, and nonetheless lives up to, its intended purpose.
Grow Rich Socials:
Facebook|Twitter|Instagram|Spotify|Bandcamp