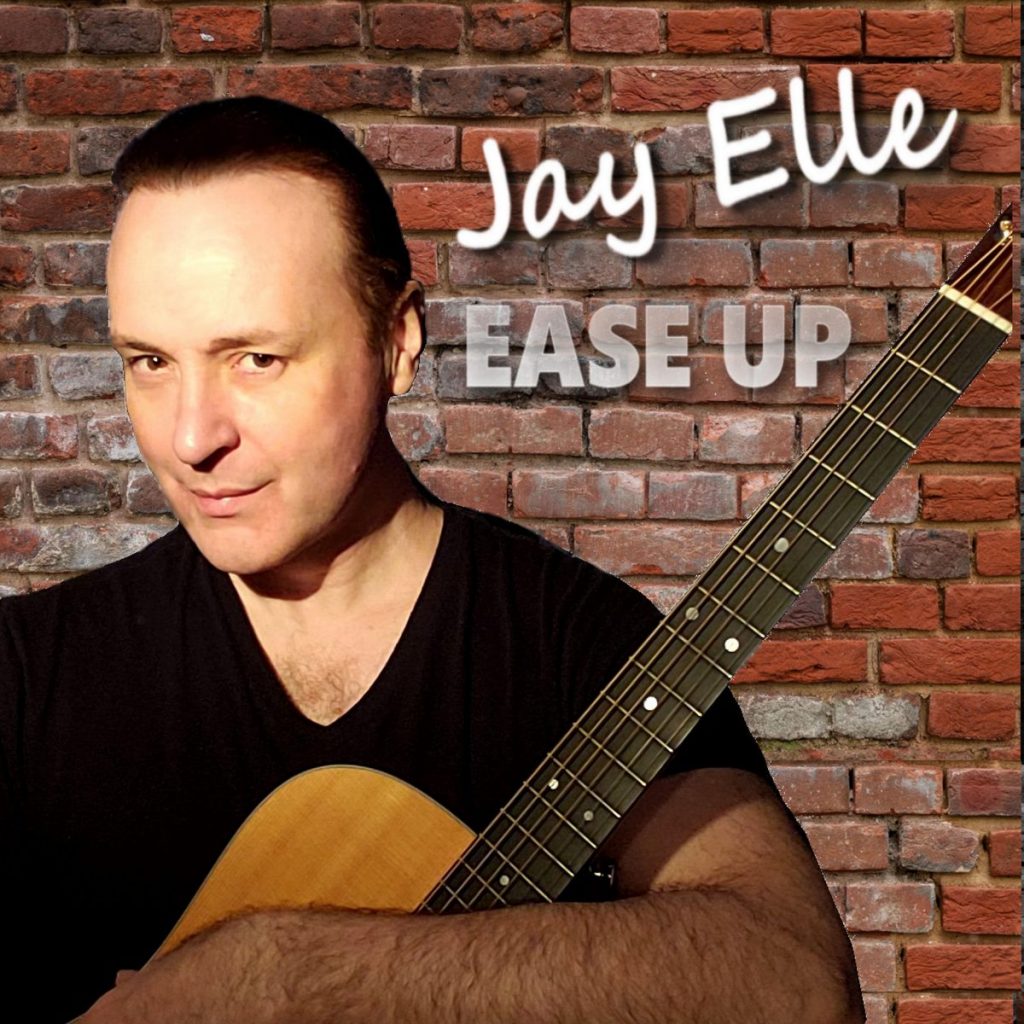 Jay Elle is a New York City-based singer, songwriter and guitar player. Jay Elle's heart and emotions are his driving forces. His curiosity and appetite for life makes him an avid listener of all music genres. Influenced by classical music as much as pop, rock, rap, country and R&B, Jay Elle believes that songs should carry positive energy and messages that bring people together. Jay Elle takes you on a journey while openly sharing his experiences. Become a keeper and sharer of wisdom. Follow Jay Elle, from song to song with his New EP out May 2019.
Coming on the heels of his Top 40 charting song "Never Dreamed," mixed by Brent Kolatalo (Bruno Mars, Ariana Grande, One Republic, https://brentk.com), Jay Elle asked Brent to mix all the tracks of this new EP,  including the first single "Ease Up (Into Love)." The result is a dynamic, polished and tasteful mix of "Ease Up," a thoughtful well-crafted song, offering words of wisdom to those looking for love.  Jay took time out to answer some questions in this EXCLUSIVE interview…
Music Existence: Thanks for taking the time, Jay.  We are honored to be speaking with such an incredible singer-songwriter. What inspired you to follow your chosen career path as a musician?
Jay Elle: You are welcome. It is a pleasure. Thank you for your time and for the nice compliment. Much appreciated.
As far as I can remember I always enjoyed listening to music of course, but more specifically I would get this spine tingling feeling when I heard certain songs. It's a wonderful sensation. I also was energized by certain songs. I would feel this blast of energy and feel like I could do just about anything. I felt hopeful and positive. So, I started playing guitar and singing and writing to see if I could write songs that would have that effect on myself and other people and pass on this positive uplifting energy.

ME: Was there any one event in your life that led you to record and release, "Ease Up?"
JE: Good question. No special event. Writing is a daily routine. I spend as much time as I can playing guitar and singing and trying out ideas, writing down lyrics. Then some of these ideas stick around. They keep running through my head and I develop them further. When I get really excited about them I record them. I felt I had a handful of great songs that I could share with the world. Time is the most precious commodity there is so what leads me to release new songs is my conviction that I won't waste the listeners' time when they listen to them.

ME: Who has been your single biggest influence, musically?
JE: Hard to tell. I listen to everything. Every song on every chart my songs appear on and other charts such as dance or rap or R&B, etc. I look at international charts as well. Then I look into the albums and listen to practically all the songs. When it comes to guitar playing, I would say Eric Clapton and Andres Segovia. My songs are guitar driven for the most part. I try to combine a little classical finger picking with some traditional pop song harmonies.
As far as songwriting, I enjoy what I call the mash up and collage approach of some of today's writers. Yet, I lean towards traditional structures. I am definitely in awe of the work of songwriters such as Billy Joel, Diane Warren, Berry Gordy, Paul McCartney, Sting, Freddie Mercury, Stevie Wonder and so many others. I listen to a lot of classical music, Bach, Chopin, and Liszt.
Writing and recording makes you appreciate the work that goes into the process. So, regardless of the genre, I am conscious of the effort that the artists, musicians and producers put into their work. My focus is on songs more than anything else. I can't name all the writers. There are so many.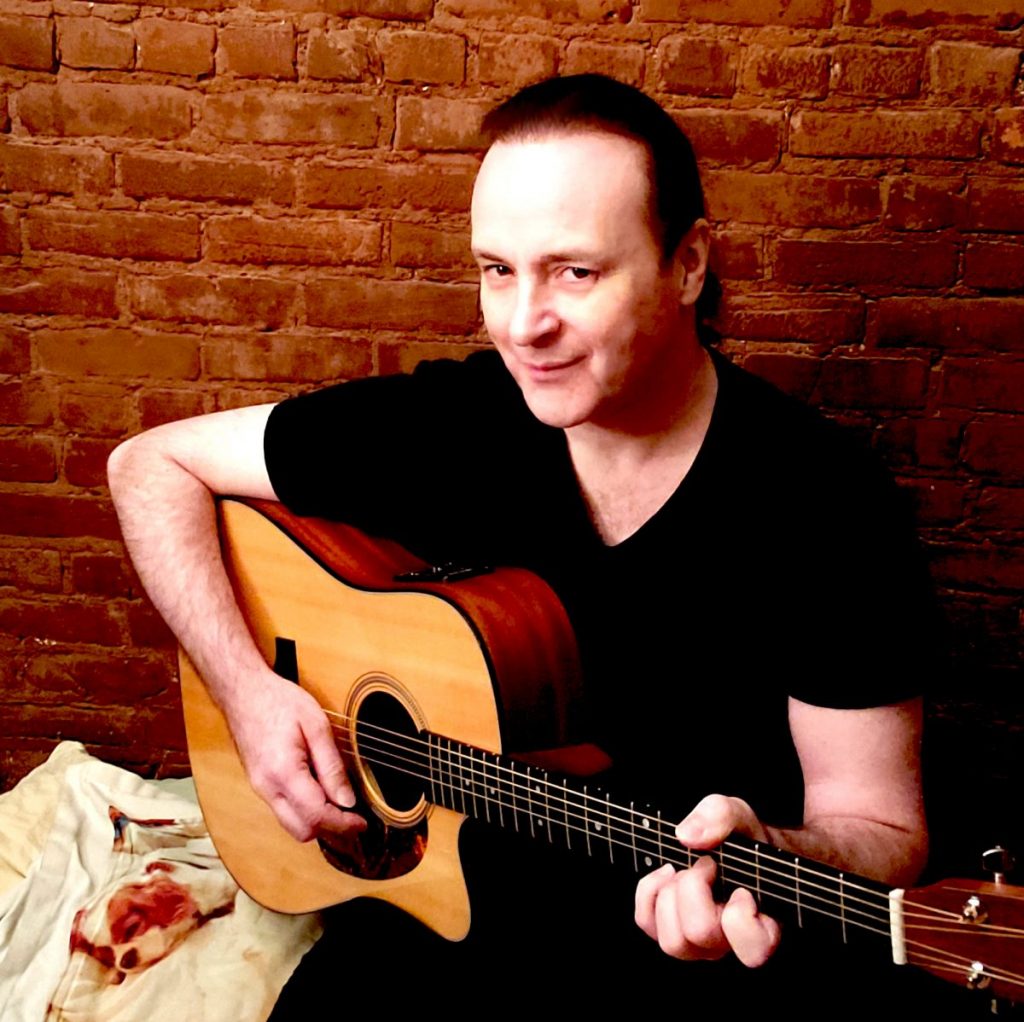 ME: How about personally?  Who influences you in your daily life?
JE: Great question! These days, there is a bird nesting somewhere close to my studio apartment's window and it tweets away from about 4:30 AM to 6 AM, every day. Loud. And repetitive. There is a lot to learn from his or her commitment. I don't know enough about birds to decipher the message but it wakes me up so I grab my guitar and play along. It inspired a few new ideas. We'll see what comes out of that.

ME: "Ease Up (Into Love)" is your new single.  Tell us about the song,  the recording and writing process for it, and what you hope your fans will get from it?
JE: "Ease up (Into Love)" started much like all the other songs. I play my guitar and sing until something clicks. I came up with the verse and chorus and some of the lyrics. The bridge took a while to finalize. I wanted something more interesting than I had initially. Something that builds up. I experimented with key changes until I found the right melody. I don't record anything until I have the song completed from beginning until the end. Then I work on the underlying groove. Then I record the basic tracks, lead vocal, one guitar, bass and drums. Then I leave all this alone for a few weeks or longer and do my best to forget about it. Then I play the song and if I am moved by it I start another round of recordings. It can take a while. I can spend hours trying out ideas. Eventually it all comes together. It is a tedious process. I may end up using a guitar part that came up right away but I will try as many others as I can think of before I make the final decision.

ME: What's most important to you: Sales/streams, Awards, or Critical Praise?
JE: I would welcome all of the above of course. To me the validation that I did a good job and came up with a great song is someone that tells me that they are playing that song over and over and they feel great when they listen to it. So, if a DJ decides to play the song on the radio and put it on rotation, I feel that I did a good job. Radio is great. I have it on constantly when I am not writing or listening to specific songs. I guess that ultimately, repeat listening could be measured in streams. If you hear one of my songs and it catches your attention to the point where you want to hear it again I am forever grateful.

ME: What do you enjoy doing, outside of the spotlight?  Any hobbies?
JE: I visit the nasa.gov site and read about the latest space discoveries. There is so much to learn about the universe. Sometimes I think it would be great to find and visit another habitable planet but we would have to be much better at respecting and protecting nature.

ME: Any plans for a video release?
JE: Not yet. Considering the amount of time I spend on writing and recording songs I don't have the time or resources to focus on videos. I hope my songs inspire other folks to create great videos. I am open to working with people on that but no plans yet. I am a musician at heart. It's all about the songs for me. Close your eyes and make up the video as you listen. I don't have to be in it.

ME: What has been the biggest musical accomplishment of 2019 so far?
JE: Definitely the completion and successful release of "Ease Up." It takes a team for sure and I am forever grateful to Laura Patterson (Star 1 Records/Group), Sherry Lynn (Star 1 Group), and Michael Stover (MTS Management Group) for their tremendous work. It gave me a boost and I am writing new songs that I look forward to recording very soon.

ME: You've played in front of many audiences.  Any stage fright?  Any place you'd love to play that you haven't?
JE: Total stage fright at all times. The more I learn and practice the more I realize that I have so much to learn and master. And I practice a lot!!! I don't have a problem practicing at all. As far as places, wherever I hang my hat is home. As long as the audience is comfortable and the sound is decent we're good to go.

ME: How about some parting words for your fans?
JE: Thank you. You make it all happen. It'd be a lonely world without you. And feel free to suggest video ideas.
ME: Thanks Jay!  Good luck on the new release…we hope it's a HUGE hit for you!