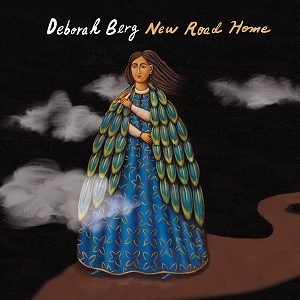 When you have so much experience in the music business like Deborah Berg has, it's easy to repeat yourself or fall into a comfort zone of sorts where you don't want to branch out, thus falling into a routine of conformity. In the case of the vast majority of artists in this situation, their solution usually tends to be to branch out, but Deborah has found the balance between her core musical values and the interests she has developed throughout the years, which has crystalized in New Road Home.
With a career that has been spanning for over thirty years as a singer, guitarist and as a songwriter, you can understand why New Road Home is such a solid country release: it has the swagger, quality and delivery of someone who has been there multiple times and knows what the listener wants to hear, so she delivers in spades.
There's a certain level of intimacy in New Road Home that cannot be imitated or faked because you need to deliver that from your heart and that is what she does, also applying some of her knowledge as a vocal instructor, which has certainly been helpful with her vocal performances because she has been remarkable in that regard in recent years.
Of course, the single You're Gone is one of the highest points of the entire album and you can clearly understand why: it has the kind of style, passion and melodies that you could expect from such a highly-regarded artist as Deborah and she hits every single note of the track wonderfully, quickly becoming a personal favorite of mine.
Very few artists can truly understand nowadays what it means to be genuine and Deborah Berg is certainly one of them, with New Road Home poised to become one of the best country albums of 2019 without a shadow of a doubt.
–Kevin Tanza