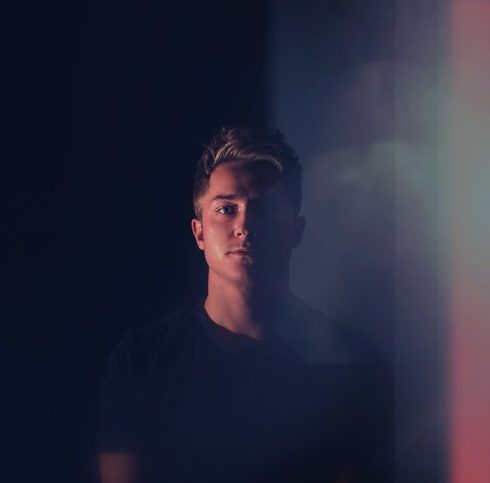 In his latest single, the melodic dream "Mockingbird," the singer and songwriter known as Modern Crusoe balances enigmas with elegance, postmodernity with pop prowess, and most prominently, the bucolic with the boisterous, in what is best described as his most assertive and emotional ballad released to us thus far. A teaser for the new EP Slow Bloom, "Mockingbird" is a powerful, albeit slow-churning, exercise in sonic eccentricities and lyrical admissions that goes far beyond the typical indie rock fodder you've heard this spring, and although it's on par with what grabbed my attention in his previous releases, personally I would say that Modern Crusoe takes a creative quantum leap in his most recent studio offering unlike any I had anticipated to find here.
The vocal track is unbelievably smooth and as pristine as an undisturbed pond, and in many ways it helps to even out the colorful, boundless melodies that the guitar parts emit. There's a contrast between the singing and the string play that isn't so defined that it becomes abrasive, but it contributes a rustic varnish to the harmony that really emphasizes the warm tonality of the instrumentation in the song. It's a smart mix for sure, and better yet, it isn't nearly as intrusive as some of the other indie singles that I've listened to this season have been.
SOUNDCLOUD: https://soundcloud.com/moderncrusoe/04-mocking-bird-ref-02-22-2019/s-C8Nqc?in=moderncrusoe/sets/slow-bloom-ep/s-6PR47
"Mockingbird" has a bassline that is admittedly muted next to the other elements in the track, but it's still as affective and integral to the construction of the hook as the swelling acoustic string melody is. The bottom-end cushions all of the lyrical lashings with an exquisite effervescence that really took me aback the first time that I heard the song, and upon closer analysis, I found it to be utterly chill-inducing, even after repeat listens. Modern Crusoe is using everything at his disposal to keep us engaged here, and making a sterling slow-groove look all too easy to conjure in the process.
The drums bring all of the underlying tension in the verses to a head in the chorus, and as we near the end of the song, carry us into the finish line on the back of an absolutely breathtaking strut that is as dripping with swagger as it is studded with optimistic tonality. It's not often that a minimalist-inspired beat affects me to the extent that this one did, but that's partly what keeps bringing me back to "Mockingbird" time and time again. There's literally nothing predictable about this single, and yet its melodic core is as familiar as the setting sun is.
I've enjoyed what Modern Crusoe has produced up until this point, but I must say that, with the release of "Mockingbird" (and the extended play it was cut from), he's raising his industrial profile so significantly that the underground scene he came up in might be a little too limiting to contain his craftsmanship at this stage of his career. He's grown so much since his debut, and I think that he's showing off a refined skillset in this single that won't just stoke the interests of mainstream fans; it's going to bring him the widespread exposure that he's rightly deserved for some time now.
FACEBOOK: https://www.facebook.com/moderncrusoe/
Justin Raab