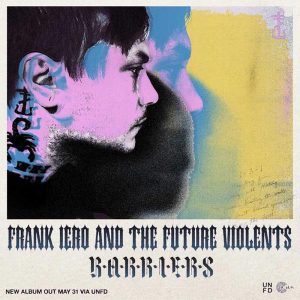 Album Barriers by Frank Iero and The Future Violents is really personal and emotional with strong messages behind the lyrics. It's about Iero's past, his near-death experience; and there's also one My Chemical Romance reference. On this alt-rock/post-hardcore album, Iero teamed up with Evan Nestor, Matt Armstrong, Tucker Rule, and Kayleigh Goldsworthy.
The dark vibe throughout the whole set of 14 songs reminds me of his previous work, but there's also this uniqueness and maturity, in both sound and lyrics which makes this record stand out. For example, the opening track "A New Day's Coming" is dedicated to his children and is about a fresh start and leaving past behind. My personal favorite part is "But don't be sad, leave your past in the past, let that new day gloss all over us" because it gives me hope and makes me think about my life and what the future brings. And that's what I like the most about this album – powerful lyrics made me connect on a personal level.
The second track "Young and Doomed" which was released back in March especially drew everyone's attention. The line "And I promise that I'm not okay" is alluding to one of the biggest My Chemical Romance's hits "I'm Not Okay (I Promise)". Even though this part sounded funny (probably on purpose), it feels like Frank wants to show us how MCR still has a big impact on him since it was the huge part of his musical career.
"Fever Dream" is probably my favorite song that I can listen to on repeat. It's so energetic and I really loved the vocals in this one. The lyrics are also very relatable since this track is about fighting your inner demons and overcoming fears and insecurities.
The addictive beat and Frank's screams in "The Host" and "Moto-Pop" is what makes these two tracks special – definitely something that most of the fans will enjoy.
"Basement Eyes" also touches subjects such as life, past moments and beliefs. "Nothing lasts forever" part makes you wonder how much is something important in life and do you really appreciate it while you still have it. This one feels somehow connected to the opening track, since both songs are so complex and serious, inspired by the past.
The most emotional track is definitely "Six Feet Down Under" since it's about the 2016 bus accident in Australia. It shows how near-death experience can change you and your views. Once again, a really mature honest song that makes you empathic.
"24k Lush" is an excellent choice for the closure. It sums up the whole album actually and makes you feel all the feels. In this song, Frank is referring to a loved one, or maybe even to himself while talking about second chances and apologies. "Rise my arms to the sky for once, I'm gone. No, I won't give you up, I can't let you down any more than I have."
What I also like about Barriers is that it doesn't stick to only one genre.  It's a great mixture of 90's/early 2000's sound that is still relevant to this day. I highly recommend it to anyone who's nostalgic for this sound.
Listen to the "Young and Doomed" down below:
TRACK LISTING
A New Day's Coming
Young and Doomed
Fever Dream
The Host
Basement Eyes
Ode to Destruction
The Unfortunate
Moto-Pop
Medicine Square Garden
No Love
Police Police
Great Party
Six Feet Down Under
24k Lush
TOUR DATES
w/Taking Back Sunday
March 25 Houston, TX – House of Blues
March 26 Houston, TX – House of Blues
March 28 Austin, TX – Emo's
March 29 Austin, TX – Emo's
March 30 Dallas, TX – House of Blues
March 31 Dallas, TX – House of Blues
April 1 Lubbock, TX – Charley B's
April 3 Albuquerque, NM – Sunshine Theater
April 4 Phoenix, AZ – Marquee Theater
April 5 Phoenix, AZ – Marquee Theater
April 6 San Diego, CA – Observatory North Park
April 7 San Diego, CA – Observatory North Park
April 9 Bakersfield, CA – 1933 Event Center
April 11 Los Angeles, CA – Palladium
April 12 Los Angeles, CA – Palladium
April 13 San Francisco, CA – Warfield
April 14 San Francisco, CA – Warfield
Headlining
April 24 Lima, Peru – CC Festiva
April 26 Santiago, Chile – Club Subterraneo
April 27 Buenos Aires, Argentina – El Teatrito
April 28 Sao Paulo, Brazil – Fabrique Club
May 1 Monterrey, Mexico – Cafe Iguana
May 2 Mexico City, Mexico – Sala
May 29 Philadelphia, PA – The Foundry
May 30 Baltimore, MD – Baltimore Soundstage
May 31 Hamden, CT – The Ballroom at the Outer Space
June 1 Pawtucket, RI – The Met
June 2 Boston, MA – Brighton Music Hall
June 4 Harrisburg, PA – The Capitol Room at The Harrisburg
June 5 Pittsburgh, PA – Rex Theater
June 6 Detroit, MI – El Club
June 7 Cincinnati, OH – Bogarts
June 8 Louisville, KY – Mercury Ballroom
June 10 Atlanta, GA – Terminal West
June 11 Birmingham, AL – Saturn
June 13 Tampa, FL – The Crowbar
June 14 Orlando, FL – The Social
June 15 Jacksonville, FL – 1904 Music Hall
June 16 Columbia, SC – The Senate
June 18 Charlotte, NC – Amos Southend
June 20 Virginia Beach, VA – Elevation 27
June 21 Washington, DC – Union Stage
June 22 New York, NY – Rocks Off Cruise
Festivals
June 29 Atlantic City, NJ – Atlantic City Beach [Warped Tour] July 5 Hradec Kralove, CZ – [Rock for People] July 13 Upcote Farm, UK – [2000 Trees] July 18 Patchogue, NY – [Great South Bay Music Festival] July 21 Mountain View, CA – Shoreline Amphitheater [Warped Tour]