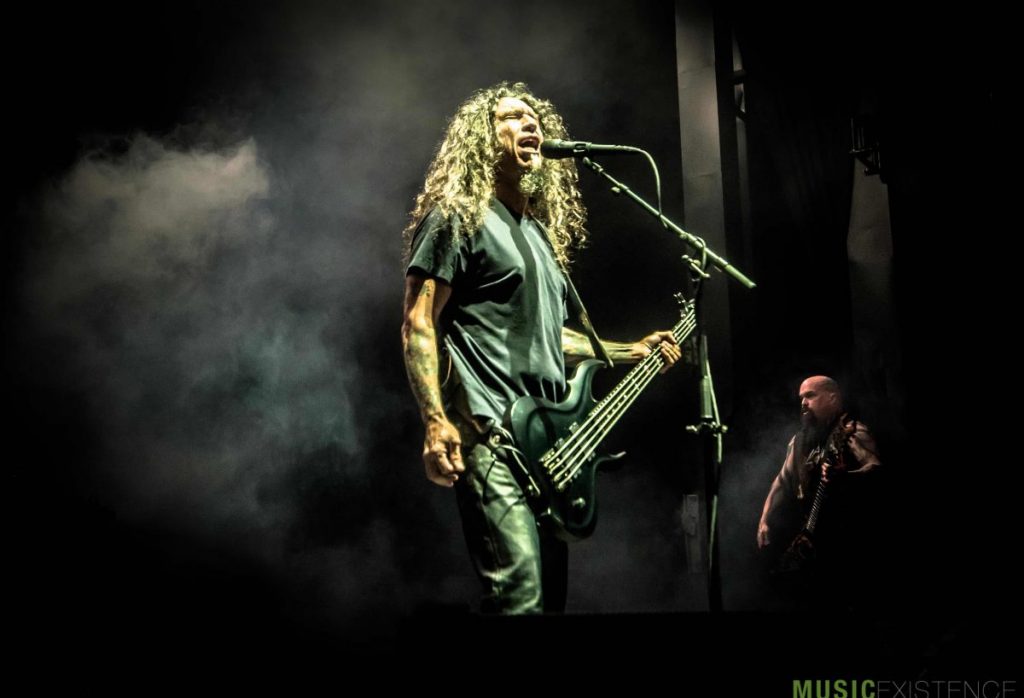 Slayer – Xfinity Center – Mansfield, MA – May 25, 2019
Before Slayer goes and lays waste to the halls of Valhalla alongside the metal gods of lore and probably Lemmy, they chose to make one final stop at the Xfinity Center in Mansfield, Massachusetts this past Saturday.
With gusty winds whipping at their backs on a stage that laid beneath the blackened New England sky, Slayer played their final headlining tour date ever in the United States.
The gravitas of that statement alone makes now as good of a time as any to discuss the thrash metal icon's legacy.
Many could easily point to either Slayers' record and ticket sales or the sheer number of awards they've been nominated for or taken home as ample evidence as to why they should sit atop the Mount Rushmore of Heavy Metal.  And you know what? Those financial and industry related achievements should be recognized and properly celebrated.
However, when attempting to calculate Slayer's impact globally, that discussion should forever begin and end with their music.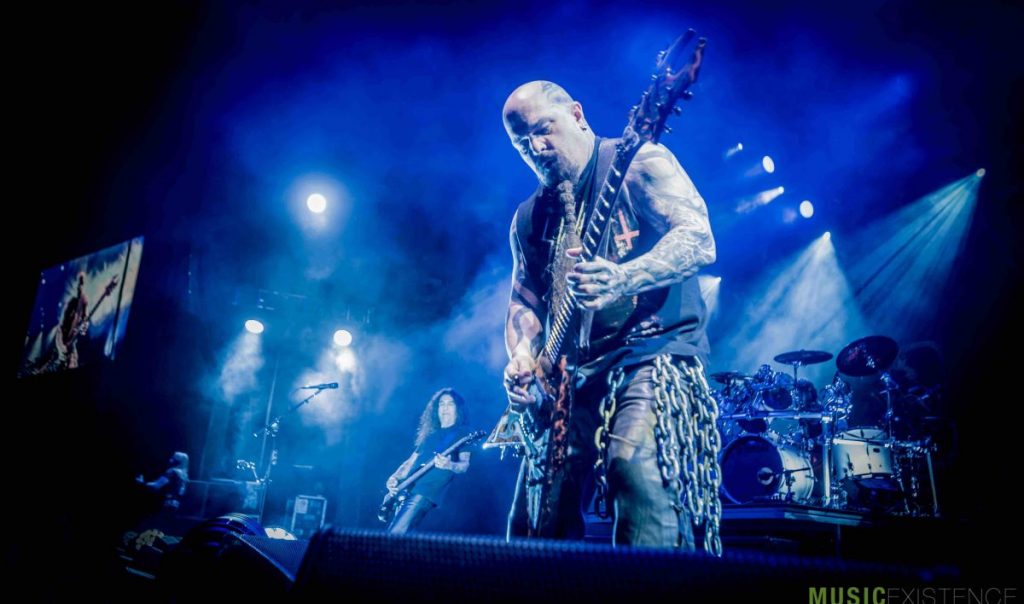 Slayer – Xfinity Center – Mansfield, MA – May 25, 2019
Most pundits tend to point to Black Sabbath's 1970 self-titled debut as the moment in time "heavy metal" was birthed.
New wave of British heavy metal bands such as Iron Maiden, Judas Priest, Saxon, Tygers of Pan Tang, Venom, Angel Witch and others moved the genre forward throughout the mid to late 70's and into the early 80's.
As 1981 approached the world of music, however, still had not heard or seen anything that could definitely be described as thrash metal.  That was until the dark musical forces aligned and Kerry King, Tom Araya, Dave Lombardo and Jeff Hanneman conveyed in southern California to form what would eventually become Slayer.
Although the band's 1983 self-titled debut, "Show No Mercy" continues to sit atop Metal Blade's all time sales list, it was Slayer's sophomore follow up, 1985's Hell Awaits, that altered the face of heavy music forever.
The record's more progressive and melodic sonics juxtaposed against its darker themes and subject matter served as the blue print Slayer would later go on to use to birth some of the most influential heavy metal albums of all time in Reign in Blood (1986), South of Heaven (1988) and Season in the Abyss (1990).
As importantly Slayer's visionary approach to heavy music created a seismic shift in the music industry while also paving the way for every sub genre of heavy metal that exists today.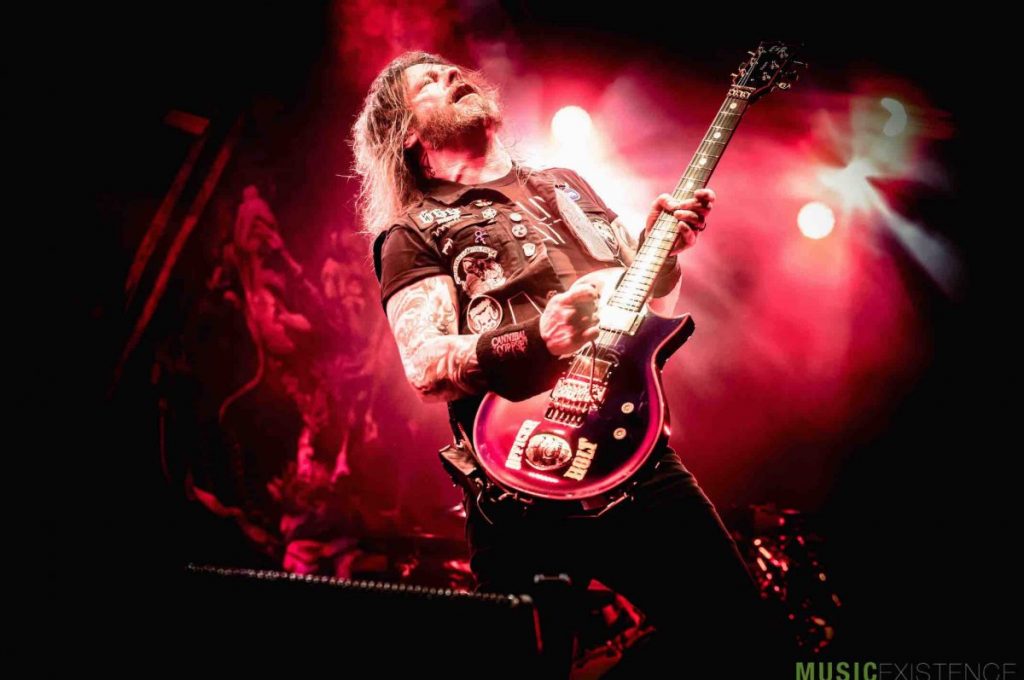 Slayer – Xfinity Center – Mansfield, MA – May 25, 2019
This may come of as blasphemy to some but Metallica sits atop iron throne of the "Big Four" primarily for two reasons.
One, they produced three of the most important heavy metal records ever cut in Kill em' All (1983), Ride the Lighting (1984) and Master of Puppets (1986).
The second reason Metallica is considered above Megadeth, Anthrax and Slayer in terms of the Big Four's hierarchy is they've simply won the popular vote.
However, if you take the time to properly dissect both Metallica's and Slayer's careers on each band's music and nothing else, there is no question that the house Araya, Kerry, Lombardo and Hanneman built stands stronger and taller than all other comers.
Seemingly out of thin air Slayer conjured up a genre of music that would later become defined as thrash metal.  Subsequently Slayer became the inspiration behind the formation of thousands of bands, while also simultaneously hypnotizing millions upon millions of fans across multiple generations.
Popular music tastes tend to ebb and flow over time, however, the popularity and respect for Slayer within the universe of heavy music never has.  Slayer hasn't just weathered the storm that altered the heavy music world's landscape over the course of their career.
Instead, when the pendulum swung towards hair metal, then the waves of nu-metal, hard core, metal core, etc, that followed, Slayer continued to be the storm.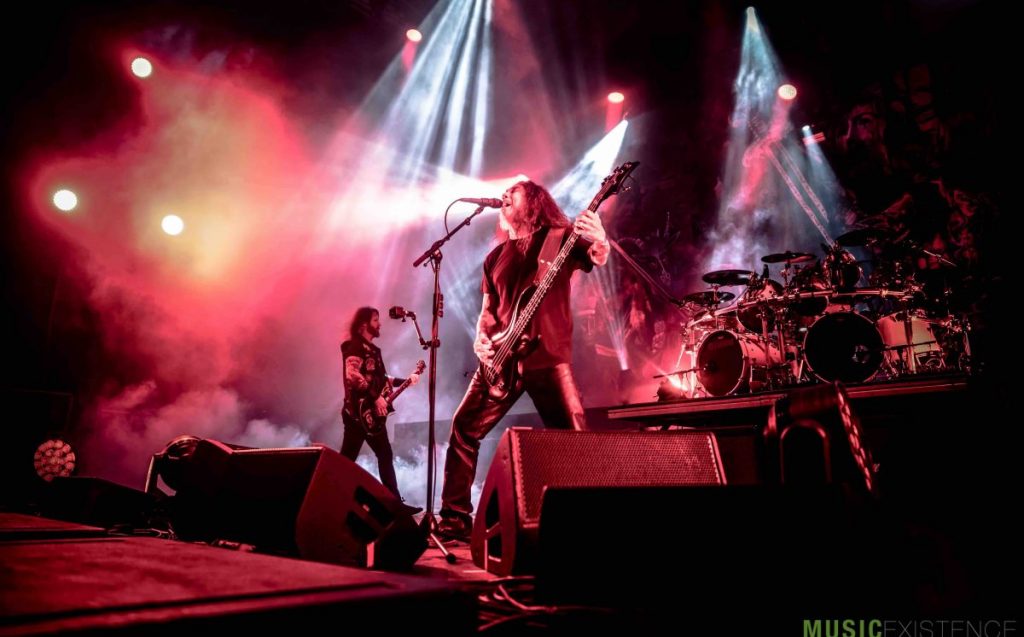 Slayer – Xfinity Center – Mansfield, MA – May 25, 2019
Again, where does it all begin and end with any band in terms of their legacy, their music.
The Beatles, Led Zeppelin, the Rolling Stones and Slayer all share a singular trait that permanently cements their legacies, their music is timeless.
Think about this for a second. This past Saturday in Mansfield a ten-year-old boy or girl saw Slayer perform live and in the flesh.
Sixty years from now in the year 2079 it's fair to suggest this same 10-year-old may very well be spinning yarns to their grand kids about that one time on a windy May night ever so long ago, they witnessed four men named Araya, King, Holt and Bostaph bring to a close one of the most storied music careers of all time.
Slayer has been waving good bye to their legions of fans for over a year now, so regurgitating set lists and pointing out a particular gargantuan explosion of fire that occurred throughout the show would seem to be be kind of pointless.
Anyone who follows Slayer sure as hell has heard stories about the size and scope of the pyrotechnics, as well what songs the band has been playing on this run.
That being said it's still worth mentioning that it was a welcomed surprise to hear the band break out rarely played tracks such as "Evil Has No Boundaries" from Show No Mercy and the only original track featured on 1996's Undisputed Attitude, "Gemini."
Regardless, most fans' takeaways from what was one of Slayer's final North American performances probably wasn't a particular song or a specific moment from the show anyway.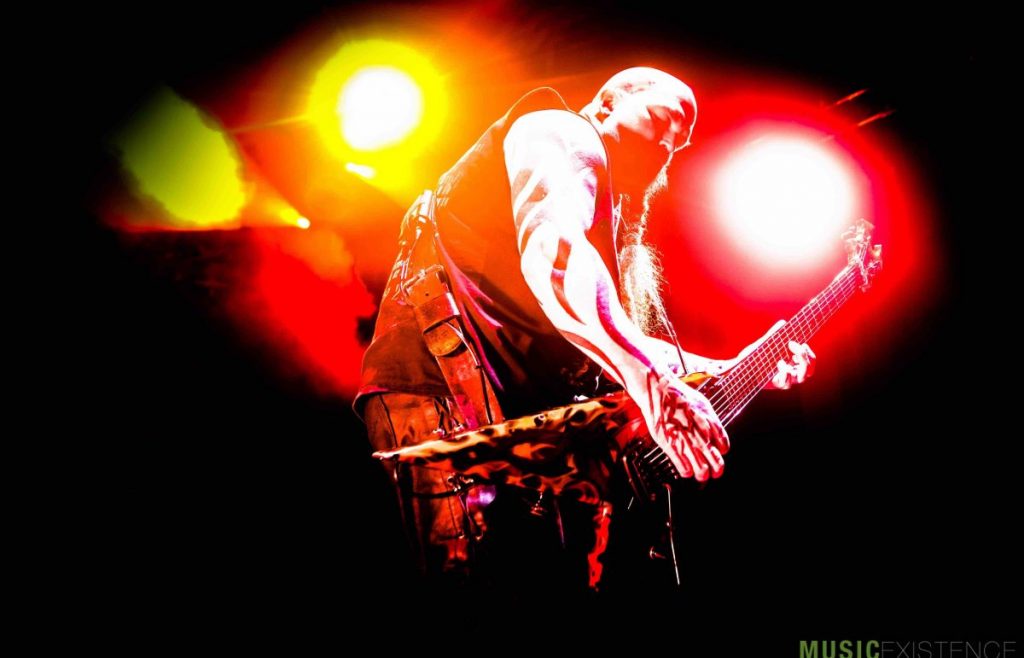 Slayer – Xfinity Center – Mansfield, MA – May 25, 2019
Instead, most, if not all of those who attended the band's concert at the Xfinity Center in Mansfield, Massachusetts this past Saturday are more than likely still filled with an overwhelming sense of joy, pride and love for all things Slayer.
Some are also likely still reveling in the fact that they were not only able to share these emotions with Slayer one last time but also with their families, their friends and close to twenty thousand other souls they would all proudly call their metal brothers and sisters.
And you see right there, that's Slayer.   Their music has inspired countless other artists to create, while at the same time uniting millions in the celebration of the one thing that Slayer will forever be remembered for, their music.
On and on South of Heaven. On and on South of Heaven.
Connect with Slayer (click icons):

All Writing & Photography:  Robert Forte
Instagram- 40_photography:  https://www.instagram.com/40_photography/
Facebook- @4zerophotography:  https://www.facebook.com/4zerophotography/