Two or three decades ago, the music industry was a very different place than it is today. World class rock musicians belonged to one band, and the lifecycle of that band pretty much went like this: record and release album, tour to support album sales and spread the new music for radio play, take short break after tour, and repeat process. Money was made through album sales, and everything was geared towards promoting that. Artists made money touring, but album sales were the main driver of wealth for successful musicians and songwriters. Popular albums sold in the millions and were very lucrative. Side projects or solo albums were few and far between, for the most part, and were mainly for fun and blowing off steam from one's main gig.
It's all very different now, with album sales having turned into streams, which pay fractions of a cent per listen. Top musicians may belong to several bands, each of which may be equally important as the others. The key is to stay out on the road playing, because touring and merchandise sales, is where money is made now. Nowhere is this current system on display better than with the three musicians who make up The Winery Dogs: bassist Billy Sheehan, drummer Mike Portnoy, and guitarist/keyboardist Richie Kotzen.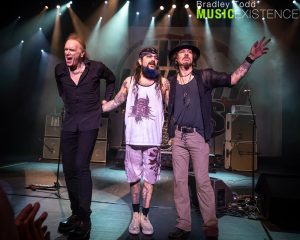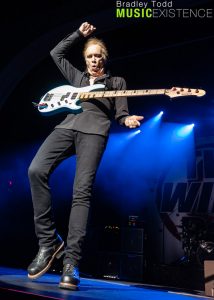 Sheehan plays in The Winery Dogs, prog metal group Sons of Apollo, 80's pop rock band Mr. Big, and has recorded with a new group, The Fell. Portnoy is a fellow band member with Sheehan in the aforementioned Winery Dogs and Sons of Apollo, and also records and tours with Neal Morse. And Kotzen has a prolific solo career, with multiple albums and tours under his belt.
With the above information in mind, it makes perfect sense for The Winery Dogs to be back out on tour, although in support of nothing new! I'm guessing an open space in the calendar for all three members has lead to this short tour. And the band's fans benefit by getting to see the group where in times past it might not have happened without new music to support.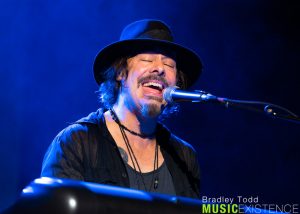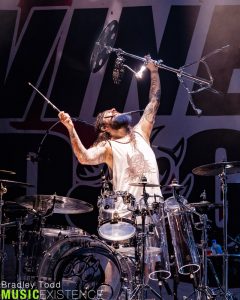 But The Winery Dogs have two fantastic albums to play material from: their self-titled debut and their sophomore effort, Hot Streak. Consequently, fans of those albums will get to re-live those albums'magic, which still sounds fresh, along with a few cover tunes (see setlist below). The trio's music is a unique form of rock with prog moments that color in the spaces between, and memorable pop melodies and vocals, lead as well as group background. The Winery Dogs are simply too good to be missed.
In Milwaukee the group was loose, yet energetic as they ran through an almost two hour set that covered ground from high-octane rock to piano ballads. Fan interaction played a big part of the performance in the intimate Northern Lights Theater at Potawatami Casino. The theater runs wide rather than deep, so every seat, regardless of which side it's on, has a good close view of the stage. Front row seats actually wrap around the lip of the stage putting the concertgoer right at the feet of any performer who comes to the edge of the stage. So Winery Dogs fans got fist bumps, high fives, and even an opportunity to touch Billy Sheehan's red Lucite bass he held out and paraded around for fans to check out up close.
The band is on tour for the rest of May and it's unclear whether there are further dates or new music in their immediate future, so hurry up to catch one of their remaining shows on this run.
SEE PHOTO GALLERY BELOW SETLIST
More information about The Winery Dogs can be found here:
Instagram: @thewinerydogs
Twitter: @thewinerydogs
Facebook: www.facebook.com/thewinerydogs/
SETLIST:
Elevate
Captain Love
Hot Streak
Time Machine
Damaged
The Lamb
The Other Side
Bass Solo
Ghost Town
The Road
Regret
Devil You Know
I'm No Angel
The Dying
Oblivion
Fooled Around And Fell In Love (Encore)
Desire