Going to see a gig for a band you're not overly familiar with is a bit of a stressful experience at the best of times. It's exacerbated exponentially when the group in question have somewhat mixed reviews. Hollywood Undead is one such band. The Californian rap rock five piece have been going since 2005, so the fact that they're still kicking after in excess of a decade is pretty impressive. The resounding consensus from fans and foes alike appears to be that their songs are fantastic, just as long as you don't listen too hard to the lyrics. With such a mixed bag of responses to go off before their gig, I was ready to make up my own mind.
The lonely support for the evening was Scouse heavy metal band Loathe – who felt the need to announce that they hailed from Liverpool, as if we couldn't already tell from the thick accent. Loathe's industrial tinged metalcore sound was an unexpected but welcome way to start out. Their stripped back stage presence was more than made up for by energy and personality. Abrasive music combined with viceral vocals perfectly. While they didn't musically blow me away, they're definitely on the right trajectory following the release of their debut album The Cold Sun in 2017 and last year's This Is As One EP. I really look forward to seeing how this lot progress as the releases keep on coming.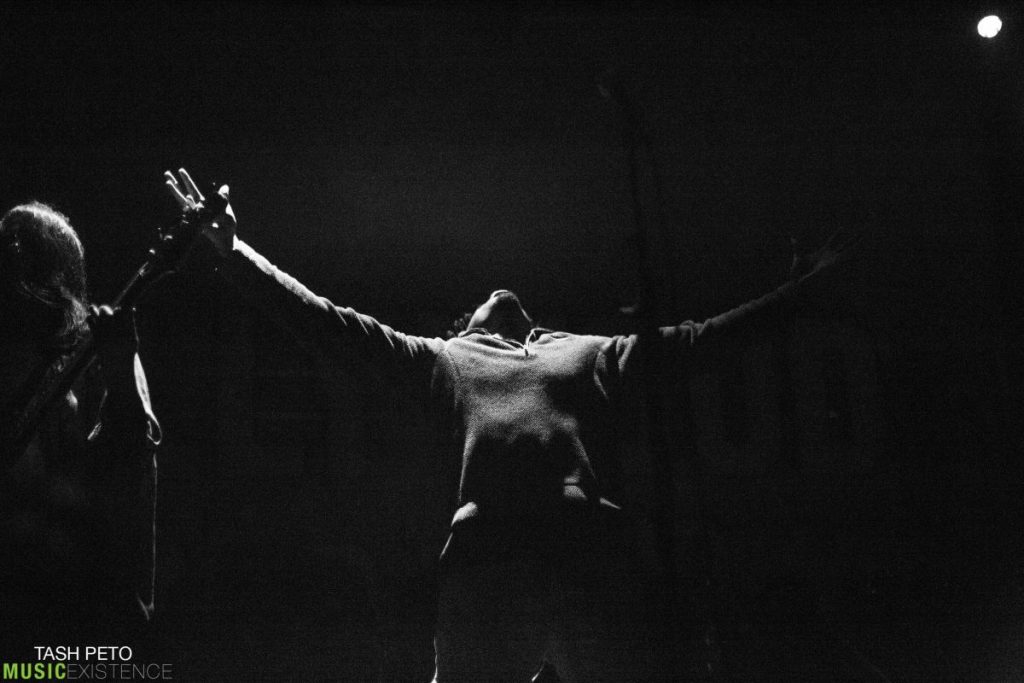 Growing up in an era when nu metal and rap rock were all the rage, every time I listen to musicians in that genre it gives me a real sense of nostalgia for the 2000s. Hollywood Undead only increased this feeling, because they reminded me how good nu metal is when it's done well. Their older material's old school style definitely stands out against newer stuff: it felt like I fell down a wormhole every time something pre-2010 cropped up and I was back in the era when Limp Bizket and Korn ruled the day. "Hear Me Now" came as a quick reminder that Hollywood Undead aren't necessarily all about explicit – borderline vile – lyrics, and that they can on occasion put out a track jam-packed with poetic lyrics and motivational energy: its message of struggle perseverance make it something a lot of people can easily relate to. "Bullet" obviously did well for the crowd, its childish jangly tune juxtaposed with lyrics that defined a whole emo generation.
Bringing in their more recent material really showed off how much, and sometimes how subtly, Hollywood Undead have changed their musical style. "Riot" brings in elements of dubstep and electronica that creates what I can only assume would be played in a post-apocalyptic dystopian club night. That'd also be a pretty good visual to have in your head to understand the look of the stage show and the crowd: moshing was pretty much a consistent throughout, jets of sparks periodically shot from the stage, and technicolour lights and streamers covered the crowd. It's honestly nice when a band doesn't skimp on the visuals, and it really made the night feel that bit more special.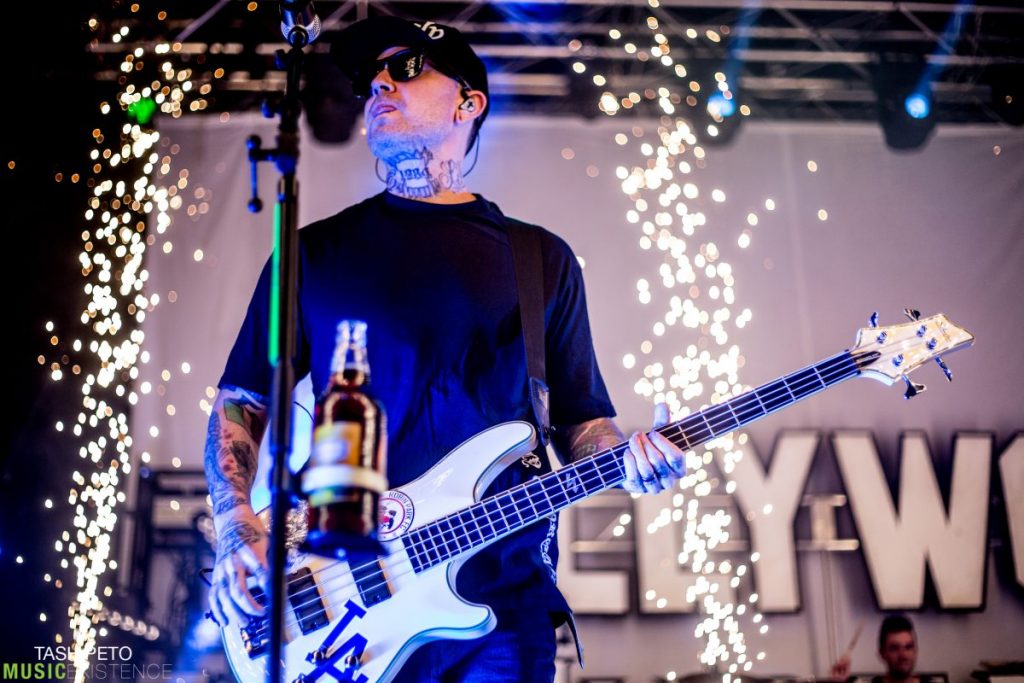 What really made this Hollywood Undead gig stand out for me was the unexpectedly essential element of audience participation. Getting a guitar-playing fan on stage led to a beautiful impromptu karaoke session featuring Sweet Child of Mine. The show rounded off with an encore that was started in the most organic and heartwarming way possible, as the audience kicked off their own version of arguably Hollywood Undead's most well known song "Everywhere I Go," for which the band themselves had to simply return to stage and join in. It showed a great deal of trust in the crowd that they were gonna come back, and the beautiful moment showed how adored they were by their fans.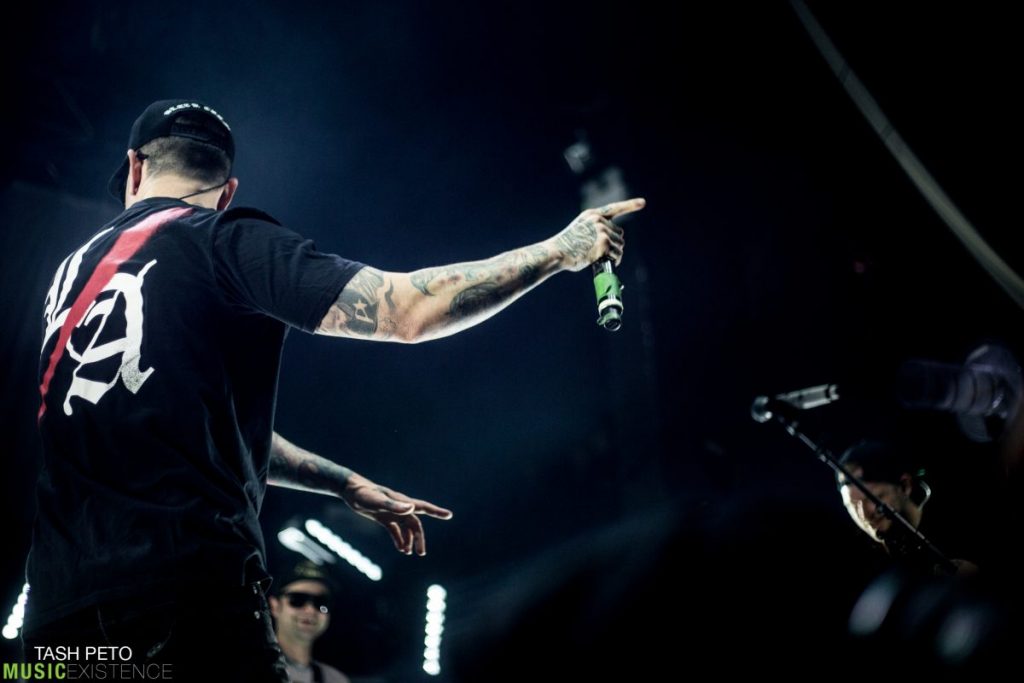 Maybe Hollywood Undead aren't the kind of band you can show to your grandparents, and I can't imagine anyone really kicking back to their tunes after a long day at work. But if you need to get riled up, if you need to blow of steam, or if you just really like diving about into other sweaty bodies, there's no place better than a Hollywood Undead concert. Dodgy lyrics making me occasionally grimace aside, I spent the vast majority of the time grinning and having a good time – and that is perfectly fine with me.
Listen to "Riot" below:
Find Holywood Undead on social media:
Facebook | Twitter | Instagram | Spotify | YouTube | Official Site