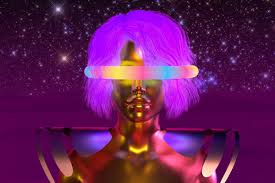 Jason Young's gig as drumming for popular Los Angeles based band The Ruse thankfully doesn't preclude him from branching out with his Heartour project. An ongoing musical concern for the last sixteen years, Young's exploration of sound over the course of nearly two decades has led to many entertaining and thrilling moments, but the latest single "Dreams to Come" may be his finest achievement yet as both a songwriter and performer. Heartour's new recordings mark a comeback of sorts – this release ends an eight year hiatus following the 2011 release of Submarine Sounds, but Young busied himself during the interval with a variety of other musical projects. "Dreams to Come", however, illustrates how his Heartour project never drifted far away from either his heart or imagination.
A number of well-meaning labels are applied to Heartour's music – electro rock, synthwave, dreamwave – but, ultimately, it is fine songcraft with an electronic basis. The strong presence of synthesizers from the outset casts the song in a particular mold, but Young's vocals push back against listeners forming any preconceived notions. His voice has bell-like clarity and the occasional reliance on double-tracked vocals during the song further strengthens the effectiveness of his voice. There's a strong melodic center to this track further separating it from similar efforts in this style – it isn't manifested through Young's voice alone, but comes through in the arrangement as well. Few performers or bands use electronic instruments with the same aplomb evident in each second of "Dreams to Come".
SPOTIFY: https://open.spotify.com/album/4t5hgqs1wJR2vJPdBgeKRh
The instrumental breaks contain a certain amount of flash, but they are invariably and never overstated to the point of cliché. The robust production keeps the song in listener's face throughout but doesn't threaten to overwhelm you – instead, it stands as an impressive achievement and accentuates the obvious understanding Young has for how dynamics can transform a song into something special and unique. It is something reviewers often claim about songs they enjoy, but it is difficult to believe that even those not enamored of electronic music will remain unimpressed by what Young accomplishes with "Dreams To Come".
His talents extend to the lyrics as well. Too many bands and performers often treat the words for their songs as a necessary evil they give short shrift to, but Young is not among their number. He never overwrites, however, and observes an economical approach to the lyrics making him stand further apart from others working in this style. The sense of wonder pervading the song makes it an upbeat, even exhilarating, listening experience. The emotion pouring out of this song is notable, as well, without ever being too heavy handed.
This is a stunning return for the Heartour project. One gets the feeling listening to this song that this is no longer a mere musical sideline for Young but, instead, a full-throated manifestation of another side of his musical character as valid and important as his more well-known gigs. It's the sort of track that harbors the potential for spreading the project's merits far and wide. "Dreams to Come" works from a limited instrumental toolbox, but you can't tell – it sounds like a powerful and wide-spanning expression of musical creativity.
Loren Sperry