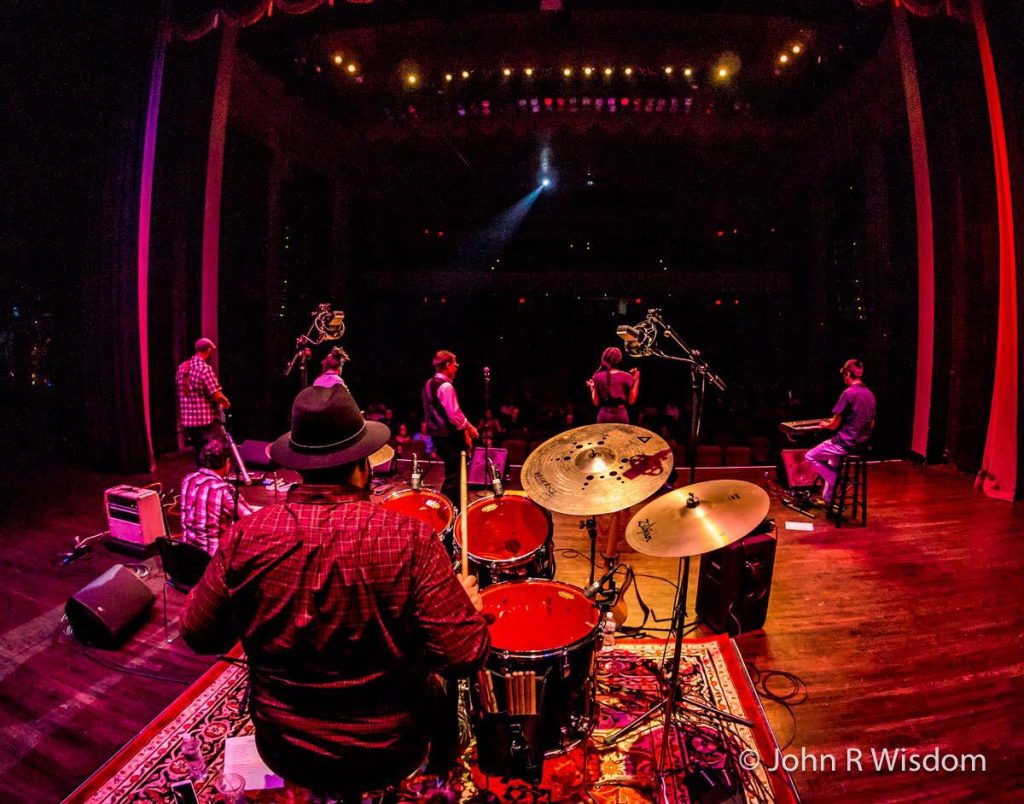 Project Grand Slam is back in the spotlight with a brand new collection of sonic supernaturalism in PGS 7, an album that has been highly anticipated by fans and critics in the wake of the group's powerful live record Greetings from Serbia. In many ways, PGS 7 is Project Grand Slam's most atmospheric LP to date, with frontman Robert Miller applying a spacey depth of rhythm to cornerstone tracks like "Yeah Yeah," "At Midnight," "Get Out" and "The 'In' Crowd," the last of which sports some smoking lead vocals from the one and only Ziarra Washington. This is premium jazz fusion if there ever was such a thing, and it's a wonderful addition to the band's discography.
"Redemption Road," "Take Me," "With You" and "Tree of Life" are structured around Ziarra Washington's potent verses, while "Python," "Torpedo of Love" and "Funk Latino" are all about the brawniness of their basslines, a common staple element in any given PGS album. As previously noted, the stylization of this record is rooted in a shape-defying experimentalism, but that doesn't keep "Redemption Road" and the wordless "Python" from featuring two of the most textured hooks I've heard all season. PGS 7 is a melting pot of melodies, and it never employs one constructional formula over another among its thirteen tracks.
FACEBOOK: https://business.facebook.com/pg/projectgrandslam/posts/
The drums are as much a star of the show as Ziarra Washington is in "Get Out," "No One's Fool," and the aggressive "I Don't Know Why," and could be described as an essential component to the definition of emotion in each of the songs here. Joel E. Mateo and Guillermo Barron Rios deserve a lot of credit for the handiwork that contribute to PGS 7, and if you ask me, their percussive prowess is in the top tier of the industry at the moment. Miller put together a grade-A cast when he formed Project Grand Slam, and it's only gotten more impressive with time.
There are a lot of layers in this master mix, but they're all indispensable in crafting the right lens for us to observe these arrangements through. If PGS 7 weren't as well-produced as it is, I fear that its sheer volume of substance would be much more overwhelming to casual jazz fans than it is in this state. Instead, even the mix is acting as a provocative agent of artistry in this record and engaging us with its immaculacy in the same way that the music itself is.
If you've been searching for a hot new harmony to add to your spring playlist, Project Grand Slam's latest album is loaded with over a dozen viable options that are almost sure to hit the spot. Robert Miller's got a reputation for throwing down weighty records that don't lose their luster after a handful of spins, and I think that PGS 7 might be his most addictive set so far. Ziarra Washington, Joel E. Mateo, Guillermo Barron Rios, Tristan Clark, Mario Castro, Baden Goyo and Marcello Casagrandi are in the most elite form that we've heard them in the studio environment here, and while the year is still young, my gut tells me that come December this will still be a go-to LP for diehard audiophiles everywhere.
Loren Sperry
The music of Project Grand Slam has been heard all over the world due to the promotional services offered by Danie Cortese Entertainment & Publicity. Learn more here – http://www.daniecorteseent.com/