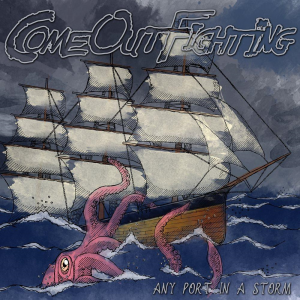 Come Out Fighting is a classic-inspired hardcore punk outfit out of Michigan. Since forming a decade ago, the Detroit quintet remains true to their ethos, playing "anywhere that has a PA and is willing to book a punk band," and even "places that don't have a PA and don't really book bands," according to backing vocalist/guitarist Nate Jose Garcia. At present, the band prepares for the release of their latest album, Any Port in a Storm, which will be further supplemented by an end-of-May/beginning-of-June southern US tour, and a German festival run toward the remainder of summer.
In the meantime, the band has tided fans over with a two-song preview EP of the same name. Its opener is "Blackout," an instant headbanger and sonic interpretation of a crew at sea braving a relentless storm. Overdriven guitars are balanced by speeding bass lines – punchy, thick and prominent – all the while frontman Nick Rudowyj's harsh-to-clean tonality steadily locks on.
On the flipside, "Soundtrack to a Shipwreck" directly expands upon that imagery of being lost at sea, totally isolated from family – and the rest of civilization, nonetheless. This time around, a metal-influenced arrangement bolsters predominately screaming vocals, while less intense shouts and cleans comprise the latter phases of the verses. At the same time, the general arrangement feels fuller, featuring greater melodic emphasis as well as a sense of space around the song.
Overall, the Any Port in a Storm mini EP showcases a decent snapshot of what's to come from Come Out Fighting. Each song represents an extreme of the band's stylistic range – one being outright rage, the other a more intricate, complex build – while connected to an image of physical, as well as emotional isolation. It's quite a refreshing means of expression especially for hardcore punk, and I'll definitely be on the lookout for the eventual full-length.
Come Out Fighting Socials:
Official Website|Facebook|Twitter|Instagram|SoundCloud