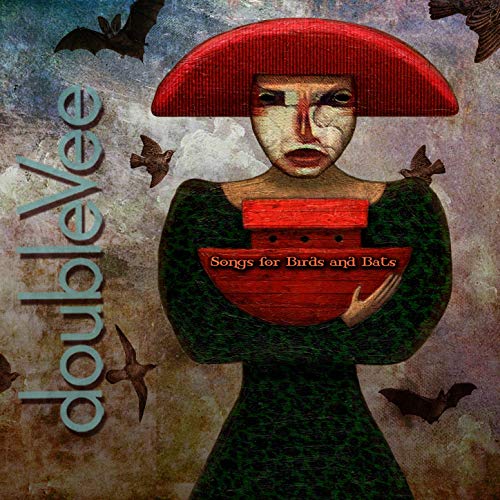 FACEBOOK: https://www.facebook.com/doubleVeeSongs/
Abrasive white noise is channeled into sophisticated strands of melody as we try to avoid the galloping percussion of "Ladder for the People." The rhythm is agile and uncompromisingly forceful, but the instrumentation is surprisingly relaxed amid all of the anxiety in the vocal track. Next to the folky "Last Castaways," its grooves are somewhat dwarfed by the emotion in the verses, but then again, most anything would be in comparison to what this gorgeously gilded ballad has to offer from behind the mic. The heavenly harmonies of these two songs are joined by many more in the five-track EP Songs for Birds and Bats by doubleVee, and together they make it a record with a righteous accessibility to pop and rock fans alike.
From where I sit, "Map of the Channels" and "Goldstar Redux" were meant for the stage, and though they're boxed inside of a tight master mix in Songs for Birds and Bats, they don't sound compromised by the studio setting at all. The tonality of the instruments is rich and full of vitality, and the production quality ensures that we never feel like we're listening to something that was made in the close-knit quarters of a recording booth – even if it indeed was.
"Landlord of the Flies" and "Ladder for the People" are all about flexing some musical muscle, while "Last Castaways" and "Map the Channels" are definitely more lyrically-focused in the big picture here. Where I found The Moonlit Fables of Jack the Rider to be a tad too sprawling to be absorbed a single listening session, this lightning bolt-style structure of the five tracks in Songs for Birds and Bats is a lot more conducive to the energy that doubleVee bring with them into the studio every time they record a new song. Nothing is overdone or excessive in nature (though I'll note that the chugging tempo of "Goldstar Redux" comes awfully close).
"Last Castaways" didn't make a whole lot of sense to me (at first) as to why it would be included in what is essentially an electro-punk style pop/rock record, but when I think about the diversity in The Moonlit Fables of Jack the Rider, the pieces start to come together a bit more. doubleVee make no attempt to hide the multidimensional approach that they take to writing here, and while it's rendering songs like "Last Castaways" that are a stylistic departure from what we might have anticipated, it's inventive enough to convince me that this band is going in a very exciting, and dare I say avant-garde, direction moving forward.
If you're looking for something experimental in tone but stimulating in its adherence to moderate pop hooks that mesh with the mainstream model, Songs for Birds and Bats is a record that I highly recommend listening to this April, whether you're familiar with doubleVee or not. They've been around for seven years now, and though this is only their second official release, they don't sound like a band that is still trying to figure out who they are artistically. They bring the swagger in spades to this new EP, and rightfully so.
INSTAGRAM: https://www.instagram.com/doubleVee_band/
Loren Sperry