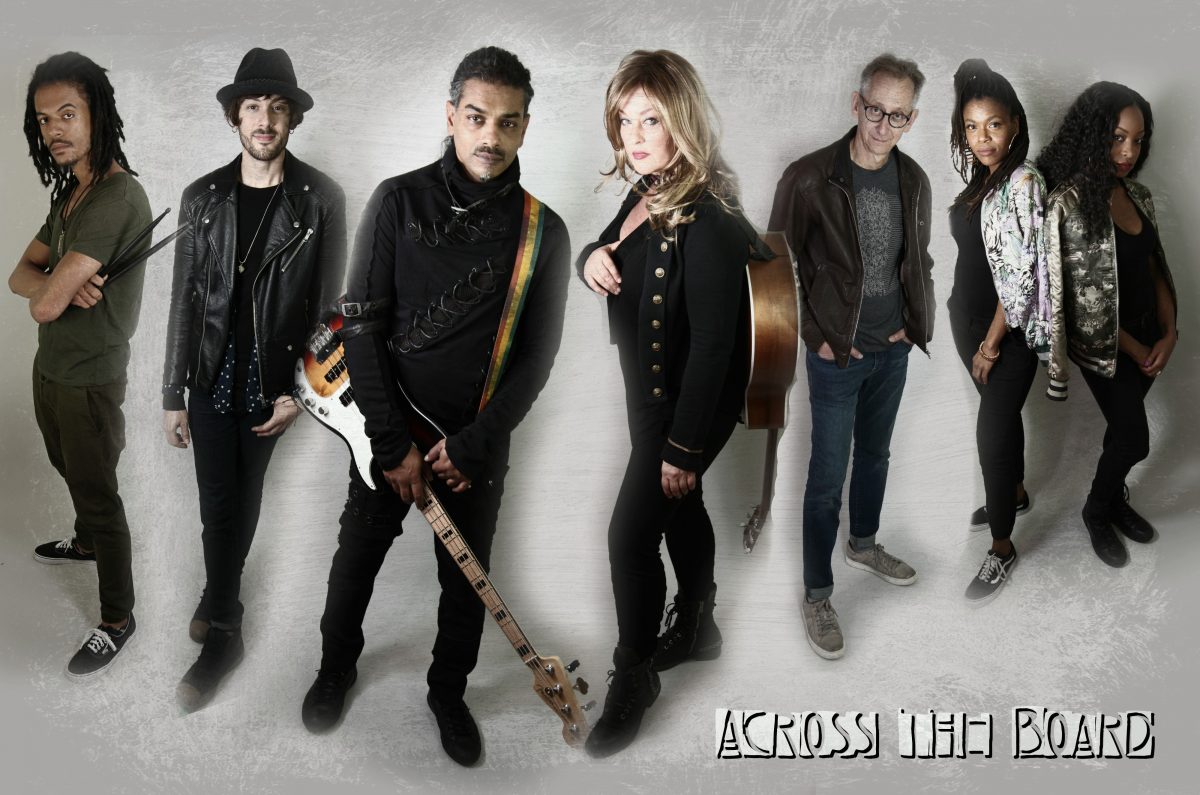 Across The Board is one of Canada's hottest rock bands at the moment.  Their last album spawned a #4 iTunes rock chart hit with the title track, "Sonic Boom."  They were in Billboard Magazine as an Emerging Artist, received a Canadian Gospel Music Association Award Nomination, and toured the country.  On the eve of the release of their 5th album, "Wild Ones," their frontwoman Jackie Auguste took some time out to answer questions about the album, her recent bout with cancer, and the crazy ride her band has been on…
Music Existence: Hey Jackie! Here we are in April of 2019 already…how's the year going for the band, and looking back on 2018, what was your biggest accomplishment?
Jackie Auguste: In 2018 we managed to take our album SONIC BOOM across Canada and hit the iTunes rock chart at #4, which we were so proud of as an unsigned indie band. Growing our fan base locally and globally in 2018, continuing to add to our catalogue of videos–now over 600, and grow our social media  all have marked 2018 for the band.
ME: You've got a new album that just came out. Please tell us all about it.
JA: "Wild Ones" was written in the summer of 2018 when I was diagnosed with breast cancer–which was a huge shock for the band initially, and then became an inspiration for the album as we started to write.
We wanted to explore the idea of the pack mentality versus the need to be independent. We are, like the wolf, uniquely tied to the circadian rhythm of the planet—and although we have to be able to stand on our own two feet and be autonomous, we all still need to have a pack behind us – to battle for us, to lift us up, or as a soft place to fall—a place to play~we need to be able to play in the sandbox of life with others, but lead when we need to. As we were struggling with my diagnosis, the idea of the wolf was born from that need to be strong, to fight, to lead—but to lean other others—our pack.
ME:Are there plans for a lead single and video?
JA: "Wild Ones" the title track speaks to the instinct we have to follow our biological directive on the planet, but the gift of awareness of ourselves that also allows to take a break from instinct, to step out of that connection with the planet and enjoy it—to dance, to play under the moon! We have the idea for a video using the Red Riding Hood story–as she gets lost in the woods, and comes across the band!
ME: Will you guys be hitting the road to support this record?
JA: Yes, we are going to start touring this record in May. We are starting with some local acoustic shows in and around Toronto–including May 14 and 16th shows in Toronto and Kitchener, Ontario. Then we will be travelling around Eastern Canada this summer reaching out to new fans and continuing to build our fan base. We are also going to do a couple of live online concert streams on our social media in addition to our weekly Facebook and Instagram LIVE shows on Sundays.
ME: If I were a fly on the wall of the Across The Board tour experience, behind the scenes, what would I witness?
JA: A whole lot of laughing. We are a band that is constantly joking, laughing, making fun of each other and vlogging the entire thing as we go. We are basically a bunch of rock music geeks and best friends hanging out having a blast everywhere we go.
ME: Congratulations on your Canadian Gospel Music Association nomination. That's quite an honour! How did that all come about, seeing as you guys aren't really known as a "Christian" music band?
JA: Isn't that crazy!~/? SONIC BOOM, which was the album we were nominated for, is an album that explores the concept of rising to one's potential, focusing on your dreams and understanding that our higher power binds us all together. The concept of self-discovery by connecting to our higher power is a Christian concept. And as Christians, Andy and I often write inspirational messages in their music. We believe that is what attracted the nomination for the award this year.
ME: So, who are you guys listening to these days, besides your own music?
JA: As usual, we love to listen to our standards–Pearl Jam, Fleetwood Mac, The Doors, Pink Floyd–with a sprinkling of the new Gaga movie sound track "A Star Is Born", the new Motley Crue soundtrack from "THE DIRT" – we actually just covered THE DIRT for our Youtube channel! That was fun. https://youtu.be/1mSbgA2YCRA
ME: Any parting words for your fans?
We are just so grateful for our fans who are following us along on this journey! We started calling our fans "Wild Ones" since the release of the new album, and we are so excited to continue to build relationships with them, connect and rock on together! If you haven't checked out the new album yet, please visit this page which will take you to your favorite streaming service:
http://smarturl.it/ATBwildones
For more information on Across The Board please visit http://www.acrosstheboardband.ca.