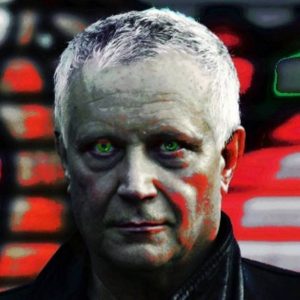 "Cocktails and Cannabis / They take me to another place / Cocktails and cannabis / I get high looking into your face," croons Australian rock n' roll rebel Rhett May in his latest studio cut "Cocktails and Cannabis," but he's not singing about the joy of partying in this all-new single. Since the beginning of the style, rock has tended to embrace the sinful side of the music industry in a way that no other genre has to this day – save perhaps for hip-hop – but for artists like Rhett May, making another song celebrating the anti-virtues of staying awake until dawn while stoned and drunk out of your mind is simply too pedestrian a concept to be considered relevant. May is belting out lyrics that go against the grain in "Cocktails and Cannabis," and while it's got an intoxicating group of riffs that will punish you with as much impunity as a hearty hangover would, it's far from the saccharine psychedelia that has replaced the surreal pop movement left of the dial in the States and abroad.
YOU TUBE: https://www.youtube.com/watch?v=5R5Dz2IcBZg
A lot of rock bands nowadays are staying away from the physicality that this single boasts with pride in almost every element of its construction, and that alone makes "Cocktails and Cannabis" a winner in my book. Rhett May isn't buying into the minimalist nonsense that a lot of his peers have taken to in the last couple of years; on the contrary, he's going out of his way to let the lush tonality of his tube-amplified riffs run as wild as it can in this song. The thunder of the drums is unrestricted. The bass is about as conservative as the San Francisco City Council. The vocal track is as ferocious as the guttural guitars surrounding it are, and though the grooves aren't devoid of a big ol' hook right in the center of the storm, they aren't defined by the stylized tempo of the music at all. If it's rollicking soft rock that you're searching for this spring, then I would have to say that "Cocktails and Cannabis" is a song that you might want to steer clear of.
Marvelously produced and rocking a weighty finish that metalheads and hard rock fans won't disagree on – imagine that? – Rhett May's "Cocktails and Cannabis" is undisputedly one of the heavier tunes that I've had the pleasure of giving a spin this March, but it's by no means an exercise in sonic eccentricities on the part of its composer. May is all about efficiency, and this single is very much an encapsulation of his approach to songwriting and recording at this stage of his career. He's grown a lot since first coming onto the scene, and if you ask me, he's still revealing different facets in his multidimensional musical profile that are as charming as anything he's shown us previously. This has already been a really thrilling year for independent music, and with the release of "Cocktails and Cannabis," Rhett May gives rock n' rollers something awesome to soundtrack their season with.
DEEZER: https://www.deezer.com/en/track/467159592?autoplay=true
Loren Speerry