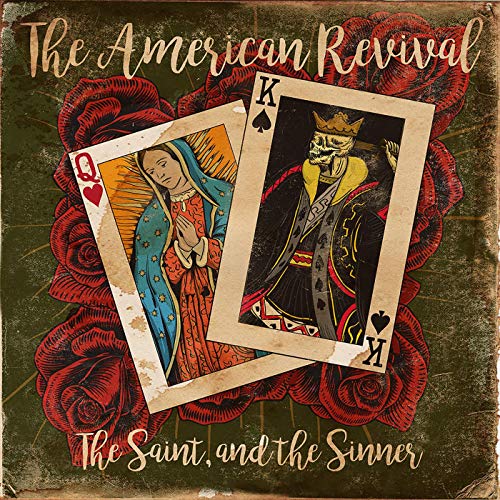 URL: https://www.theamericanrevival.net/
Music has always been a means of communicating emotions that mere humans have a hard time expressing any other way, and while some groups admittedly take a halfhearted approach to constructing pop hooks and swinging beats with relatable lyrics, this just can't be said of The American Revival. This country/rock band's commitment to the craft is put on full display in the album The Saint and The Sinner and the evocative tracks that it features, including the soaring "Whiskey Kisses," frisky "Lovin' I Gave You," poignant "Texas Weather" and Great Plains groover "On My Way," just to name a few. There's been a lot of talk lately about the renewed interest in all things Americana, but I don't think that I've heard a country band as embedded in the very fabric of the amalgamative term as The American Revival are. Their music espouses the virtues of country simplicity, the passion of homespun storytelling, and above all else, the relationship between artist and audience that has, for all intents and purposes, egregiously fallen to the wayside for so many of country music's mainstream heroes.
The Saint and The Sinner is as much of a blend of rock n' roll and country as they come, but there's also a strong blues influence that is impossible to deny here, especially in songs like "The Way You Can," "Remember This," "The Devil Lives in the South" and the title track. The guitars are as much of a scene-setter as the lyrics are on their own, and while there aren't any sagging 12-bar templates being manipulated into big riff rock on this record, there's plenty of experimentation with the Delta Blues model in the construction of these rhythms. "Whiskey Kisses" and "Texas Weather" hide their blue note under layers of folk/rock tonality, but their country swing clears just enough space in the master mix to allow their lumbering basslines to impart a melancholic moodiness to both songs. I'd be really curious to hear how much of this aspect of their sound becomes a factor in their live shows, and with any luck, The American Revival will soon treat us to a national tour in support of this very palatable collection of tracks.
If this is the caliber of content that we can anticipate The American Revival dishing out in the future, than I can only say that Nashville had better look out and start bracing itself for a new heavyweight in contemporary country. There's just so much spirit and unrelenting emotionality in these songs, and though the endearing poetic drawl that finds its way to us through the suffocating string arrangements contains all the charm that most of us would require to deem this a must-listen record, this band didn't stop at virtuous vocals in making a full-throttle watershed of an album in The Saint and The Sinner. I'm eager to hear how their sound evolves as time goes by, but as it currently plays out now, I think that there's no need to debate whether or not these guys are onto something special.
DEEZER: https://www.deezer.com/us/album/90597172
Loren Sperry