Adding to what already is turning out to be a purr-fect convention centering around our furry feline friends, Asbury Park'sCATSBURY PARK CAT CONVENTION (CPCC) has announced that MOSHOW THE CAT RAPPER will be performing a FREE show at WONDER BAR on Sunday, April 14, 2019. Immediately following the free show, he will also be hosting a paid Meet & Greet (tickets: $50) and available beginning Thursday, March 21st at 12:00pm ET at: https://www.ticketweb.com/event/iammoshow-the-cat-the-wonder-bar-tickets/9290615.
Joining fellow feline and human celebs and guests as wide-ranging as comedian/actor FRED ARMISEN, cat talk show host LIL BUB, über-producer STEVE ALBINI, spokescat for abused, lost, injured animals SIR THOMAS TRUEHEART, indie rock guitarist/co-vocalist KELLEY DEAL of The Breeders, award-winning animal advocate KITTEN LADY a.k.a.Hannah Shaw, famed cat photographer Adam Myatt a.k.a. the Cat Man of West Oakland, and so many more, Moshow adds yet another fur-midable name to the bulging marquee.
Moshow became an overnight internet celebrity in 2016 when his YouTube video of him rapping while bathing with his cat went viral, amassing close to 2million views (his second freestyle cat-bathing clip is currently over 7million views on Facebook alone).
With guest appearances on Ellen, NPR Morning Edition, and coverage in USA Today, Huffington Post, COMPLEX, among countless other media, Moshow's celebrité continues to grow and CPCC is proud to have him as one of their headlining guests.
Born and raised in inner Baltimore, Maryland, Moshow defied the odds to build a name for himself as the Internet's premiere Cat Rapper. He now calls Portland, Oregon his home with his five cats – Black $avage, Sushi, Tali, Mega Mam, and Ravioli. Moshow is on a mission to inspire the world, sharing with others the lessons he has learned: to not give up on yourself and follow your dreams, no matter where they take you.
Bringing together an all-star lineup from Cat World: Celebrity Cats, adoptable felines, DJs, games, activities, art, vendors, presentations, seminars, comedians, tattoos, tasty vegetarian food, CPCC will be ushering a much larger weekend event on April 13 and 14, 2019. With more venues to allow more attendees to interact with the cats for adoption, the goal of CPCC is to both find forever homes for our lovely feline friends as well as host seminars about rescue, kitten care, TNR (Trap-Neuter-Return), and more.
Some of the biggest names in the Cat World will headline the convention: Kitten Lady a.k.a. Hannah Shaw, Klaus, Stache, Sir Thomas Truehart. On top of that, CPCC parties on April 12th and 13th at The Wonder Bar will feature musical acts including The Cure tribute supergroup THE LOVE CATS featuring members of THE GASLIGHT ANTHEM / DEAD SWORDS (Alex Levine, guitar/keys), THE LOVED ONES/THE EXPLOSION (Chris Gonzalez, bass), and founder of Catsbury Park DJ Bornschein on guitar and vocals, LIL BUB: THE BAND, TRAGEDY: ALL METAL TRIBUTE TO THE BEE GEES AND BEYOND and COUGRR.
Last year's two-day event drew over 5,000 attendees from all over the country and raised over $40,000 that was donated to Catsbury Park, The Brodie Fund, Humane Society Tinton Falls, Jersey Shore Animal Foundation, Camden County Shelter, Paul the Cat Guy, North Shore Animal League and Asbury Park Boardwalk Cats.
The Catsbury Park Cat Convention is proudly hosted and organised by Catsbury Park, a 501(c)3 non-profit rescue based in Asbury Park and is honored to be partnered with The Brodie Fund, Milo's Sanctuary, Jersey Shore Animal Foundation, and the Associated Humane Society of Tinton Falls as our chosen beneficiaries in 2019. As with the 2018 event, 100% of the profits will be donated to Catsbury Park and our partner charities.
Purchase general admission tickets for the Catsbury Park Cat Convention HERE: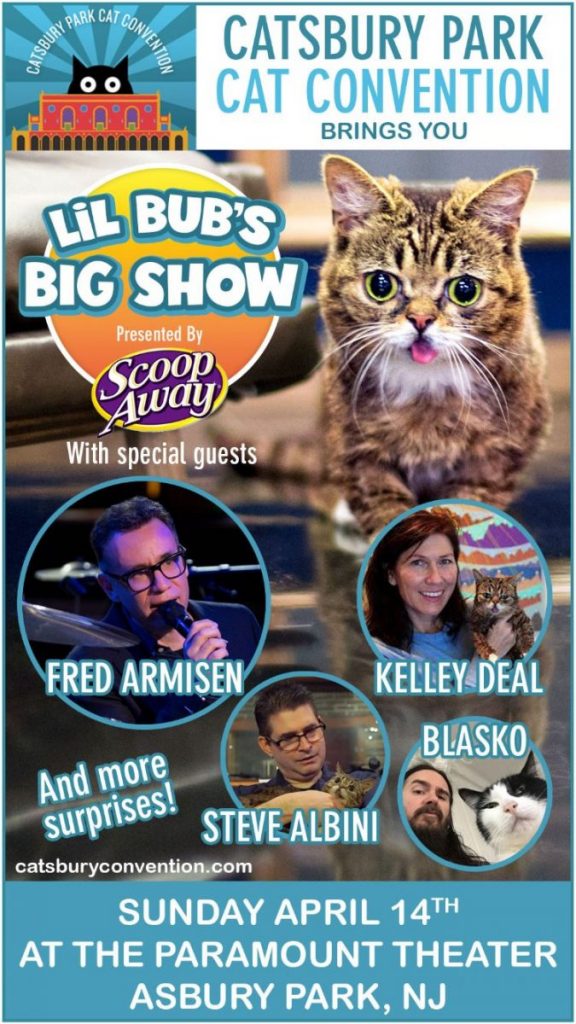 General Admission Tickets
on sale now at www.catsburyconvention.com
Adult
One Day $25
Weekend $45
Kids
One Day $15
Weekend $25
GA tickets include access to Convention Hall (home of the vendor village, cat lounge & bars), and all presentations, seminars, activities and performances in Paramount Theatre & The Wonder Bar during convention hours (Saturday 10am – 7pm & Sunday 11am – 5pm).
The Wonder Bar Convention Kickoff Parties:
4/12: The Love Cats with Lil Bub: The Band: https://www.ticketmaster.com/event/00005641C2C45831
4/13: Tragedy with Cougrr: https://www.ticketmaster.com/event/00005641C2CA583C