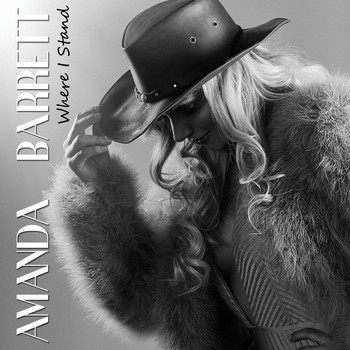 Diehard country music fans would do well to give the new single from Amanda Barret a spin this spring, if for no other reason than to get an early look at a songwriter who critics are already championing as a second coming for Canadian roots rock. In "Where I Stand," Barrett melds righteous rock n' roll tones with countrified swing and a jarring but nevertheless accessible physicality that is setting her sound apart from most anyone else in her scene. The title track from her debut EP, this song welcomes us into her seductive world of lyric-driven balladry mixed with fierce, textured rhythms, and promises to leave any true blue country enthusiast wondering where she's been all this time. There's been so much talk about the current "country music renaissance" transpiring in the United States, but in the Canadian underground, Amanda Barrett is capturing the undying passion of a generation of singer/songwriters that are primed to make some serious waves on the international level this year. She might not be a household name yet, but a single like "Where I Stand" could go a long way towards changing that.
What makes "Where I Stand" as definitively different as it is next to the majority of country songs cut this spring isn't steeped in its surreal approach to lyrics alone; in fact, I think that in the big picture of this song, the poignant poetry situated between the grandiose grooving is actually more of an added bonus than the primary star of the single.
SPOTIFY: https://open.spotify.com/artist/2Hr2EmkmvORz3auQdqiFeo
Amanda Barrett's versatile skillset makes her really adept at taking on virtually any melody that you could conceivably throw at her, and that makes it pretty easy for her to run head-on into the rock n' roll tonality presented to us from the string section in this song without coming off like a desperate hybridist. She doesn't sound like a young singer searching for her place in the sonic spectrum; on the contrary, her serenade translates nothing but confidence and a relaxed energy that is more typically associated with seasoned recording artists and not with virgin performers still breaking into the business.
You're not likely to find as strong a country single as Amanda Barrett's "Where I Stand" on either side of the border this season, and that's even taking into consideration all of the excitement that has attached itself to so-called progressive country in the last year. Barrett has got a unique sound that is truly all her own, and though she doesn't hide the fact that her influences are as diverse as her vocal palate is, there's nothing in this track to indicate to me that she's struggling to figure out what she's going to do in the studio next. Once she gets the chance to give her pipes a workout on the road with some live performances outside of her scene, I think that we're going to see what she's really capable of when she's got nothing to hold her back. This girl is going places, and "Where I Stand" undisputedly proves it.
Loren Sperry