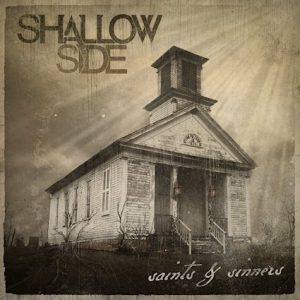 Alabama's Shallow Side is a hearty combination of rock hooks and personable pop anecdotes. Nearly a decade on the scene, that formula has earned the Cullman quartet exceptional success on active rock radio. The singles from their last EP, One – including the million-streamed "Rebel" and "Renegade," and a cover of Styx's "Can You Hear Me" – would increase their visibility, and eventually land them the distinction as Loudwire's Best Band of 2016. Now, coming up three years after their foundational acclaim, Shallow Side is on the heels of releasing their much-anticipated debut full-length, Saints & Sinners, slated toward the end of this month.
Straightaway, the intro for the opening song, appropriately titled "Revival," is done right. Its chugging guitar floats alongside equally patient percussion. Vocalist Eric Boatright fits well into the instrumentation tonality-wise. Both his stationary and belted styles exhibit solid competence, and I appreciate the subtle contrasts in his shifting between retro gang vocals and contemporary, pristine harmonies. The tracks to follow sustain that level of competence between the southern-tinged title track, and more directly-executed "Sound the Alarm." While I can understand the latter's potential as the album's carrier single, the former song's addition of tender acoustic phases seems to hold greater resonance in balancing out the intensity. The slow, yet hard-hitting attack of "Drugs & Lust" does its part at keeping the album's pace, with a title alluding to a blurred world of pleasures. The transitions between verses are a notable highlight, initially in a wavy haze of distortion and then reshaping together into bluesy lead grooves. Capping the first side is "Temptations," a similarly slow track benefitted by its acoustic build. From a thematic standpoint, excess reaches a peak, whereby one stimulant is used in strange combination with another to the point of numbness. The notion of identity comes into question, suggesting that the very stimulants that lead one toward a dark path ironically end up shaping them. There's a strong spiritual element in the chorus, as it emphasizes the continual presence of a void amidst life being bandaged by temporary fixings.
The latter part of the album has an interesting direction about it, starting with "Hallelujah." Rather than the song representing an instantaneous shift toward a positive outlook, it zooms in on one's vulnerability from a defeatist perspective. Once the chorus hits, that vulnerability is intensified, with an uncertain grasp of what will serve as their saving grace. On the tracks to follow, there is a newfound anthemic sensibility about the instrumentation coupled with the greater insight of recognizing what was the initial cause of disarray. "Not Alone," the penultimate track, refreshes the pacing with a light piano arrangement before incorporating a rockier structure. It's a somber sentiment involving a promise of loyalty – striving to be the one to lean and depend on, despite looming fear and fatigue accumulated from multiple emotional scars. By the closing track, "Carry On," that sentiment is all the more justified and does its part of the album's final blaze of glory.
Overall, I was impressed by Shallow Side's transition into a full-length setting. The big hooks that have comprised their earlier work make a welcome return, and I appreciate their occasional ode to retro harmonies alongside contemporary vocal delivery. Most importantly, the band shows that there is still substantial stylistic and lyrical merit to be found in modern rock today.
Shallow Side Socials:
Official Website|Facebook|Twitter|YouTube