Phil Lesh & The Terrapin Family Band hit Chicago for two sold out shows at Thalia Hall on March 7th& 8th.
The group wasted no time in unpacking their box of Grateful Dead goodness, starting off Thursday's show with eleven classic Dead tunes before deviating from the catalog for the first of the evening's three non-GD songs (see both night's setlists below, along with photos from Night 2). The first set opener was a buoyant China Cat Sunflower, un-coupled from it's usual companion, I Know You Rider. Instead, Mr. Charlie followed, which set the stage for the great song choices that followed to rock everyone all the way through to intermission, which seemed to come too quickly.
The second set started off right where the first left off, with the bookend of Slipknot, which began before the break and led into Casey Jones to close set one. Slipknot pt. 2 gave way to Cassidy, which in turn gave way to a cover of Jerry Garcia's Reuben & Cherise. Set two contained lengthy jam favorites such as Dark Star, Eyes Of The World, and Terrapin Station, before an encore of the crowd participation favorite, Not Fade Away. Night 1 ended with a cover of a song from Chicago favorite, Wilco: Misunderstood.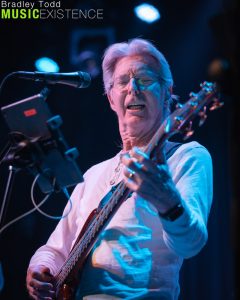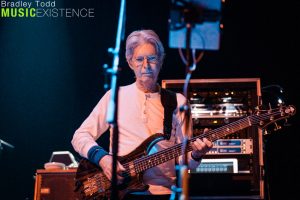 While the masses understandably gather for Phil…all hoping to get their fill of his unique bass lines and iconic rumble…The Terrapin Family Band is full of talent and chemistry, making these shows such enjoyable affairs. The band consists of Phil's son, Grahame (guitar and vocals), Alex Koford (guitar and vocals), Ross James (guitar and vocals), Elliot Peck (vocals), Jason Crosby (keyboards & Violin), and Nathan Graham (drums).
With five legitimate lead singers, The Terrapin Family band has many looks…er, sounds. Phil lent his distinctive pipes to songs like Unbroken Chain and Box Of Rain on night two, but the majority of vocals are split amongst the other singers, all with equal aplomb. Grahame Lesh's voice cuts through the air with a strong, sharp, tenor pitch. Alex Koford (who used to play drums in the band before moving to guitar) croons with a smooth, soothing affect. Ross James sings in a range that's low and slow, but on the softer side of gritty. And Elliot Peck adds a great female touch to the band's sound, whether she's sweetly singing lead or background.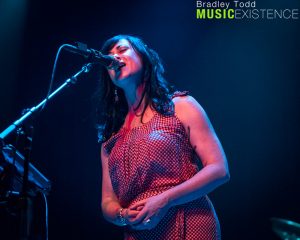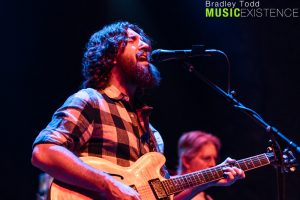 The group's aforementioned chemistry extends beyond Phil and son, Grahame. It's most apparent during the extended jam sessions that develop throughout, as the band members engage with each other, smiles aplenty as they take turns showcasing their abilities and finishing each other's musical sentences.
Night two on Friday continued the good vibes established the evening before, and got underway with a pair of  Europe '72 classics, Cumberland Blues and He's Gone, with The Music Never Stopped slipped in-between. Friday's first set had Phil's first solo lead vocal of this short run, in Box of Rain. Set two also started with two 70's songs, albeit from later in the decade: Dancin'In The Streets, and Estimated Prophet. Those two tracks were a good way to start off a final set that would see another Phil lead vocal on Unbroken Chain, and a St. Stephen/Purple Haze/St. Stephen sandwich that captivated the crowd. The second set appropriately ended with I Know You Rider, which was a long time coming since the China Cat Opener on Thursday.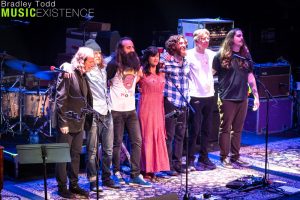 Overall a fantastic mini-run, with many of the same faces in attendance both nights, and the same smiling faces from the stage both nights as well.
SEE PHOTO GALLERY BELOW SETLISTS
SETLIST 3/7/19:
China Cat Sunflower
Mr. Charlie
Looks Like Rain
Throwing Stones
Jack Straw
Black Peter
Help On The Way
Slipknot
Casey Jones
Slipknot (Set 2)
Cassidy
Reuben & Cherise
Cassidy
Dark Star
The Mountain Song
Dark Star
Scarlet Begonias
Eyes Of The World
Lady With A Fan
Terrapin Station
Uncle John's Band
Not Fade Away (Encore)
Misunderstood
SETLIST 3/8/19:
Cumberland Blues
The Music Never Stopped
He's Gone
Ms. Ohio
Box Of Rain
A Hard Rain's A Gonna Fall
Althea
Opehlia
Dancin' In The Streets (Set 2)
Estimated Prophet
Gaililee
Stella Blue
New Speedway Boogie
Unbroken Chain
St. Stephen
Purple Haze
St. Stephen
I Know You Rider
Man Smart, Woman Smarter (Encore)