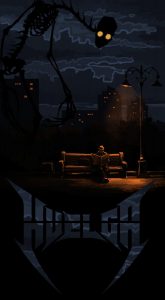 Texas instrumental outfit Huelga aims to make the best of stylistic flexibility in the world of prog metal. The one-man project's catalyst, Austin-based Michael Fonseca, is formally trained in equal parts jazz and artful noise. His name for the project, which translates to "strike" in English, proves a telling factor of the resounding impact its music leaves on its listeners. Now, after a decade in incubation, Fonseca's self-titled debut effort will finally see the light this April.
Opening on "The Very Marrow of Our Bones," I began getting a sense of how Huelga's name was implemented musically. The song's intro already establishes solid balance, with brighter melodies offsetting dark, almost percussive chords. Even amidst the prominent distortion, there is still plenty of nuances to be felt in its melody with each advancement. I appreciated how the phase that leads into the song's first half proceeds to dominate with knife-like swiftness. A subtle, but important element can be noted as the song unfolds, and that is in the percussion's producing a natural harmonic that coincidentally blends with the tone of the stampeding guitars. From there, the secondary section's main melody assumes several well-formed permutations – initially gaining traction with rhythmic dominance, and capping off with melodic, squealing leads. The track to follow, "Chinga de Perro," is a natural fit in carrying these elements forward. From the initial clean, cave-like reverb that envelops the song's foundational lead, I could just tell there would be intensity afoot. Before long, a pulsating and warm low-end groove maintains the sonic balance, in a manner that brings to mind the similar looseness of Rush's "YYZ." That characteristic becomes especially well-utilized further into the song, in that even the parts that seem isolated on the surface keep a steady unification between one another.
Comprising the latter half of the EP is a two-part epic in "No Word for Blue." The first part's utilization has an interesting progression about it, starting on an almost cheery and upbeat note amidst the darkened guitar tones. The chugging riffs that follow emit an increased intensity this time around, with the undercurrents of the bass accentuated in the process. After a feedback-clustered lull, part two begins with a buildup coming across as more straightforward in its identity. Once again, the percussive aspect keeps a decent flow and attention within several involved rhythmic shifts. The remainder of part two took me by pleasant surprise, as its final burst was initiated by what was actually a subtly extended riff, rather than the expected feedback trail. The dissonant soloing that arose thereafter was also a nice touch, further solidifying Huelga's identity as an artist unbound by genre-based confines.
Overall, Huelga's eponymous EP is a stellar showcase of Fonseca's musical mentality. Virtuosity in prog is often methodical and clean, but Fonseca isn't afraid to grunge up the atmosphere and ultimately embrace rawness and spontaneity. In fact, I'm already looking forward to experiencing the potential of Huelga in a future full-length setting.
Huelga Socials:
Facebook|Bandcamp|Twitter|Instagram