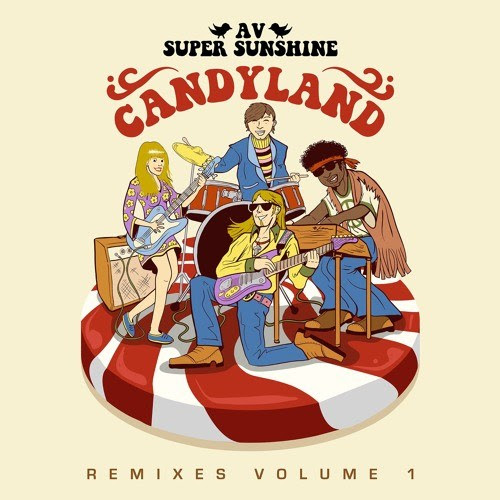 Sonic patchwork woven of synthesizers, assaultive drumbeats and a slinking vocal from AV Super Sunshine mark the intro to "Time Bomb (Radio Mix)," the first track on his new albumCandyland: Remixes Volume 1. This version of "Time Bomb" is perhaps the most soul-stirring, awakening from a peaceful slumber and springing into a bouncy, groove-laden jam at the drop of a hat. The next radio mix, of the punkish "Are You Happy," slides into the space left behind from "Time Bomb" and occupies our speakers with a disco-infused melody that chokes every drop of harmonious texture from the rhythm section possible. It's not the classy alt-pop of "Apple," but it's enough to light a fire under our stereo and get everyone in the room dancing to a beat that only AV Super Sunshine could conceive.
"Orange (Radio Edit)" spews a dark and ominous tone from its bassline, pushing and shoving us into submission so that AV can ply us with layer upon layer of tender lyricism. The rhythm is more implied here than it is in "Apple," but we haven't begun to explore the surreal depth of Candyland until we find "Alien Abduction (Radio Edit)" and its juxtaposition with a club mix of the same track. In these two songs, we're flooded with contrast that is fashioned a little differently by each of the respective mixes, but together they reveal the true nucleus of the composition as it was always meant to be heard. Hearing them back to back isn't repetitive; actually, it's rather captivating.
SOUNDCLOUD: https://soundcloud.com/avsupersun-justlikekurt/sets/candyland-remixes-volume-1
The club mix of "Time Bomb" comes up next in the track listing, reshaping the buoyant grooves of the opening cut to suit a funkier palate, which can also be said of "Are You Happy (Club Mix)" as well. In the case of the latter, the daggers that the percussion contains are softened a tad, but in their place the synthesizers are sharpened and allowed to lead the direction of the music. The electrifying club version of "Orange" has a much more brooding climax than the radio edit features, and I think it's mostly because of the way that this mix treats AV's vocal, which is glossy but not overly varnished. I knew that he had a heck of a skillset, but Candyland really puts it into perspective better than anything he's previously shared with us has.
Candyland: Remixes Volume 1 finishes us off with "Alien Abduction (Interview Mix)," which is stylized with the same warm tube tone as you would expect out of a classic rock song, further exhibiting the fact that regardless of the genre, the difficulty of the arrangement of the calculated nature of the composition, nothing is too potent for AV Super Sunshine to conquer and, ultimately, make his own. Music aficionados of all ages, backgrounds and tastes are going to want to catch a glimpse of this record upon its upcoming release, if only for the chance to understand one of this generation's most compelling multi-instrumentalists in his prime. If there's a new club king to be crowned in 2019, it's certainly this talented performer.
Loren Sperry