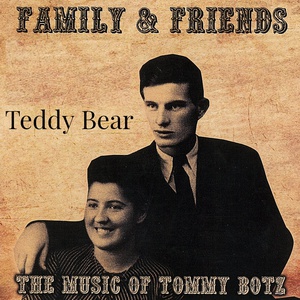 It's been said time and time again that pain yields the most powerful art known to mankind, and that statement is proven true in the works of Tommy Botz without debate. Botz spent a good chunk of his life battling a terrible addiction to alcohol that took him to the very brink of life and left him barely able to live within the fringes of society itself. In all of his time on the streets and in recovery, he was cultivating a soulful poetry that is brought out of the woodwork in his new single "Teddy Bear," and it's a spellbinding style to say the least.
You can feel the emotion in his words from the moment that the first verse greets us in the opening stanza, and they're executed wonderfully by the female vocalist in charge of the mic. There's nothing held back from us here; both in the lyricism and in the content of the music, we're engaged on every level and made to embrace the very texture of the instrumental grooves as they're dispensed to us one even-keeled beat at a time. The elements meld together as if destined by divinity, and though it isn't hard to break apart the different melodies in the song and their points of origin, they're cohesively bound in the main mix nevertheless.
REVERBNATION: https://www.reverbnation.com/tommybotz
The band creates a symphony of sounds that cross into polarizing styles of play as we progress through "Teddy Bear," but once again, the narrative remains without fragmentation thanks to the fluidity of the poetry. It's not that common in pop music (or, to be frank, in country music these days) for us to see a song that is genuinely driven by its words and not an artificially constructed bassline, but that's precisely what makes this single so different from the output of Tommy Botz's closest competitors. It doesn't try and exceed the parameters of its own design, yet it's formless enough to appeal to almost anyone.
Country fans will immediately gravitate towards "Teddy Bear" on the strength of its pastoral grooves, which are ultimately held together by the twangy guitar play that acts as a lynchpin in the instrumental portion of the track. That said, I think that Botz is actually going to end up gaining just as much support from pop aficionados as he is the Nashville crowd with this release, as it sports a much smoother, streamlined structure than we're expecting to hear (not to mention a stellar central hook). At this point he could do anything with this sound and, if we're lucky, Botz will experiment with a lot of styles before finding his primary area of focus as a solo artist.
Thought provoking, endearing and a required listen for anyone who closely follows independent music of the singer/songwriter variety, "Teddy Bear" is a stunning single from Tommy Botz, who despite not being a household name exudes the confidence and swagger of a songwriting star in this latest release. Though it's got the muscle to take the FM airwaves by storm, "Teddy Bear" has an edgy, deep-cut vibe that makes it feel really special and unique to this period in country's storied history. The next chapter of that very history could well be written by the likes of Botz, who undisputedly asserts himself as a force to be reckoned with here.
MUSIC X-RAY: https://www.musicxray.com/artists/tommybotz
Loren Sperry