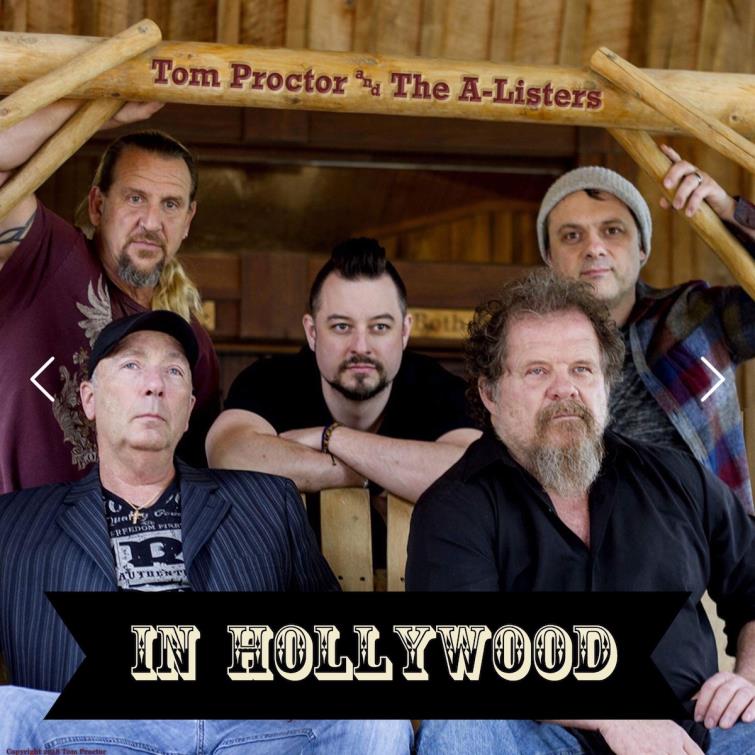 While his lifestyle as a successful actor and burgeoning solo musician is far from relatable to most of us, Tom Proctor's songcraft makes for a surprisingly accessible affair in his all-new single "In Hollywood," out now wherever independent country music is sold. Humble in narrative and construction, "In Hollywood" shows off Proctor's easygoing songwriting style without sacrificing any of his magnificently rustic, honest tonality. Though built on the foundation of a familiar country swing, this single is an original through and through, emitting a rich resonance from its brooding string section that has become a bit of a calling card for Proctor and his band The A-Listers. Whether you're new to his music or not, "In Hollywood" is a fine country song that fans of the genre should find more than satisfying.
Proctor sings about the glitz and glamour of the movie star life in this song, but he never devolves into tired metaphors or recycled themes that we've heard in at least a dozen other singles touching on similarly stylized topics. His delivery is as old school country as it gets, right down to the conservative twang in the more colorful string parts, but the production quality is anything but outdated or archaic. "In Hollywood" benefits from a highbrow master mix that really points out the smaller details in the instrumentation for us to appreciate, without minimizing the impact of the song's star himself. Proctor's unique vocal is always occupying center stage, but it's joined by plenty of noteworthy grooves that frame its message perfectly.
YOU TUBE: https://www.youtube.com/channel/UCBn2ycp8_Apbq1w9c-M_86Q
Everything is balanced out in the grander scheme of things here, starting off with the boisterous bassline that cushions the hollow percussive parts and guides us through the entirety of the track. There's so many textures to take in during the course of "In Hollywood" that are usually either stifled or altogether absent in most contemporary country singles, and while some might find this song's diverse palate to be a bit outside of the current mainstream model, I find it to be the precise reason why it's as alluring as it is. Tom Proctor isn't content with making music that blends in with the output of his peers; he wants to hammer out something that truly stands on its own, and he does that exquisitely in this single.
Classic Americana is born again for a new generation of aficionados in "In Hollywood," and if you weren't following the musical side of Tom Proctor's dynamic artistic career before its release, you likely will be after catching a glimpse of its sterling tonality. There's been a lot of talk lately about the current state of country music as it relates to the future of the much beloved genre, but as far as I'm concerned, the conversation just isn't relevant unless you're including the music of this talented songwriter. He's one of the last legitimate stewards of the Nashville Songbook, and through his artistry a very important piece of our national identity continues to live on and shape the sound of tomorrow. In this sense, Tom Proctor isn't just making great music – he's performing an important patriotic service for us all.
Loren Sperry