Therapy? are on the European leg of their 2019 tour promoting their fifteenth studio album "Cleave". The show on the boat A38 was sold out a few days before the show. I've seen Therapy? twice now, both times in Serbia. First time in 2007 (SKC, Belgrade) and the second time in 2012 (Arsenal Fest, Kragujevac). Both times they were amazing. I've been a fan since "Troublegum" (1994) and I loved "Infernal Love" (1995) even more when it came out so the A38 gig was a great opportunity to see these Northern Irishmen again and also a nice excuse to travel to Budapest.
A38 is a beautiful boat sitting on the Danube river. I've been there only once prior to this show (Wovenhand in 2014), although I was definitely interested in attending a few more in the past (Swans, Chelsea Wolfe etc.). Promoters definitely have a good ear and taste for what's going on in the alternative scene and hats off to them for keeping the scene vibrant really. This was Therapy's eighth time in Budapest. Last time they visited A38 was in 2016 while promoting "Disquiet". I can't tell if that particular gig was sold out, but this one now definitely was – the capacity of 700 was full.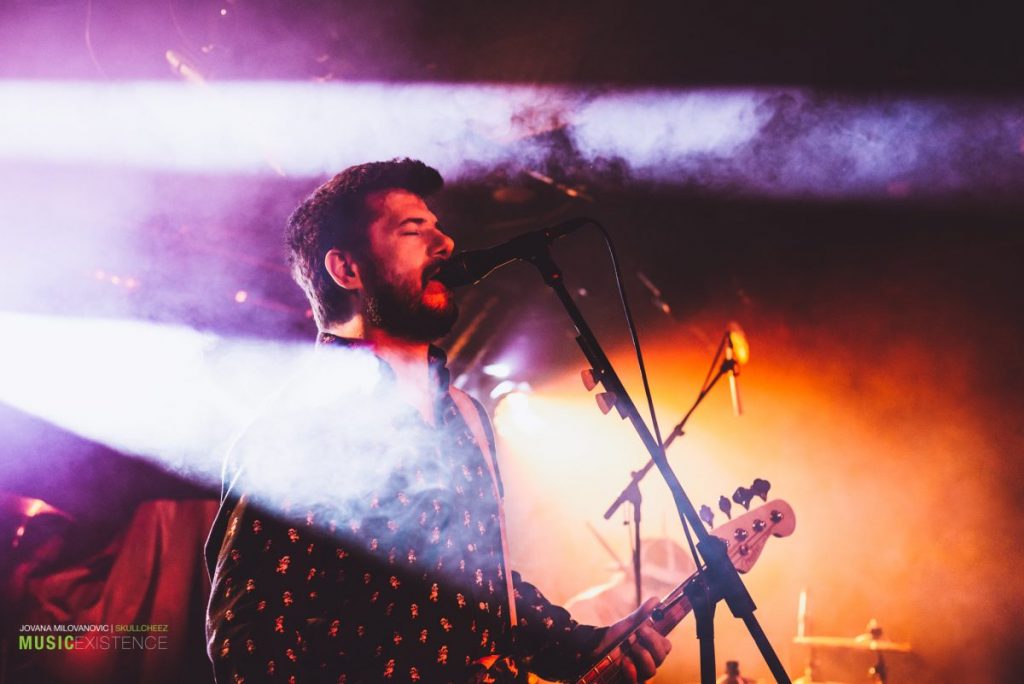 I didn't know much about the local support band Uzipov but they were really convincing during their 30-minute set. Their opening song even reminded me a bit of an obscure 90's Norwegian band Seigmen and their 1994 album "Total", although Uzipov were getting more into hardcore than a melodic/alternative side of town as their set was moving on. I couldn't understand the lyrics since they were in their native hungarian, however, you could tell by the audience they are well respected and have a solid fanbase. Like Therapy?, Uzipov are a trio and have a great drummer that powers his way through the riffs and shouting vocals. Their set was great and 30 minutes was just right for the warm-up.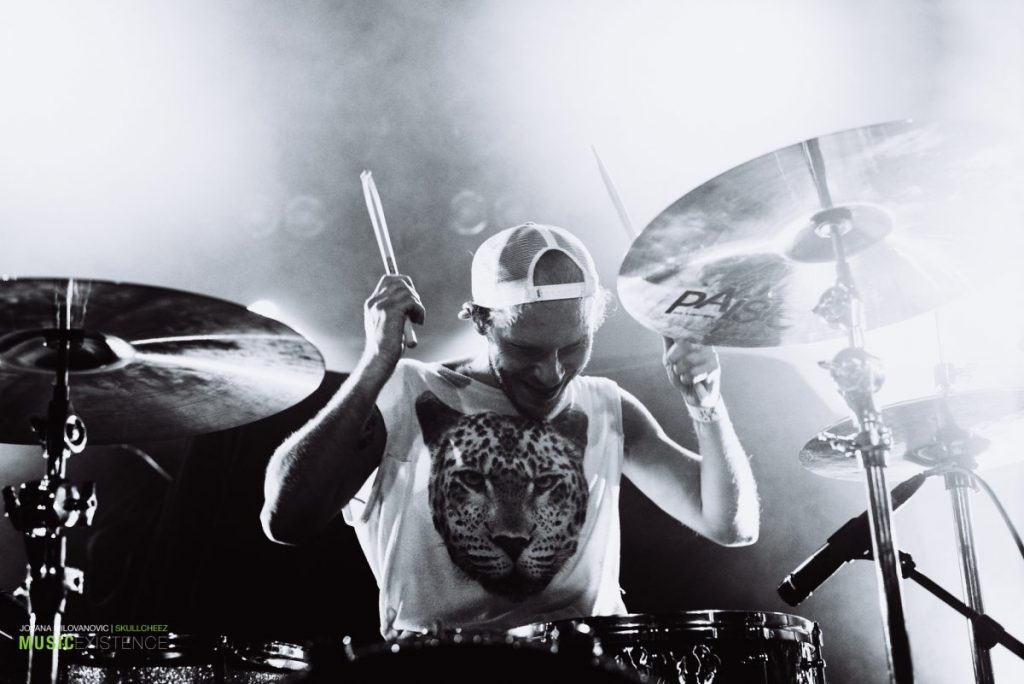 I'm 35 now and I think I haven't been to the front rows at concerts since 2012 and the second Faith No More gig I was at. But since there was no photo pit here (which is quite understandable considering the punk rock ethics the band stands for, that we're all close friends and family) and the gig was sold out, my better half had to take some pictures so the only reasonable option for us was to go to the front. Which was a great move.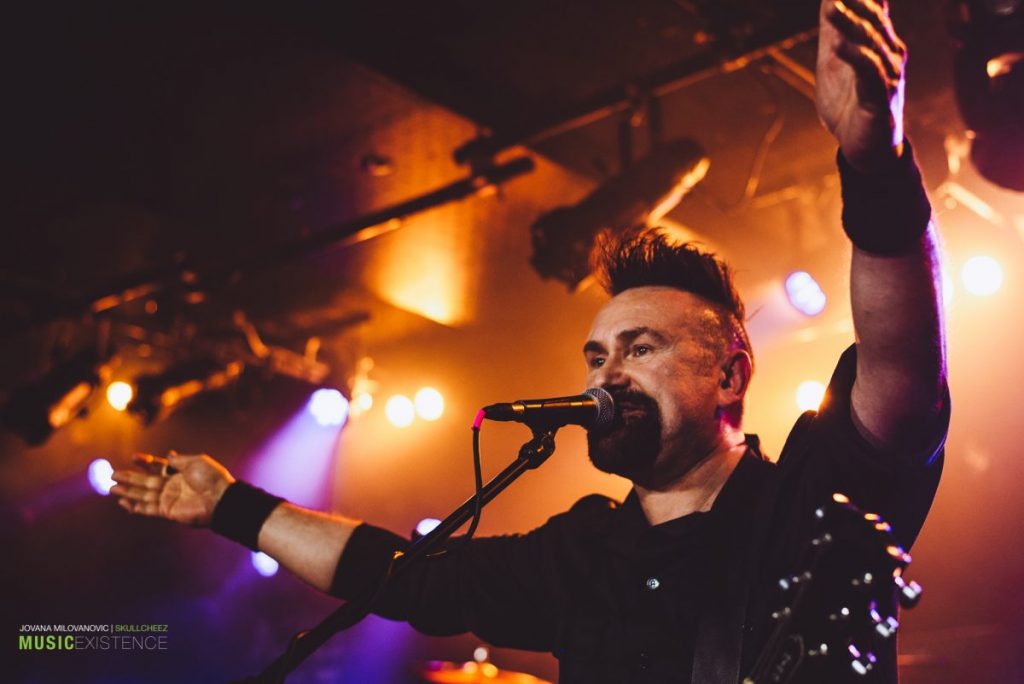 Therapy? played a stunning two hour set. 19 songs during the regular set plus 9 (!) after the encore, so 28 in total. The setlist was in favor of a new album, playing eight tracks off excellent "Cleave", which landed #8 on my top 10 albums of 2018. They started with "Wreck It Like Beckett" and "Expelled" off the new album and then played a first big hit "Die Laughing" off 1994's crowd-pleasing "Troublegum". The adrenaline was kickin' sweet at this point and going deeper into the past they continued with "Nausea" off "Nurse" (1992), then back and forth through their 1990's era; "Lonely, Cryin', Only" off excellent "Semi-Detached" (1998), then back again to "Troublegum" with "Turn", Joy Division cover "Isolation" (1994) and "Opal Mantra" (1993), before hitting the first pinnacle of the show with "A Moment Of Clarity" and "Diane" off 1995's often misunderstood but absolutely amazing "Infernal Love".
"Infernal Love" was not perceived very well by the critics and the audience at the time it was released. I personally loved it cause it showed how the band could grow in a couple of other directions musically and Andy Cairns explained it well in the interview (read here) how they were influenced by Nick Cave and The Afghan Whigs at that time and recorded in a huge studio owned by Peter Gabriel, while feeling a huge pressure from the label to top "Troublegum" sales-wise.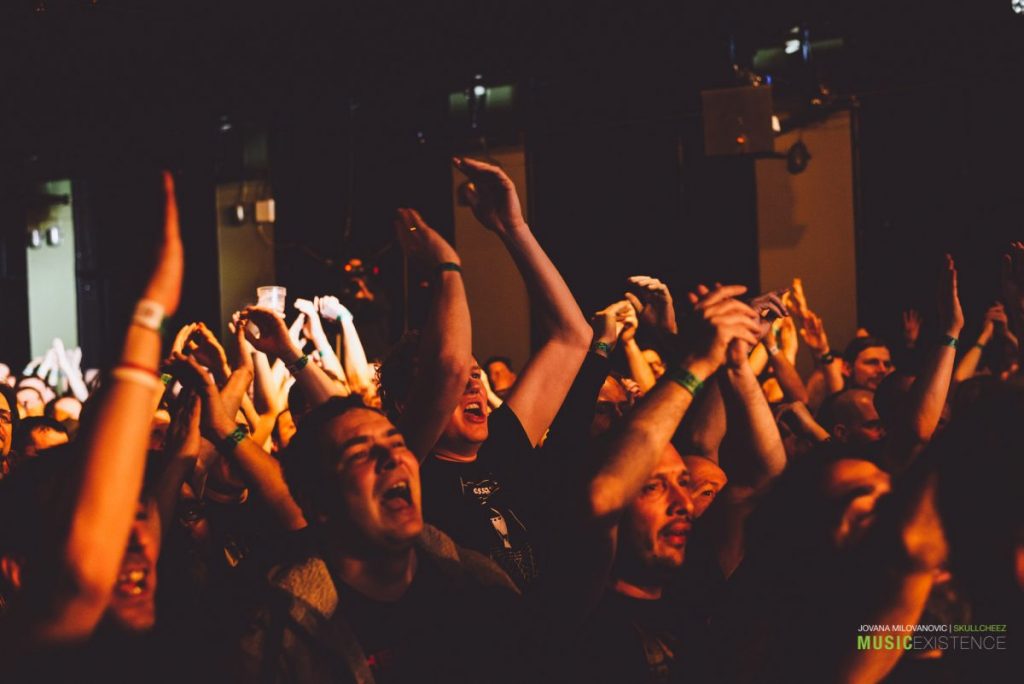 It seems hungarian audience loved "Infernal Love" as well. After the emotional highlight of "A Moment Of Clarity" and Hüsker Dü cover "Diane" the band rocked the boat with hard hittin' avalanche of "Trigger Inside", "I Stand Alone", timeless "Screamager", cool cut of 1992 noise rock classics "Teethgrinder" and "Potato Junkie" before finishing the regular set with catchy "Stop It You're Killing Me". The audience was loving it and at this point, the energy was boiling. Guys and girls alike were kicking and shouting and the first ten rows were all constant moshpits.
It was like "A Moment Of Clarity" was this emotional kick that the audience needed, then "Diane" continued into that direction, only for "Trigger Inside" taking over and launching this metal boat like a rocket to the universe.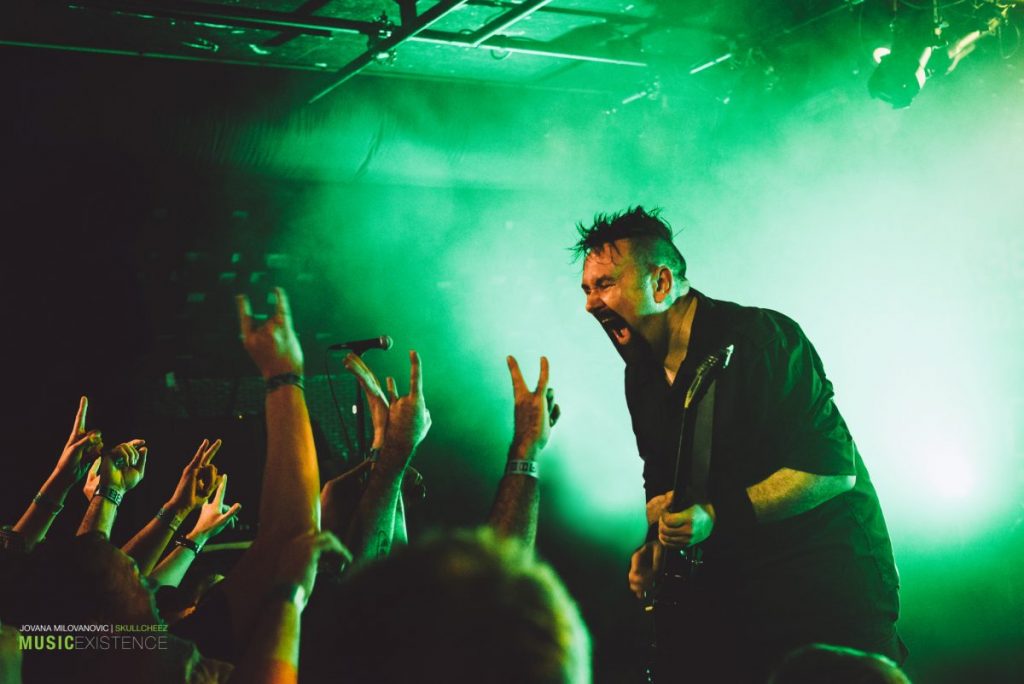 Andy Cairns not only excels at singing and playing guitar, he is great with the crowd as well, motivating people every now and then to sing anthemic choruses, clap their hands or rather shout famous "Neil, Neil, drum like a motherfucker!" at drummer Neil Cooper while he's playing his drum solo. Neil Cooper is a beast and it's not just the famous "two different snare drums" style of playing that he does so well (something that Therapy's founding drummer Fyfe Ewing established); it's also his groove, punch, timing and the sheer energy he plays his Mapex drumkit with. He's never showing off but at the same time without his kind of approach there just wouldn't be that amount of power, needed for Therapy's music to shine.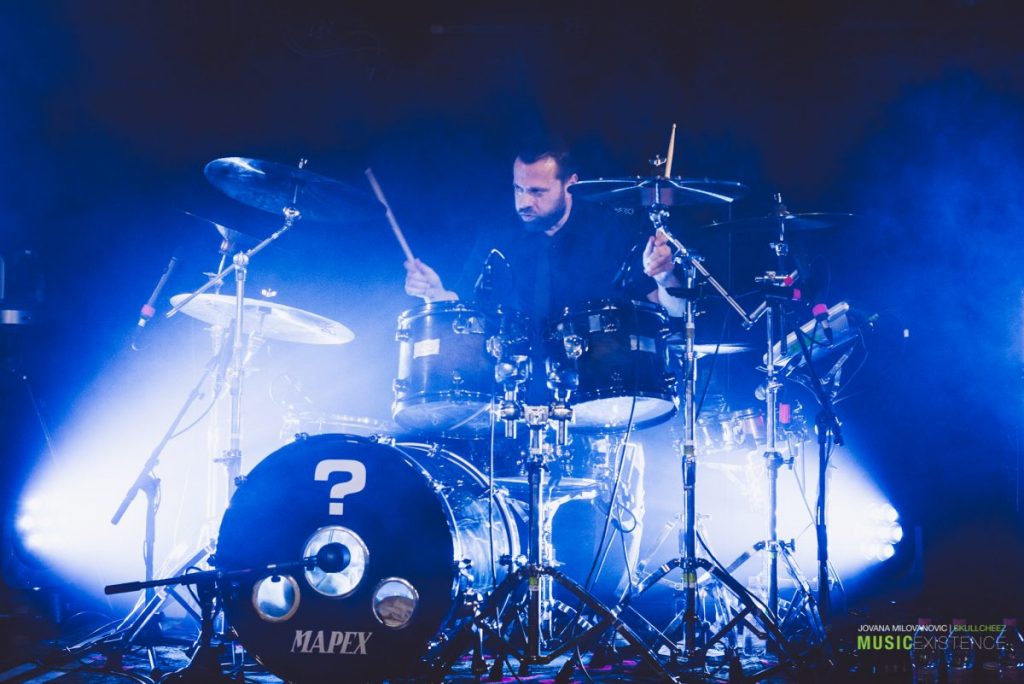 Michael McKeegan (or the "Evil Priest" as Andy calls him) was smiling during the whole show, pleased with the constant moshpits, stage divings, and crowd surfings while ripping his bass guitar and providing backing vocals. There was a hilarious moment when a "happy birthday" balloon ricocheted right into his face, leaving him with "…Whatta 'ell? I'm LOVING this" expression. Therapy? have been a power trio throughout most of their career though while playing live they have another guy with them on stage standing in the back who's not just a roadie tuning and handing Andy his guitars; he's also playing a couple of rhythm guitars, switching some of Andy's pedals on and off and doing some more backing vocals in order to harmonize better with Andy and Michael, since a lot of Therapy's greatest hits have at least a 3- or 4-voice harmony in them choruses.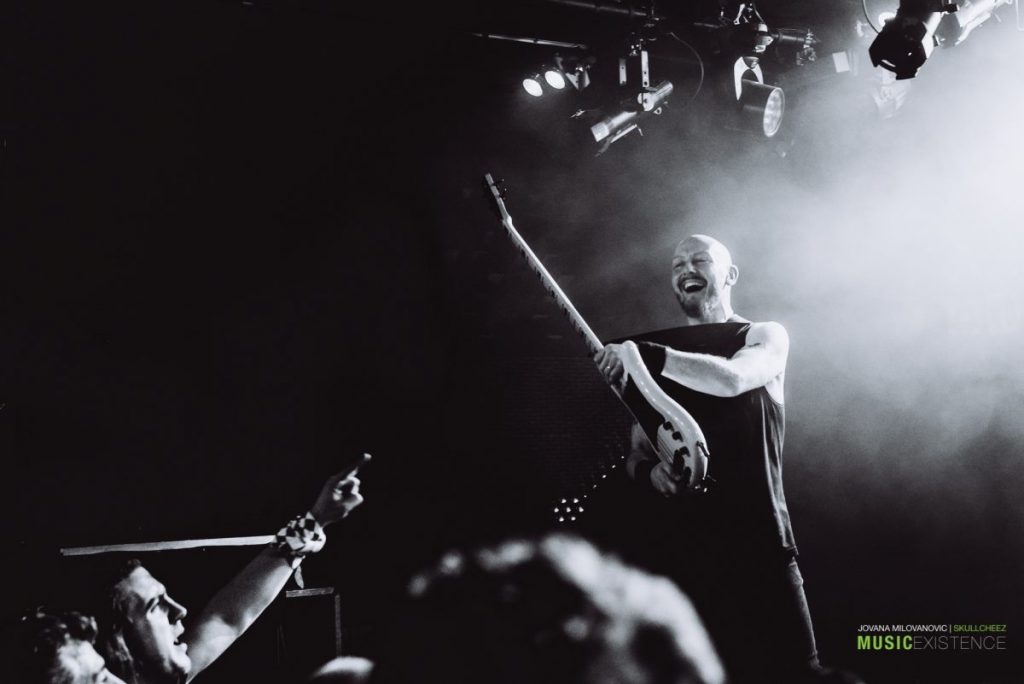 Andy was also throwing occasional puns ("My hungarian is shite and we're from Ireland so my english is shite too") and motivational speech, so to speak ("Fuck Donald Trump!" and "Build bridges, not walls!") and the whole experience of being right there in the front was really invigorating. Maybe a bit deafening at times but hey, this is a rock n' roll show after all.

After the encore, the guys returned with another set of nine (!) songs when the combo of "Stories", "Nowhere" and "Knives" definitely had that party-goes-completely-berserk mode.
I believe that every single soul among those 700 attendees was having a blast at that point if not way earlier, before "Success? Success Is Survival" finally closed the set.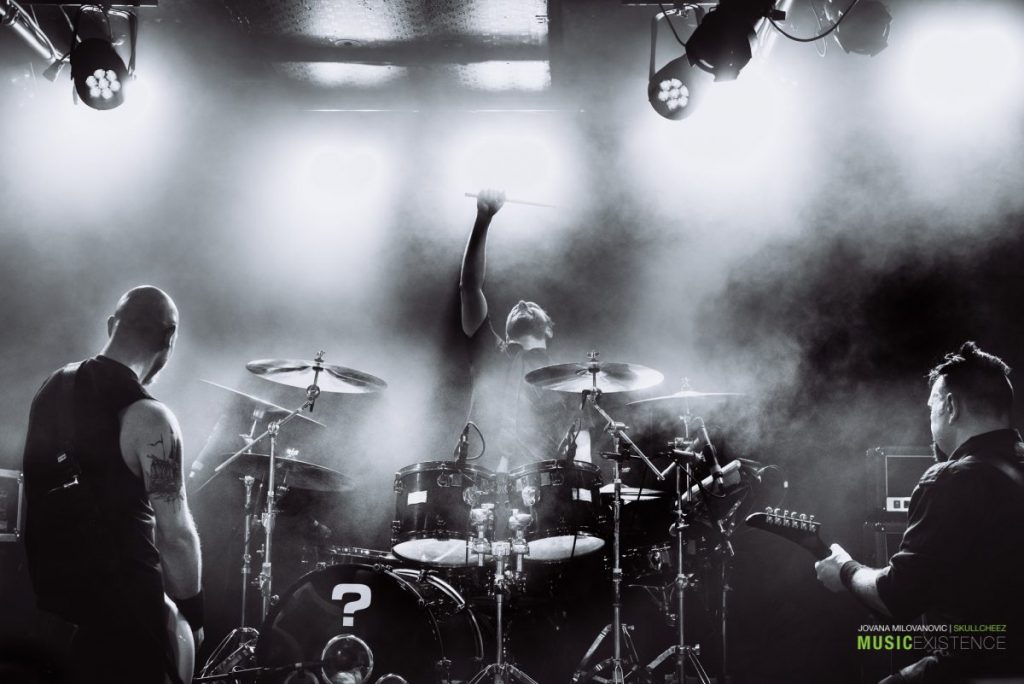 The set was basically eight songs new album and eight songs "Troublegum" plus all the biggest hits from the '90s. It was the best option possible really since the last three Therapy? albums are really great and I really don't know many bands nowadays that have 15 albums still going strong with touring and playing 2-hour sets with 30 songs in. Next stops are Italy, Germany, France, Finland, and Ireland, so if you feel like attending a proper punk rock, metal, noise rock, alternative, melodic hardcore… gig, name it what you will but you'll be amazed how many of Therapy?'s songs you actually know but didn't know you knew 'em, and have FUN. Take my word for it. Can't wait to see these guys again live.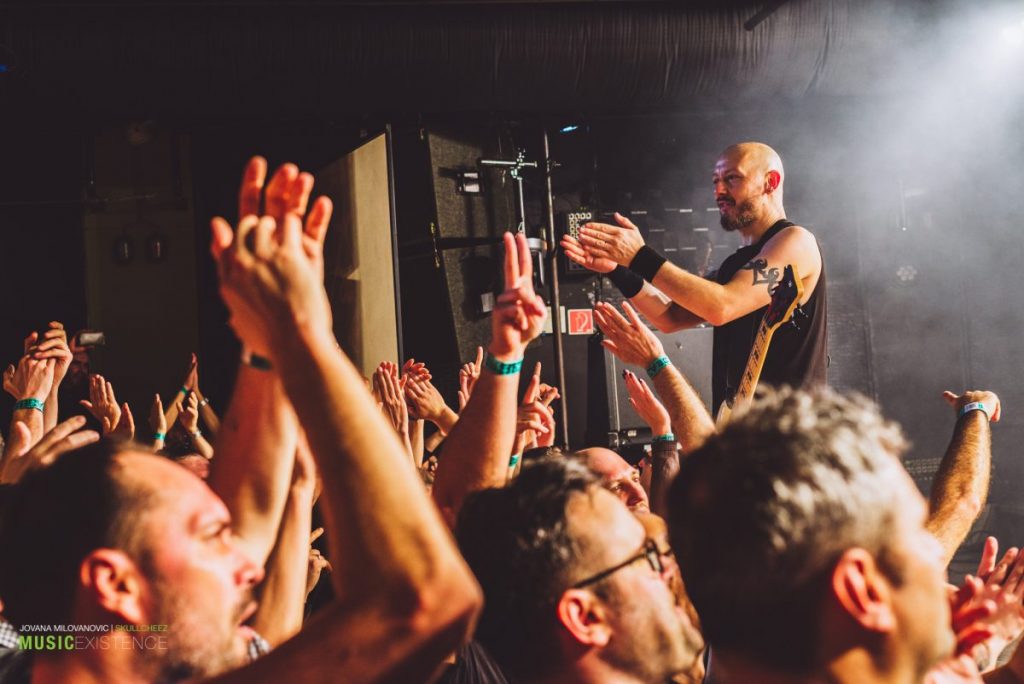 Show review: Danilo Nikodinovski
Photography: Jovana Milovanovic Skullcheez
(more photos below)
Therapy? 2019 remaining tour dates:
02/04 – Serraglio, Milan, Italy
02/05 – Hall, Padova, Italy
02/06 – Backstage, Munich, Germany
02/08 – Fabrik, Coesefeld, Germany
02/09 – Mergener Hof, Trier, Germany
02/10 – La Maroquinerie, Paris, France
02/14 – Lutakko, Jyvaskyla, Finland
02/15 – Olympia, Tampere, Finland
02/16 – Virgin Oil Company, Helsinki, Finland
03/20 – Nerve Centre, Londonderry, Northern Ireland
03/21 – Roisin Dubh, Galway, Ireland
03/22 – Dolans, Limerick, Ireland
03/23 – Cyprus Avenue, Cork, Ireland
03/24 – Spirit Store, Dundalk, Ireland
07/13 – 2000 Trees Festival, Cheltenham, UK

A38 setlist:
1. Wreck it Like Beckett
2. Expelled
3. Die Laughing
4. Nausea
5. Lonely, Cryin', Only
6. Kakistocracy
7. Turn
8. Callow
9. Isolation
10. Opal Mantra
11. Save Me From the Ordinary
12. A Moment of Clarity
13. Diane
14. Trigger Inside
15. I Stand Alone
16. Screamager
17. Teethgrinder
18. Potato Junkie
19. Stop It You're Killing Me
Encore:
20. Unbeliever
21. Church of Noise
22. Insecurity
23. Accelerator
24. Crutch
25. Stories
26. Nowhere
27. Knives
28. Success? Success Is Survival