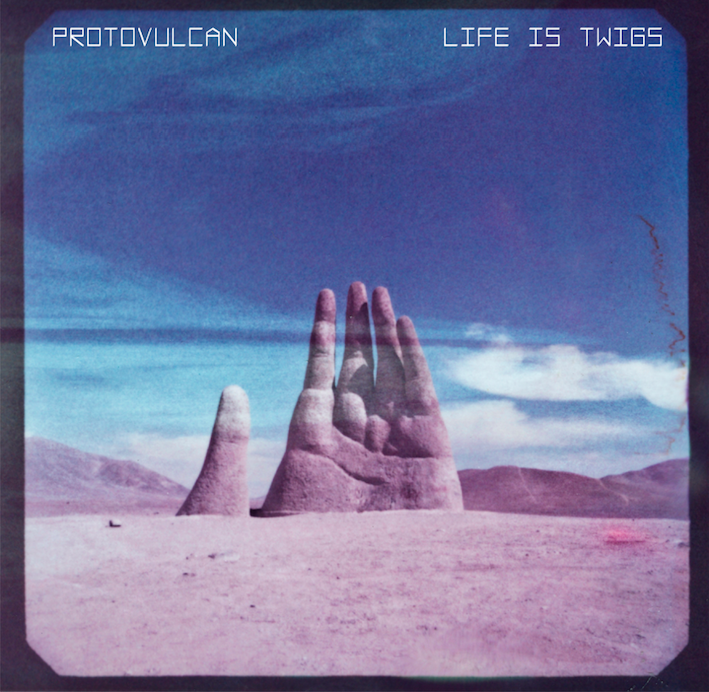 In a wallop of drums, screeching guitar and twice-cooked vocals that seep through the speakers like molasses, "Pine for You" emerges from the stereo with a threatening malice in its tone, hesitantly inviting us ever closer to the molten hot energy radiating from Life is Twigs/Psychic Pinball, the new extended play by Protovulcan. Though not a household name, Protovulcan have been quietly building up quite the reputation in the underground leading up to this record, and anyone who gives its eight deliciously postmodern tracks a spin will find that it was well worth the wait. As "Pine for You" recoils and evaporates to make way for the jittery "The Force Remains the Same," one thing becomes clear; Protovulcan's new EP is hardly your average indie rock record.
"The Force Remains the Same" creeps out of the ashes of track one with a pushy little melody to lead the way, slowly evolving into a bully of a bassline that has the strut and arrogance of a showboating club-goer intent on showing off their prowess on the dancefloor. "Snake Legend" is a bit more tempered and churning, using its suffocating arrangement to trap us in smothered tones and feeble harmonies that have nowhere to go but inside one another in a perverted use of texture that I've never heard before. Make no mistake about it – I was glued to my headphones through the whole of the Life is Twigs portion of the record, which is easily the most cohesively drawn together.
BANDCAMP: https://toymoonmusic.bandcamp.com/
Psychic Pinball is a lot more demanding sonically, as is exhibited in the first few bars of the giant "Soma Sutra." "Purple Sky" in its original incarnation is a pretty succulent dance rock song covered in industrial bells and whistles to make its glaring psychedelia a little smoother to digest. This track, along with the muted "Celestial Slingshot," get dramatic makeovers in remixes by Odd Nosdam and Oscillator Bug at the end of the record, but even if they weren't joined by their alter egos, they leave a memorable impression just the same. Both sides of this so-called split EP are as different as can be, but they share a certain elaborate sense of exploration that is captivating and really rather fun to engage with time and time again.
As a person who has spent the majority of their life looking for the strangest, most out of bounds releases that the local record store has to offer, an EP like Life is Twigs/Psychic Pinball seriously hits the spot and makes the transition from 2018 to 2019 all the easier to contend with. There's been so much talk of pop's newfound meld with postmodernity and surrealism in particular that a lot of us in the underground have grown weary of leftist subgenres like noise and lo-fi losing their DIY luster in favor of adopting a more mainstream identity. Protovulcan are showing the world that it is possible to have your cake and eat it too in this release, and that is enough for me to tell you to secure your own copy of this record as soon as possible.
Loren Sperry