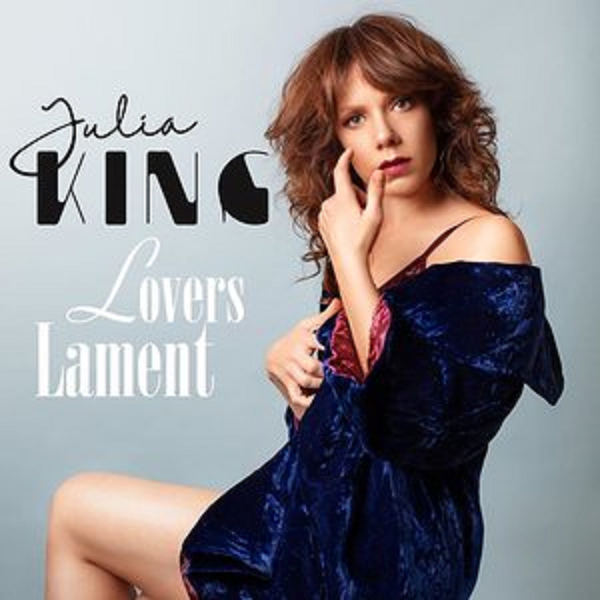 Mix one part sultry contemporary vocals with another part swaggering beats straight out of the roaring 20's and you'll get something along the lines of the pure soulful gold that is "Lovers Lament," the new single from critically acclaimed songstress Julia King. As many of us are already aware, King is a force to be reckoned with when she's got a mic in her hands, dispensing earth-shaking harmonies like nobody's business anytime she's presented with a groove that strikes her fancy. "Lovers Lament" is no different in this sense, and exploits the dynamic skillset of its star performer for every melodic cent it's worth.
The percussion that frames this single is reminiscent of a heartbeat, gently pulsating against the backdrop of swaggering strings and piano that make up its musical arrangement. King seductively struts through the verses with a confident command of everything transpiring around her, directing every strand of sonic ribbonry with her dexterous vocal sway. There's nothing to get between her and us in this brutally raw mix, which places her voice at the forefront of the action and allows us to become instantly trapped within her orbit when she starts to sing ever so smoothly.
Lyrically, "Lovers Lament" is among the most sophisticated tracks that King has recorded in her career, utilizing more than silly metaphors and tired innuendo to create an atmosphere of retrospection and lust. She doesn't attack the verses aggressively, but instead follows the beat of the rhythm section, delicately imparting her words to us one swanky syllable at a time. Her patience is something to be respected, especially when you consider how rushed and urgent most of the pop music populating the charts as of late has been. Honestly, King's sound is so much more spellbinding than anything the mainstream has produced in recent memory.
SOUNDCLOUD: https://soundcloud.com/msjuliaking/lovers-lament
There's an Eric Clapton-style blues vibe to this song that is inescapable once we first brush up against the sizzling guitar that penetrates the middle part of the track. The energy nevertheless refutes any opportunities to descend into complete melancholy, and its King's poetry that ends up standing as the lone elegiac beacon in this otherwise dreamy mixture of melodies. You could definitely make the argument for this being a sublimely accessible crossover single that would appeal equally to fans of both jazz and blues, but in all actuality I think you'd have to be a pretty discriminatory music enthusiast to find any flaw within this three and a half minute gem.
An amazing addition to an already stunning discography, "Lovers Lament" sees Julia King continuing to develop her deliciously addictive sound and also marks yet another highlight in a career that has yet to disappoint. King's approach to vocal music might be steeped in conventional concepts, but her artistry is anything but predictable. In a time where pop music couldn't be much more removed from its organic roots, she dares to remain true to the core values of her aesthetic, placing more stock in the texture of her natural talents than she ever does in studio-produced bells and whistles. Her investment pays off in a song like this one, which stands on its own as a star single this winter season.
Joshua Corbin