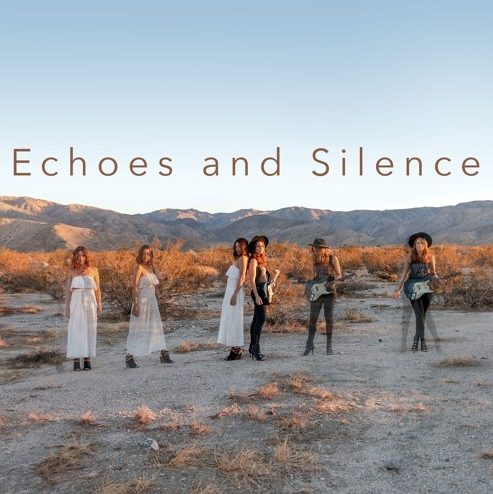 Like the crack of a whip, strings as bright as the sun slice through stampeding percussion and welcome us into "Fast as I Can," the first of ten new songs that Roses & Cigarettes have compiled for us in their album Echoes and Silence, due out this February 22nd. The harmonies run high as the vocals ascend towards the heavens that bore them and we ride the wave of rhythm into an elegiac title track, which imprints a staggering mountain of emotional lyrics onto a brooding arrangement of clashing guitars. Timbre and twang aren't the only textures that enrich our adventure pressing forward, and as anyone who gives this record a spin will discover, Roses & Cigarettes are a country-crossover band that doesn't any cut corners when it comes to cultivating a robust full-length offering.
The exotic "Back to You" twists and writhes under the spell of an understated organ that grinds beneath a myriad of colorful guitar strumming, its lyrics wrapping around us with a tightening grip as we lurch towards the reticent sway of "Bye Bye Blackbird." "Bye Bye Blackbird" is a lumbering ballad of mammoth weight sonically, but its dynamic vocal track keeps it from cratering the middle portion of the album with its immense depth. Marc Broussard lends a hand in the poignant "Stranded," but doesn't overshadow the artistic prowess of Roses & Cigarettes in the least. If anything, I think his contribution to this LP helps to emphasize the versatility of this band's sound, not to mention the duo's ability to collaborate with a major player in his own right.SOUNDCLOUD: https://soundcloud.com/roses-and-cigarettes/sets/echoes-and-silence-album/s-da0TL
My favorite song from Echoes and Silence, "Bones on the Ground," starts off with a backbreaking blues stomp that slowly evolves into a burning country rocker with enormous jam-potential in any given live performance. It sets the stage for Echoes and Silence's crown jewel, the anthemic "Feel the Fire," which musically pays tribute to the vintage Bakersfield sound while skewing it with a contemporary style that is captivatingly effervescent. Make no mistake about it, this is the song that I think will break Roses & Cigarettes into the mainstream. It's driven by a lush, poppy hook and faceted with a sizzling country groove that is impossible to get out of your head once you've heard it.
As we near the conclusion of Echoes and Silence, a relaxed piano-based ballad "Love Song" gives way to the humble folk-rock of "California Going Home" so seamlessly that it's almost as if the pair were meant to be played together. These two tracks have an almost jazz-inspired airiness to them that bleeds into the somber melody of "Whispers in the Wind (Stacie's Song)," but they still remain tethered to the vibrant strain of Americana that gives the album its soul. In all ten of the songs that this record contains, we meet a different side of the fascinating personality behind Roses & Cigarettes, and though this isn't their first release, I feel like it's the first time that we've heard their sound in its most organic and unfiltered state. A success on every level, Echoes and Silence is an album that country, pop and folk music fans will definitely want to take note of in 2019.
Loren Sperry