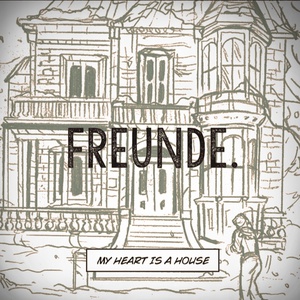 URL: https://www.freundemusic.com/

"My Heart is a House," the new single from the much-buzzed Swiss country sensations Freunde, opens with a majestic vocal harmony announcing that once we're inside this home that is our singer's heart, there's no getting away from the joy and love that we're bound to find within its walls. With that, the drums cave into the melody and a vibrant string groove starts to shape a visual landscape for us. The bass hums and echoes the patterned twang of the guitar, the vocals circle us and find their way onto center stage, all the while smothering us in this provocative warmth that is as endearing as a country sunset.

Words cascade through our speakers next to muscular notes that disappear into the ethers from which they came as fast as they first appeared to us. The lyrics dance to the staggering beat with a drunken abandon that is actually quite inspirational. Like these verses, the feeling of cutting loose every once in a while (especially during times of great stress) is one that any of us who work hard every day relish, and this song happens to center on that very emotion, exploiting it for all the ecstasy that it's worth.

The guitars in this track smolder and combust beneath the mammoth, intertwined vocals and percussion, but once they come alive it's hard to reject their tonality as anything but excellence. They're a European act, but somehow Freunde (which is German for "friends") have nailed down the very essence of what it means to sound American in the most iconic sense possible. Their music is so willfully indulgent in elements of old school Americana that if I didn't know any better I would have been completely convinced that they came up right in my Coloradan backyard and not thousands of miles away with an ocean between us.

On the other side of "My Heart is a House" is the alt-country slab of pop "Probably Maybe," which on its surface doesn't have a whole heck of a lot in common with its partnered song, but upon closer inspection adheres to the same structural origins. Freunde get a bit pendulous in this number as to demonstrate how swaggering they can be in the right setting, and in my opinion make just as big a splash with what has traditionally been a spot reserved for last-minute throwaway material. I don't think these cats do anything halfway – if anything, what I've been presented with here certainly suggests the exact opposite.

Acerbic, nonthreatening and tightly wound from the mix all the way down to the execution itself, Freunde's latest release sets the bar awfully high for 2019 and gives their likeminded rival American country crews a lot to keep up with. Ultimately I think that's a good thing for both the Nashville scene and the genre as a whole, as over the years it's become a frequent topic of debate as to whether or not country could remain relevant to today's complex music fan. Freunde unquestionably deliver the goods with this dual-threat single, and I'm excited to see what else they dish out before the year is over.

MUSIC X-RAY: http://www.musicxray.com/xrays/2266711

Loren Sperry