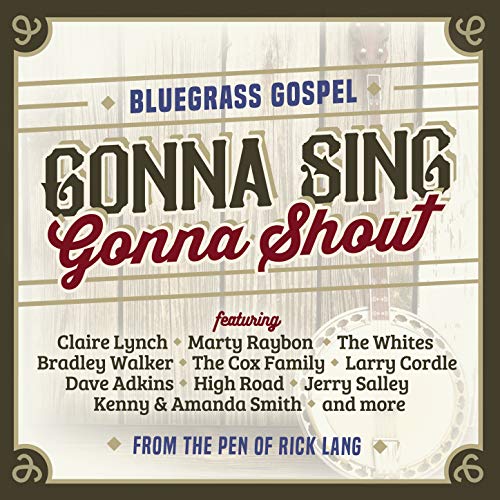 Religion and music have a bond as old as time, and Gonna Sing, Gonna Shout amplifies that bond through a tidal wave of studded grooves, swinging bluegrass rhythms and magnetic lyrics delivered by country music's hottest and most talented performers. Written by Rick Lang and produced by Jerry Salley, this compilation isn't your everyday gospel mixtape that exists only to vocalize recycled subject matter or tried and tired melodies. Everyone from Dave Adkins to Larry Stephenson drops in for a jam in this album, executing lush harmonies that intertwine with endless strings seasoned with soaring solos. Regardless of whether you begin with Adkins in "Thinkin' Outside the Box" or Bradley Walker in "Henry Clayton Parker," if you live for bluegrass grit like I do you'll have no trouble listening to this album in its entirety as you would an intimate live performance.
AMAZON: https://www.amazon.com/Gonna-Sing-Shout-Various-Artists/dp/B07HGQ4FPQ
"The Back of the Church," "I've Read the Book" and Larry Cordle's "Sunday Morning Gospel Jubilee" captivate with their lyrical capacities, but also don't cut corners when it comes to tonality. The textures that rock us with their rigidity in both the aforementioned tracks as well as those in the High Road-sung "Heaven's Back Yard" aren't generated from anything other than the play of the performers, which stands in refreshing contrast to the majority of Nashville releases I review. Salley doesn't skimp on the production, but he also lets the players be players, as we see in the rumble of The Cox Family in "There Will Be Singing."
To me, The Whites' "Don't Tune Him Out" and Claire Lynch's "Gonna Sing, Gonna Shout" feel like they could be samples of much larger, sprawling extended jams. Frankly, I would love to hear both of these songs live just to see what they could do with them with no recording restrictions to hold them back. Rick Lang penned a really iconic gospel record here, but it wouldn't be half as spellbinding were it not for the beefy music that he composed to drive its lyrics. I could listen to "They Were Fisherman" on any chilly Sunday afternoon knowing full well that the warmth of its fiddle combined with the flow of Kenny and Amanda Smith's singing would be more than enough to keep me toasty and comforted.
Whether you're new to gospel or a longtime fan, Gonna Sing, Gonna Shout is as smooth and relatable an LP as they come, compromising not a shred of its titanic tonality in the process of shaping its central narrative. As much as this record digs into the framework of traditional gospel music, it also goes off the beaten path and explores the depth of contemporary bluegrass and country as it's been preserved by stars like The Cox Family and Marty Raybon. The voice of Rick Lang doesn't have to be in these recordings for us to feel all of the love and longing that's in his heart (and thus the music he wrote for us here), and I think that this will stand the test of time as one of his most intriguing and thoughtful completed projects.
SPRINGSIDE: http://www.springside.com/GONNA-SING-GONNA-SHOUT-CD/productinfo/GSGS-CD
Loren Sperry