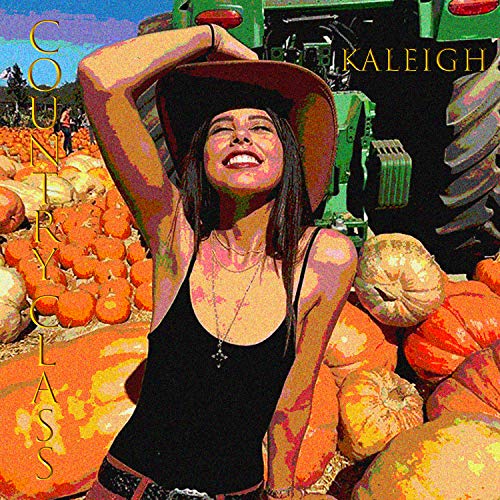 It's nothing less than bracing to discover a young singer/songwriter and performer who doesn't limit themselves like Kaleigh. Born Kaleigh Krause, the now twenty year old UCLA student studying English has expressed a love of music and performing since her infancy and soon demonstrated a real talent in musical theater. She, likewise, exhibited the necessary discipline to work at her art, polishing both her voice and approach to music, encouraged by her parents throughout. This dedication paid off with appearances in five star venues like New York City's Carnegie Hall and she attracted the notice of some genuine industry movers like manager Wendy Peldon. Her ambitions extend much further though – she's studied acting as well, participating in numerous productions, and has parlayed that experience into appearances on NBC's The Good Place and ABC's hit Speechless.
DEEZER: https://www.deezer.com/en/track/564540762?autoplay=true
Her latest single "County Class" opens with a brief drum flourish before the full band falls in and blazing slide guitar starts streaking over the top. If you go into this song thinking it's improbable that a California born twenty year old can convincingly rock out with a bluesy band behind her, Kaleigh immediately corrects such assumptions. She gets on top of the lyric from the first line and wraps her voice around the arrangement with and shows a keen ear for knowing exactly when to ramp up the intensity – hone in on the steady rise in the song right before the chorus and listen closely to how she responds to the rising amplification of the music.
There's a little bit of everything in the song. The aforementioned slide guitar definitely makes the biggest impact, but the track likewise boasts a mammoth rhythm section and some tasty piano runs adding color in to the brawling style she adopts for the track. When the instruments back off for the song's bridge, they do so without sacrificing any of the tune's focus and it also shows her mastery of dynamics as a songwriter. Her vocals, as well, shine during this section and she swings back into the song with renewed vigor.
I appreciated the wit and unapologetic attitude burning through the song's lyrics. They are solid even without her vocal contributions, never relying too heavily on cliché, and displaying how she's crafted her own style at a point in her life and career when other performers are still, more often than not, imitating their own heroes. It's an unnecessary fool's errand to guess whether the track has an autobiographical tilt to it, but she unquestionably sings the track like it's an experience she's personally known and brings a sense of stakes to it that similar efforts from others lack.
GOOFLE PLAY: https://play.google.com/music/preview/Tcwlrzwwebdi3rf6jbul6jlpdba?play=1&u=0
"Country Class" promises to catapult Kaleigh further into the spotlight than any effort she's produced to date and, if it does, she can certainly hold her head high knowing she's earned that attention without ever compromising her inner voice. You hear it in every syllable of "Country Class", every note, and she puts every ounce of her soul and strength into making it work. The effort pays off.
Loren Sperry