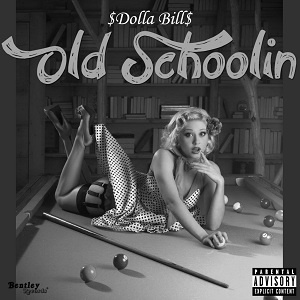 Dolla Bill first turned his attention towards writing his own songs and mastering music when he was sixteen years old and his swift development sets him from the pack among young hip hop artists. Some admirers of the form claim we are living in a sort of golden age for new figures on the rap scene with giants like Kendrick Lamar striding the earth, but Dolla Bill does an excellent job mixing modern sensibilities with a retro approach on the single "Old Schoolin'". Culled from his album Goin' Wit Da Flow, the new single makes an impression from the outset with assertive percussion. Dolla Bill gives us a fully rounded song with "Old Schoolin'" – you never get a sense that any one part of the track is given short shrift in favor of another. Instead, the song pops musically, lyrically, and vocally in a way that is very much his own.
All artists have influences. Some are more palpable than some in an artist's music, but you can hear what makes Dolla Bill different from the rabble. It comes through in his vocal phrasing – despite any lingering influences, Dolla Bill twists his phrasing in idiosyncratic ways that share common ground with others, but has its own distinctive flavor. His lyrical content shares that same signature quality. Dolla Bill isn't remaking the wheel with the song and its subject matter, but the track is laden with turns of phrases that echo the familiar yet are stamped with his own personality in a way few other young performers match. The effortless sound and approach of the song affects listeners from the first and has an infectious groove for listeners to latch onto.
SOUNDCLOUD: https://soundcloud.com/user-407516429/sets/goin-wit-da-flow
Bill varies his vocal, essentially providing listeners with two distinct tracks, and they pair up with great effect. Much of the song's vocal attitude comes from the much more "street" style of the primary vocal track, but the upper register vocal in the second track mixes well and strikes just the right light note in answer to its counterpart. He peaks as a vocalist at all the right times during the song, but orchestrates his approach in such a way that the track never threatens to run off the rails.
"Old Schoolin'" embraces a traditional vibe, but there's nothing about this track to prevent modern hip hop fans from loving both its sound and style. Dolla Bill rolls out on "Old Schoolin'" with the sort of assurance we don't always hear from young performers; he comes across like he's been doing this for a long time. It never feels like an affectation, however, and instead seems to come out of him as naturally as breathing. Few young hip hop talents can claim to have emerged so well rounded and fully developed. It's impressive to consider just how much further Dolla Bill can go from here. "Old Schoolin'" is a rollicking ride from the outset and keeps listeners involved for the length of the song – running a hair over three and a half minutes, you find youself wishing it wouldn't end.
Loren Sperry