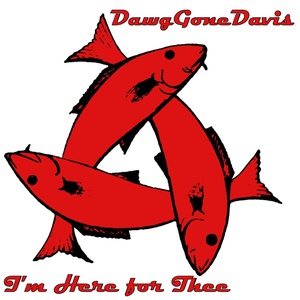 Horns, synths, saxophones and furious flow that pummels us with words of wit and wisdom are all found in the hysterically whimsical I'm Here for Thee, Midwestern rapper DawgGoneDavis' latest release. Featuring six songs that have garnered their fair share of attention from independent music buffs over the last year (including her recent sleeper hits "Anthem Pandemonium" and "Groovin at the Louvre"), I'm Here for Thee is a hard-hitting comedy EP that is as musically satisfying as it is thought-provokingly funny. Geared towards both hardcore hip-hop fans and more casual listeners alike, this record will put a smile on the face of even the saddest among us – whether it be through DGD's honest lyricism, or the eccentricities of her elaborate backing tracks.
URL: http://dawggonedavis.com/about/
DawgGoneDavis proves to us in I'm Here for Thee that she's much more than a comedienne songwriter with a knack for coming up with a good beat now and again. In the title track, the catchy "Middle Age Woman – Hip-Hop Style" and of course "Butt on Fiya," she demonstrates a slick ability to sew her vocals right into the rhythm of a song, no matter how textured or indulgent that rhythm might be. Stylistically, I'm Here for Thee is a very confusing treasure chest of experimental rap songs that jettison as far away from the realm of normalcy as they can, rendering some awesome results around the way. DGD doesn't hold anything back from us in her prose, but at the same time she didn't simply weave a bunch of synth melodies around a standup comedy act.
One of my favorite things about I'm Here for Thee, both as a concept and as an actual extended play, is that it doesn't try to be anything other than what it is. There's no frivolous studio varnish applied to the final product, no awkward guest appearances from higher profile names, or even an allusion to some deeper narrative within the music itself. This is DawgGoneDavis being herself, and if that weren't jarring enough for today's culture of conformity, she's having a pretty good time doing it. Here we have an artist that isn't afraid to really sink her teeth into a hybrid style of comedy and urban music that has the potential to be extraordinarily polarizing, and in this age of recycled rhythm and artificially-beefed up beats that's really making a statement.
I'm Here for Thee is unquestionably a hilarious collection of playful rap songs that will make you laugh and sway at the same time, but their star performer is anything but a joke. DawgGoneDavis, who goes by Rebecca Davis when she's not behind the microphone or raising money for her hometown charity Operation Breakthrough, has defied the odds and brought a really unique blend of styles to the forefront of the hip-hop underground, and through her recordings directed a lot of much-needed attention to an NPO that does tremendous work in the Kansas City metropolitan area. I'm Here for Thee is everything that her diehard fans would expect out of an EP with her moniker attached to it, and something that new ones won't have any trouble getting into as well.
BANDCAMP: https://dawggonedavis.bandcamp.com/
Loren Sperry