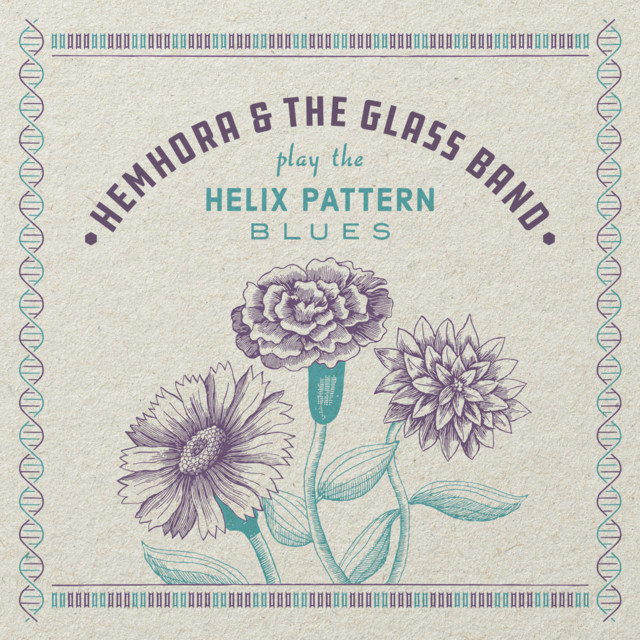 Pop has been getting very surreal lately on either side of the mainstream, but few acts in or outside of the American underground have been able to capture the bright, uncaged tonality of contemporary postmodernist rock music the way Hemhora and the Glass Band have in their all new EP Helix Pattern Blues. Hemhora and the Glass Band pull out all the stops to deliver a soulful batch of black and white rhythms varnished in experimental gloss and post-punk edginess in this six track release, and after having the pleasure of giving the record several dedicated spins ahead of its premier date I must say that it lives up to the huge buzz it's been generating in the industry recently.
TWITTER: https://twitter.com/hemhora
Two tracks from Helix Pattern Blues, "World On Its Neck" and "BMX," are more hollow and anxious than their more playful counterparts on the record are, but they don't feel redundant nor out of place. "World On Its Neck" celebrates the attractive contradiction that Hemhora and the Glass Band are as a group, while "BMX" lives and dies by its vivid colors and ambient droning. More than the former, the latter track wants us to really sink our teeth into its existential (and somewhat nauseating) arrangement, which is neither pop-centric nor tethered to a more obscure, experimental sound.
I hear traces of British post-punk in almost every verse that this record contains, but it's in the songs "The Last of Them" and "The Drive/The Wreck" where Hemhora and the Glass Band make no deliberate attempt to conceal this influence from their cosmetic profile. While on the one hand they're much more reserved than anything in shoegaze or even 90s Britpop would throttle us with, they're so decadent and weighty in their transmission of lyrics that it's hard not to think of bands like Hurricane #1 or Ride. Still, they aren't shelling out alternative sounds of yesteryear in this record, but they certainly pay homage to their predecessors with a number of the music's more understated details.
"Boxes (Vices)" is a pretty decent, even-keeled pop song, but to be frank I consider it to be a primer for the anthem that is "Stage Dive." "Stage Dive" isn't just a great way for the band to close out this EP; it's a culmination of all the melodic grinding that has transpired in the previous five tracks. Accessible from the ground up and led by a ferocious little vocal harmony that is as affectionate as anything in the pop spectrum spanning the last 25 years has been, this composition does one thing that few others of its ambitious design can – it brings its parent album's thematic elements to a climax, as well as its evocative musical journey.
Exquisitely produced is putting mildly; Helix Pattern Blues is a jam-packed EP with more immersive content than its 20 minutes of running time suggests, and while I'm hardly the biggest fan of ultra-experimental pop records that purposefully push the envelope as far as they can, this release is just too fetching from every angle to be ignored. Hemhora and the Glass Band have a very memorable moniker to operate under, but their music is what will have critics and audiences talking for months and years to come.
INSTAGRAM: https://www.instagram.com/hemhora/
Loren Sperry