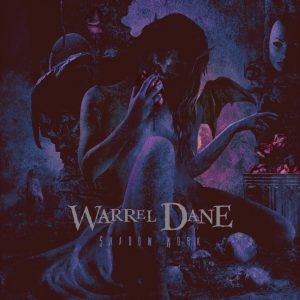 In his over three-decade career, Warrel Dane led the bands Sanctuary and Nevermore to modest, but enduring stature. The Seattle-bred vocalist initially based his tonality on a commonly-utilized operatic British style in the mid-80s, before steadily moving toward a distinct baritone the following decade onward. Dane would further expand that musical identity through his solo tenure, beginning with 2008's Praises to the War Machine, which received continual critical acclaim. Such enormous talent that has soldiered to this point has been solidified by his supporting band, in guitarists Johnny Moraes and Thiago Oliveira, bassist Fabio Carito, and drummer Marcus Dotta. However, Warrel Dane's follow-up, Shadow Work, would at first remain shelved, given his death from a heart attack on December 13th of last year. Dane was 56, having been based in Sao Paulo, Brazil at the time.
Shadow Work was finally released posthumously on October 26 of this year, and in it, Dane fulfills a twofold goal: his striving for the album to be 'brutally heavy' (as stated in a 2015 interview with Blabbermouth), as well as its being a solid product. The album begins on "Ethereal Blessing", a tribal tune that gradually adds layers of crisp, shimmering accompaniment during its progression. I appreciated Dane's utilization of tonal contrasts in his vocal delivery – the dominant, inviting higher register enveloped by subtle, brooding undertones – both working to depict a somewhat suspicious guiding light. "Madame Satan" expounds on this perspective, wherein the atmosphere shifts from clouded and idyllic to bleakly demonic. A spiderweb of leads then sprouts from the denseness of the main chord sequence, forceful but bolstering in the same matter. Once the chorus hit, I made note of the intricate harmonic nuances featured in the vocals, as well as how the percussion exhibits complementary intensity to that of the guitars. The album's first side is capped by its two singles, "Disconnection System" and "As Fast as the Others," which emit an especial level of confidence as to how Dane cements his talents on a solo, streamlined level. Whereas the initial track carries a bullet-driven, sludgy intensity, the other's more straightforward up-tempo fare refreshes the album's pace.
On the latter half of the album is a sense of similar momentum. The title track sets a solid precedent between its pulsating, dagger-like riffs and Dane's initially grim tonality. Its buildup toward the chorus is especially noteworthy, descending from repetitive strikes to dark splashes, all the while maintaining strong consistency. From there, Dane shifts to incorporate operatic nuances, flowing comfortably alongside the melodious accompaniment of the guitars. I found his rendition of The Cure's "The Hanging Garden" to be a natural addition within what's on offer. Even with its composition being fittingly metallic, leaving out any new wave-based stylistic allusions, its placement in a predominantly gothic album context is sensible. By far the most accessible song on the album is "Rain," with its more alternative leanings carrying decent pop appeal. The guitar patterns of the intro phase bring to mind different precipitation spectrums, from the light, clean drizzle to the heavier storm of distortion that follows. During the verses and chorus, I enjoyed how the melodic involvement of the instrumentation was evenly textured, as well as how effectively it increased the presence of Dane's vocals. A definite highlight is around the second half the song, where the gentle bareness of the strings gives way to an eventual piercing, yet gracefully harmonic solo. As the closer, "Mother Is the Word for God" is considered, the album truly comes full circle. At an epic nine-and-a-half-minute length, it is chock full of varietal phases, unraveling from a straightforward stance to experimental, mutated wickedness – unleashed in progressive, unrelenting fury – before easing into the warmth of the remaining string section.
Overall, Shadow Work earns its merit as a proper sendoff to encapsulate the legacy of Warrel Dane. This album is not only a representative tribute to Dane's formative thrash days, but a succinct journey of his stylistic experimentation, and an ultimate statement of enduring creativity. Once listeners absorb the very depth of this album, a backtrack of his band discography is absolutely worth it.
Warrel Dane Socials:
Official Website|Twitter|Facebook Fanpage (US)|Facebook Fanpage (Brazil)