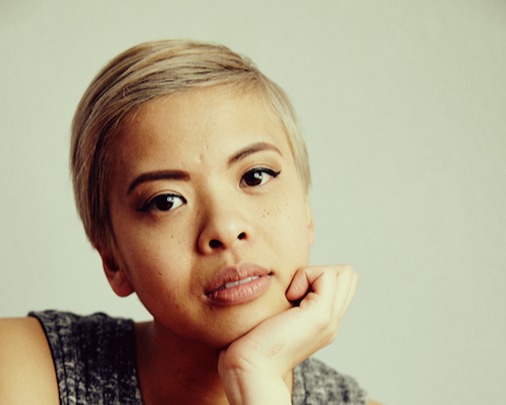 FACEBOOK: https://www.facebook.com/stoplookingatmexuan/
A buxom little percussive part slinks around in stereo sound as we enter the opening bars of "Big Blue Ocean," just one of twelve all new songs offered on rising popstar Xuan's new album Have Some Fun. It's punctuated by a glistening vocal from Xuan, who elegantly commands the words like the conductor of a symphony orchestra. There's a bit of angst-ridden rebellion in her execution, but the melody is nothing but stately. The band is churning out an ocean of sonic ambience that we're left to swim through, and it ends up carrying us into "Last I Heard" without skipping a beat. Have Some Fun lives up to its name no matter where you start in its track listing, and all it takes is one listen to become hooked on its unique rhythms and stylish grooves.
The furious "Ain't Hurting Little Me" is much more a rip-roar ride than what the sensuous "Last I Heard" poetically imparts to us, but they don't feel like polar opposites that shouldn't share the same disc. We start off Have Some Fun with "Not the Man," a Velvet Underground-esque pop anthem that flirts hard with electronic elements but stays loyal to its garage rocking roots. Daunting waves of emotion-filled melodies crash into us as we drift into "I Wanna Know You" and later the clubby "Sheila," but they're not as intimidating once they finally make contact with us.
Have Some Fun is a fusion of sensuous, urban, streamlined and postmodern themes filtered through the lens of surreal pop music, but Xuan is careful to keep her sharp narratives from getting muddled in the hybrid sound. "We Were Just Talking" is lyrically self-explanatory, and the music makes no attempt to interfere with the mood her words create. The rollicking guitar licks are reminiscent of the anxious excitement that comes with going on a first date, while the drumming is confident, unafraid and lusting, much like our own hearts are when meeting someone who we want to be more than just friends with.
"Addicted to Your Game," "Night Drive" and "Nobody Knows" are great examples of a tightly wound production that doesn't sacrifice any of an artist's tone demonstrated for us in three swanky tracks. "Addicted to Your Game" is so understated, but the accentuation of its brisk pace (translated by the eager drumming in the song) is emphasized in the mix, making the energy feel urgent and impulsive. "Night Drive" uses a similar formula but in reverse, while "Nobody Knows" and even "Shut It Down" push their muscular basslines to the front of the mix to make their grooves sound larger than life.
The sonic depth exhibited by Xuan in Have Some Fun is incredibly refined and much more advanced than most artists of her young age and relative inexperience. She doesn't sound inept or unprepared for a moment in this album; on the contrary, she has the swagger of an experienced studio veteran who has been to this rodeo a dozen times before and consistently emerged a champion. If this is the caliber of content that we can expect out of her in the future, then there isn't a doubt in my mind that Xuan has a very long and successful career ahead of her. Indie fans of all ages and backgrounds are definitely going to want to give Have Some Fun a spin the next time they're browsing for genuinely pleasurable new music.
I-TUNES: https://itunes.apple.com/us/album/have-some-fun/1415210721
Loren Sperry