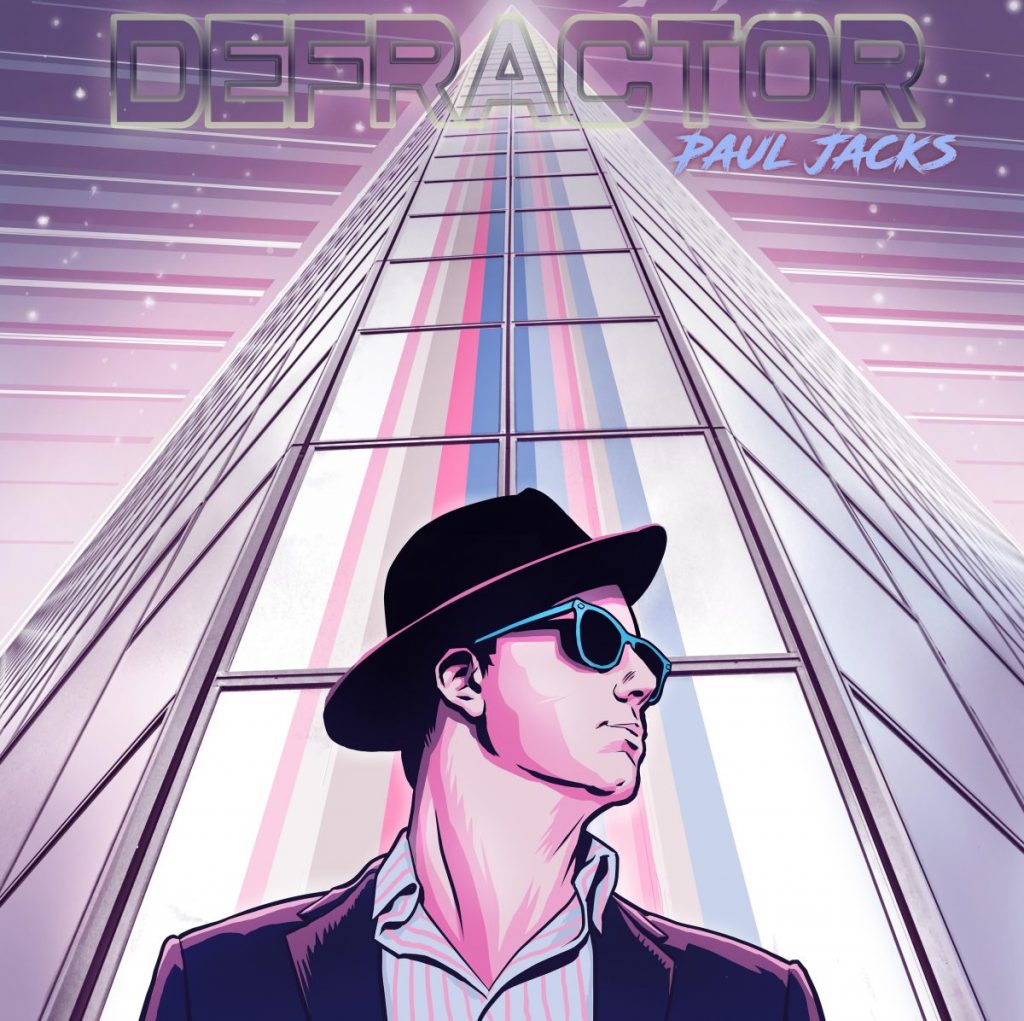 Golden synthesized melodies meet gritty and provocatively stylized lyricism in Paul Jacks' debut solo album Defractor, which hits record stores and streaming sites internationally this November 30th. Jacks wastes no time laying giant melodies on us in the opening track "Laid to Rest," a suffocating, heavy slice of indie pop saturated in rich synthesizers and trebly percussion that reverberates against a fleeting bassline. We gently slip into the dark stomp of "My Heart is a Book" and across the blistering sonic ocean that is "Nightwave" with relatively no interruption in the flow of the music, and while all eight tracks on Defractor represent different sides of Jacks' artistic persona, they all blend together exquisitely and make a force to be reckoned with when heard in a single session.
DISTRO KID: https://distrokid.com/hyperfollow/pauljacks/eVjU
"Spy in Me" and "Lightyear Radio" have a much airier feel to them than "Laid to Rest" or the bubbly "Lightning Lobotomy" do, creating a contrast that is both stunning and unpredictably thrilling. There's a cinematic feel to the intro of "Spy in Me" that is generated by the thumping bass, which struts with a confidence that is infectiously catchy and seriously hard to resist. "Lightyear Radio" is built on a percussive part that is synthetic and somewhat robotic, but its signature melody is anything but artificial in tone.
There's a lot of physicality in the master mix of songs like "Mister Rollercoaster" and "Thief for Your Love" that in my opinion are equally as stirring as Jacks' searing vocal delivery is. These two tracks rely a little more on musical prowess than they do cutting lyrics, while other "My Heart is a Book" and "Nightwave" are prose-driven songs that really emphasize Jacks' unique style of execution. Everything here is steeped in a postmodern radiance that is as elegant as any other form of highbrow art is, only acoustically compressed for mass consumption.
ABOUT TRITONE RECORDS: https://tritonerecords.godaddysites.com/paul-jacks
The production quality of Defractor is very even, with all of the minute details and gilded nuances in the instrumentation receiving a particularly sophisticated varnishing in the final product. The bass that assaults us in "Lightning Lobotomy" is magnified under the scooped EQ of the track, while the sway of "Lightyear Radio" feels all the more moving thanks to the lack of atonal middle in the drumming. You don't have to be an audiophile to recognize how much care was put into the development of these songs, and I would even argue that this LP is far more robust and well-rounded in comparison to Jacks' more mainstream peers.
Defractor is unquestionably a bold way for Paul Jacks to kick off his solo career, and fans of post-punk will likely be inclined to herald this record as a turning point for the genre entering the 2020s. There's so much of the past represented in these rhythms, but they're framed by a definitively modern production that makes the sound feel futuristic and ahead of its time. Jacks impressed critics and indie disciples alike with his work in the band Smile Ease, but this LP starts a new exciting chapter in his creative evolution that I plan on keeping a close eye on in the years to come.
FACEBOOK: https://www.facebook.com/pauljacksmusic/
Loren Sperry