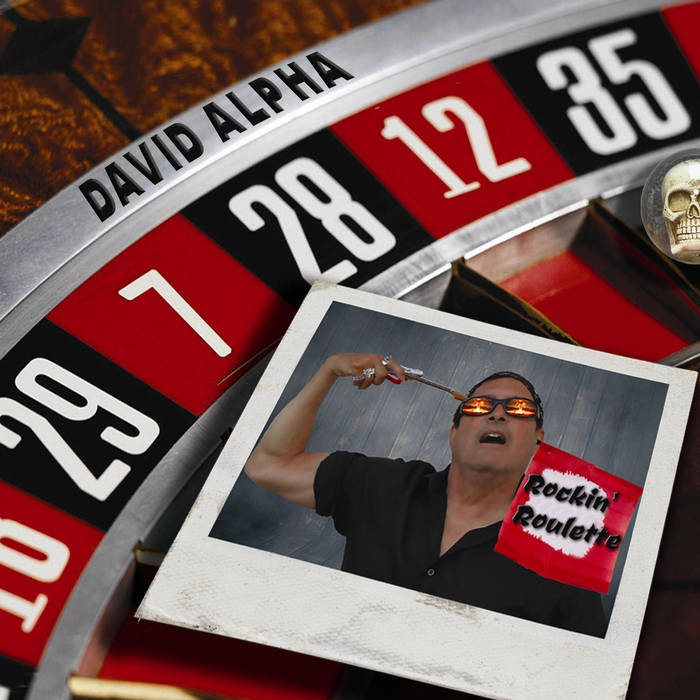 BANDCAMP: https://davidalpha.bandcamp.com/album/rockin-roulette
David Alpha and East Bay Ray on a recording?  Yes, it's true!  An under the radar punk rock master and one of the major names have collaborated on this single and the results are nothing but solid gold.  Alpha has had his own bands including the Dharma Bums which have gained a namesake in squatter households throughout the land but the subject here is Alpha's own solo work; which is now about to span two discography albums.  With Rockin' Roulette and Chameleon Warehouse on the horizon, Alpha is finally getting his just desserts. 
With airplay increasing in Tampa (Alpha's hometown) and his notoriety going up through word of mouth, it's only natural he got his life together and is taking another crack at music.  I can relate.  I know what that wall is like to climb and David climbs it with a vengeance.  He starts off this promotional EP with "Sacrilege" the song from the album of the same name and it's a burner.  Running through moonshined-blind guitar hysterics, blues band tempos, punk rock fervor and this forward-moving-percussive propulsion to die for; this stuff gets in your head faster than moonshine.  East Bay Ray of the Dead Kennedys lets loose with explosive guitar support and songwriting that only bolsters David's take on the dirty rock n' roll, punk thing that's been missing since the late 80s.  Alpha totally embodies that lost, vagrant soul that the genre pushed so hard back then and it's great to hear it down with an authentic heart once again. 
Alpha's second track "Jeans" burns at the same pace; punk rock informed by the blues and real deal 50s rock n' roll from back when it meant something.  His voice goes from a whisper to a cry to a shout in the span of seconds as the music clings hard to molten, lava-flow guitars, swimming bass lines and acrobatic drums that go worlds to support his vocal work.  It's as strong the stuff he wrote with East Bay and anybody that likes actual rock music with guitars will find a wealth to love here.  There's no map to Alpha's sound and he does what it takes to make the music ring true and resonate with fans of all ages.  This music does what it wants and take no prisoners and nothing finer can be sent of a rock n' roll artist. 
This is a powerful EP, as personal as it is promotional.  With powerful instrumental parts, rousing vocal melodies and sections that bite as much as they soothe, David Alpha pulls no punches on this companion piece to his LP, Sacrilege.  There's an edge here that's missing in much of today's rock music and Alpha wants to fill it.  The fighter in all of us can relate to these tales of living life on the dirtiest terms of all.  If you like to rock, roll and get out of control, then this is music to hold close to your heart.  As hard and as rockin' as it gets…
Loren Sperry