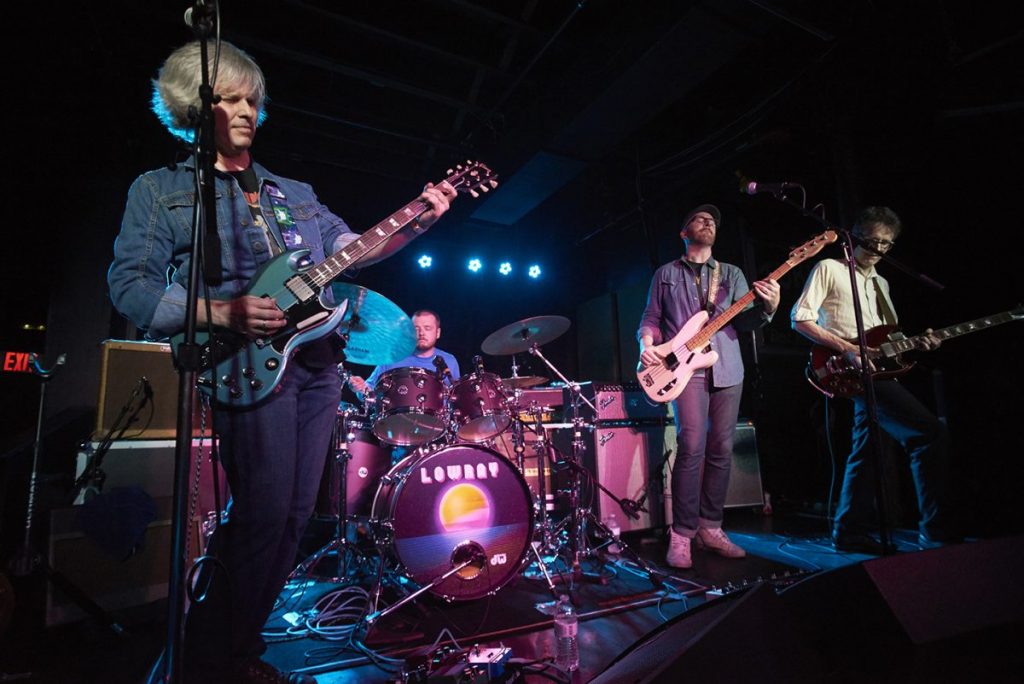 BANDCAMP: https://lowray1.bandcamp.com/releases
For only being comprised of two musicians at its core, Minneapolis-based LowRay's harmonies are larger than life and vibrantly full of tonality in their debut album Friends and the Fakers, which hits record stores and streaming sites this November 9th. LowRay are an unknown band to most of the world outside of the Twin Cities, but the rhythms they unleash in this record are not the typical fodder of amateur players. Opening with the cuttingly relatable title track, guitarist Daniel Fowlds squanders no time before laying into an enormous melody that saturates drummer James Irving's beat in a kaleidoscopic harmony that is as rooted in midcentury pop music as it is shoegaze. Over the course of the nine songs that follow, listeners get to know LowRay one decadent note at a time.
The slow songs on Friends and the Fakers – chiefly "I'm Sorry," the moving "Let Me Be," and of course, the stone cold "Palisade – flirt with R&B framework shamelessly, and their shaking melodies echo through our brains long after we're done listening to the record. "Palisade" has the swagger of a 1980s club song with none of that era's pretentious artificiality in its mix. Fowlds' voice seeps through the chilling percussion with a fragility that is breathtaking, only to come undone at the 2:50 mark and impart a cratering vocal harmony that sears its passion into us unforgivingly. The emotion is as bold as the tone is, and there's never any question as to whether or not Fowlds is being sincere with us.
You can definitely hear traces of LowRay's Upper Midwestern roots in tracks like "Waiting for You" and "There's a Place," but both Fowlds and Irving avoid recycling any sounds or styles of the past. The effervescent guitar play in "8 Track Tapes" and the staggering "Lonely Tuesday Night" is delivered to us in a equalized mix that doesn't favor a fat bottom-end, which helps us to really appreciate every gilded nuance in the strings. The ironic tone that most of the lyrics take isn't nasty or sarcastic by design, but it does pack a really rebellious punch that makes it a lot edgier than your average pop song. Other than the stately "Western Song," most of Friends and the Fakers isn't dependent on a steady rhythm or an even pace to yield a really focused sound; instead, this record puts all of its trust in the eccentric, unpredictable command of its two star players – and still ends up coming out on top.
Friends and the Fakers is a very ambitious debut album, more so when you compare it to the lot of similarly stylized releases in 2018, and LowRay manage its sprawling design seemingly without any difficulties. The content here is extremely diverse, but it all gels together with a poppy cohesiveness that is sealed by the excellent soundboard work provided by Jim Scott and Ian Davenport. As a blueprint of their sound, LowRay's debut album leaves little for us to ponder moving forward and perfectly encapsulates the style and artistic persona of a band that is ready to take their aesthetic to the next level, and it also offers us a glimpse into what could be one of the most intriguing approaches to Americana that I've heard in some time. I'm eager to see how they develop these rhythms on their next release, which hopefully won't be too far down the line.
OFFICIAL VIDEO: https://www.youtube.com/watch?v=9GPSP5N2XRk
Loren Sperry