Vintage Trouble erupted back on the scene last Friday as they unveiled their latest offering Chapter II – EP I. This five-track EP is generously packed with vibrant melodies and smooth vocals, giving it an overall modern feel, a stark comparison against their usual rock n' roll grit. Nonetheless, it takes true musicianship to effortlessly transcend genre and sound with no lifted brow from fans, and they did gracefully pulled it off.
"We were playing these festival and started feeling inspiration from people younger than us," frontman Ty Taylor told Billboard in their latest feature. "It was so vibrant — current subjects, current sounds. When we started writing the record about a year ago we felt like there was a new life we were living that was more about what this time is about rather than thinking about what your heroes would have done."
I had the pleasure of attending their album release party at the famed Doug Weston's Troubadour in LA's notoriously lively West Hollywood neighborhood. Upon entrance of the dimly lit venue, it was without question the night would sail on the radio songs of Vintage Trouble fed by excitement generated in the crowd. Giving the audience enough time to grab a drink, the room quickly grew dark, momentarily lit only by the buzzing neon of various beer signs illuminating the back bar. A slew of the night's rock n' rollers then sauntered on the stage, armed with an aroma of swagger that accompanies only those who have bled, sweat, and cried in the name of rock n' roll.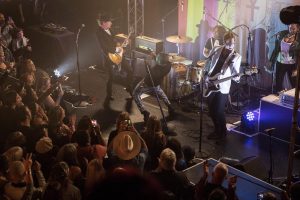 Photo courtesy of Jay Gilbert
"Please be silent. We are all family now."
Ty Taylor (singer) broke the rousing cheer from their triumphant hometown entrance into silence, holding the power of the room similar to that of a pastor to his congregation. Then began a long tribute to their musical journey, taking their audience through the twists and turns of the career before that special night. And then, Vintage Trouble turned the page to chapter two.
Taylor jumped on the speaker, his shimmering pants in direct competition with the disco ball overhead, and let the blue and purple lights wash over him as his band jolted into the first song off their newly released EP. Light and sound bounced off the walls that contained the energy of the performance, that unique energy exuding off Vintage Trouble. It's the kind of special energy that arises only with the expertise and grace of practiced years and deep rooted love of music.
I could go through song by song, describing the vibe of the audience, the feel of the room, the tenacity of the stage. But to do this performance justice is to let the music speak for itself. The electricity Vintage Trouble brings to a room is undeniable. Their fusion of rock n' roll, soul, R&B, and funk is out of this world. To see them in an intimate setting, vibing with their hometown crowd, surfing on the wavelength they've created to connect each and every soul in the venue that night – it's magic. And if that isn't the heart of rock n' roll, I don't know what is.
Do yourself a solid and check out Chapter II – EP I, available on all digital streaming platforms and services. Connect with Vintage Trouble below!
Official Site // Facebook // Instagram