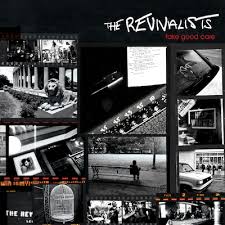 Louisiana collective The Revivalists are renowned for their performance dynamic, emphasizing walls of shimmering sonics that fare equally competent live as they do in the studio. Since 2017, the New Orleans-based band had ridden a surprising and, indeed, continual wave of success. After more than a decade in a non-stop grind, the #1 hit single "Wish I Knew You," from the band's 2015 smash hit third album, Men Amongst Mountains, has been certified platinum, while also having accumulated 200 million global streams to date. Now an octet, this current permutation of The Revivalists continues forward.
Today marks the unveiling of the band's follow-up, Take Good Care. The listener experience sees much improvement in the album's carefully integrated textural and progressive builds, which is especially impressive considering the height of standards their previous album so recently set. To the same extent, the band's knack for soulful rock and blues is essential in bolstering front man David Shaw's vocals, which have served as the band's signature constant.
As the album opens on "Otherside of Paradise," I appreciate how the smoothly layered harmonies complement the clean guitars. Shaw's tonality shines through as he describes the complete contrast of idyllic life. It is one characterized by austere surroundings, dwindling well-being, no independent thought, and an extremely fast pacing that can hardly be grasped. Nonetheless, the uplifting tones of the instrumentation provide a sense of hope amidst such despair. That notion of hope is expanded in the next track, "All My Friends." Shaw's awareness of his flaws is constructed in a bopping, hook-laden groove as he cherishes the importance of youth. In doing so, he makes sure to avoid any rashness by acknowledging the value of others in his life, all the while maintaining a certain level of drive. An organic transition into vintage rawness characterizes the atmosphere of the next three tracks. This is fitting, both in thematic sense – with anecdotes of patience, persistence, and a healthy sense of dependency – and in its naturally gradual shifting of styles. Capping the album's first half is "You Said It All," another palate refresher that could perform well as a representative single. At this point, Shaw demonstrates grounded emotional growth, recognizing the pain of the girl he once held dear by placing himself in her perspective. The decidedly urban feel of the instrumentation complements this sentiment, as it signifies a difficult, yet rewarding acceptance of fate.
The latter half of the album initializes on the heavy-driven edge of "Oh No" and "You And I," both of which demonstrate a sensible pace. I am again impressed by their authentic sense of pacing, so as to not forcefully point listeners to their rousing phases. In conjunction with the contrastingly ballad-esque "Hate To Love You," these songs consecutively depict a sense of realism in coming to terms with a relationship on the rocks. This level of uncertainty is effectively captured further onward, with "Future," "Celebration," and the penultimate "Some People Say" highlighting just how intense the emotional rollercoaster can become, as much as it continues to be. The final track, "Shoot You Down," earns distinction as an anti-gun violence song written in response to the Parkland tragedy. Much like the opening song, it echoes the sentiment of resilience, and wholly fulfills its purpose in bringing the album full circle.
Overall, The Revivalists manage a solid comeback with this newly-released material. Their stylistic and thematic merit remains intact after a three-year lapse, each track expounding on the other in balanced succession. Only time will tell whether this album contends with their previous smash. One thing is certain, though, and that is the band's will to keep rock n' roll's presently battered flame alive, authentic, and burning.
Follow The Revivalists:
Official Website|Apple Music|iTunes|YouTube|Twitter|Spotify|SoundCloud
"All My Friends" Music Video: