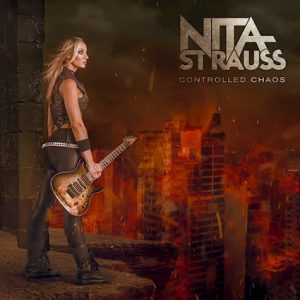 Slash. Tom Morello. Jimmy Page. Zakk Wylde. Lita Ford. Jimi Hendrix. There have been many legendary guitarists through time, having played through the evolution of rock and metal, and made their name known through their slick style and killer riffs. If skill and talent in that regard define someone as one of the best guitarists in those genres, Nita Strauss should also be added to the list. After her work with the Iron Maidens, Femme Fatale, and as part of Alice Cooper's backing band, Strauss is finally about to release her debut album, Controlled Chaos, on 16 November. With her appearances on WWE on top of her work with other work, how does her solo venture play out?
One thing to notice with this album is that it is all instrumental. No lyrics, no vocals; it's all just guitar, drums, bass, and other added instruments that are added through the album. Strauss' guitar simply sings throughout the tracks, and it sounds fantastic. The way she plays is electric and vibrant, and it's always so beautiful to hear. The skill and musicianship is prevalent throughout this album; an amazing mixture of heavy sounds and fantastic shredding skills in tracks like "Alegria", "Our Most Desperate Hour", "Mariana Trench", and "The Stillness at the End", and softer but still powerful emotional songs like "Here With You" and "Hope Grows". The additional instruments, like the piano in "The Quest" and "Hope Grows", for example, adds a nice effect to the different songs, and each additional sound creates an extension of the soul that Strauss expresses through this album. Her backing band do a great job as well, especially the drummer, who fantastically matches the tone and executes the needed rhythms to lift the songs up to the fantastic level they need. This album also includes a cover of Queen's "The Show Must Go On" as its closing track, and it's the perfect way to finish it, as not only does Strauss' playing equate the same emotion and power that Freddie Mercury gave in the original version, but also playing together with a cello is an unusual pairing, but really does work. Hearing them together is a beautiful sound, and the different inflections really make the song Strauss' own rather than just a carbon copy of the original.
Overall, this is a great album. Even though it is instrumental, it's as if the guitar is the vocal line, as it just sings throughout the album, and takes the listener on a fantastical journey through rock and roll. Nita Strauss shows that she's a talented solo guitarist, and plays well with other musicians, and this debut album is a great way for her to show off her talent, and prove that she deserves to be listened to, and seen live. This is an album to listen to this year, and one to definitely listen to a lot!
Controlled Chaos is out 16 November!